Reserve Gorilla Permits / Gorilla trekking permits / Gorilla safaris / Gorilla Tours / Gorilla trekking in Uganda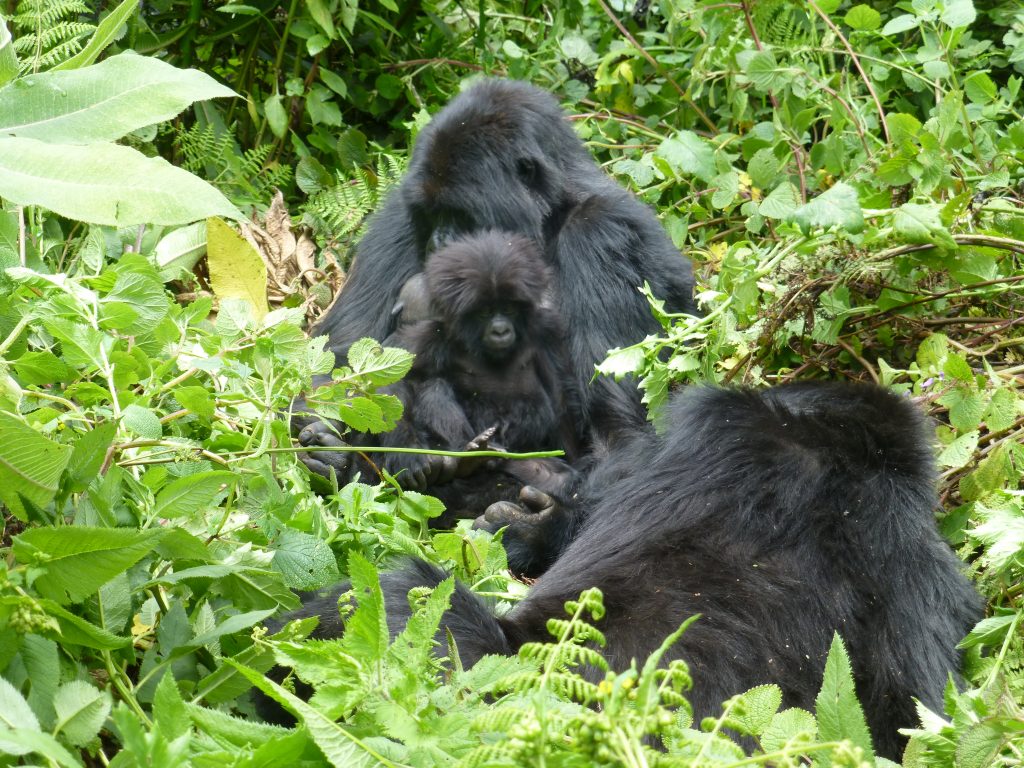 Gorilla trekking safaris are very popular in Uganda and Rwanda, but before one travels to see the gentle mountain gorillas, one needs to reserve gorilla permits in order to be allowed to trek a habituated gorilla family.
Mountain gorillas are found only in three countries-Uganda (Bwindi Impenetrable Np and Mgahinga Gorilla NP), Rwanda (Volcanoes NP) and Congo (Virunga National park. To see them, you need to reserve gorilla trekking permits and then book your gorilla trekking safari depending on which country you want to visit
Reserve Gorilla permits through Gorilla Link Tours
When you reserve gorilla permits through Gorilla Link Tours for your gorilla tracking safari, to any of the national parks, it is less stressful. We do help to check out availability of gorilla permits on the dates you are interested in seeing the mountain gorillas. Once the permits are available, we do go ahead and book them as we wait for the passport details.
Gorilla Link Tours has a great working relation with Uganda Wildlife Authority, RDB in Rwanda and Virunga national park in Congo.
We know about each gorilla family to trek and its location and the different levels of accommodations in the different sectors of the national park.
Check out our 3 days fly-gorilla trekking safari and more from our Uganda safaris. Most of them start from Entebbe airport or Kampala
Reserve Gorilla Permits Directly
If you are confident about reserving gorilla permits directly, do call Uganda Wildlife Authority Reservations head office in Uganda or RDB in Rwanda, or send them an email. Although reserving gorilla trekking permits through Uganda Wildlife Authority seems as easy option, it can be stressful especially when calls and emails are not answered on time.
Remember to book your accommodation in Bwindi Impenetrable or Mgahinga Gorilla National park
How far in advance should one reserve gorilla permits
The best time to reserve gorilla permits is as soon as one makes a decision to come for gorilla trekking. We recommend that you do pay for your gorilla trekking permits at least 6 months in advance to avoid disappointment on last minute decisions to come for the safari.
There are only about 1000 mountain gorillas in total living in Bwindi Impenetrable National park, Mgahinga Gorilla National park, Volcanoes National park and Virunga National park. They are highly endangered and for conservation reasons, only eight people can trek a gorilla family per day. There are very few habituated mountain gorillas open for gorilla trek and so the demand is so the demand is very high especially in high season (June-Oct and December to February). They are reserved on first come first served basis. Accommodations too get fully booked fast.
We do always have our ears on ground and so we can also make your gorilla trekking safari happened on the last minute. Just get in touch
Best company to reserve gorilla permits
The best company to reserve gorilla trekking permits is definitely Gorilla Link Tours. It is a trusted company based in Uganda, expanding to other African countries. We are a member of the Association of Uganda Tour Operators (AUTO) and we do have an excellent reputation. You can check out reviews from our past clients on Trip Advisor and safari bookings.
Suggest gorilla trekking safaris