4 Days Mgahinga Gorillas and Golden Monkeys Safari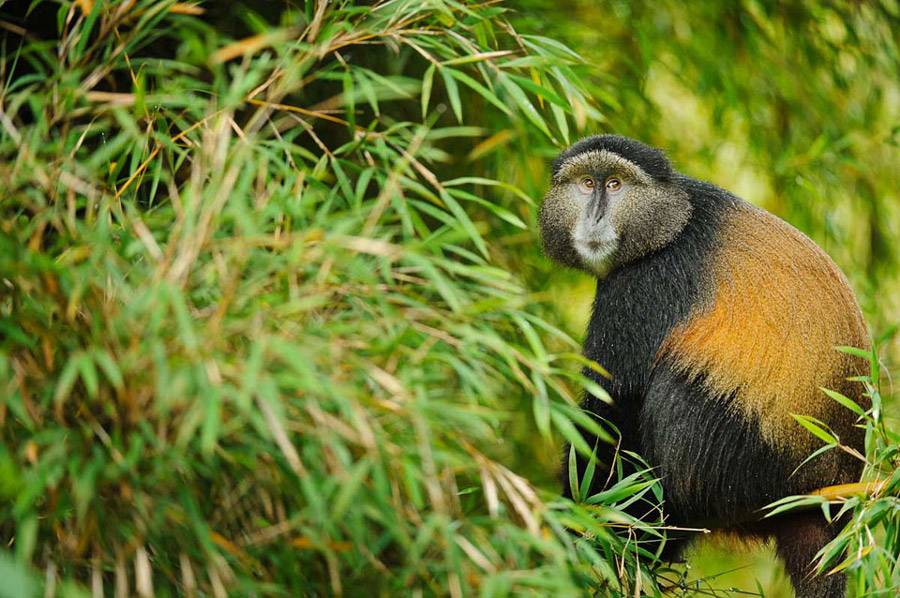 This 4 Days Mgahinga Gorillas and Golden Monkeys safari takes you to Mgahinga Gorilla National Park to track the rare and endangered mountain gorillas and golden monkeys. Instead of the golden monkeys, one may choose to go for the batwa trail on this day. Mgahinga Gorilla National park is near Volcanoes National Park in Rwanda and the Virunga National Park in the Democratic Republic of the Congo.
Highlights of the 4 Days Mgahinga Gorillas and Golden Monkeys safari
Gorilla tracking in Mgahinga Gorilla National Park
Golden monkeys tracking
Day 1: Pick up from Kampala and Transfer to Mgahinga Gorilla National Park
Today, you will have early breakfast. Your guide will meet you at your hotel; brief you about your 4 days safari. You will then depart and drive to beautiful south western Uganda with a stopover at the Uganda Equator where you will be able to stand in two hemispheres at the same time. You will have a photo moment and then proceed to Mgahinga Gorilla National Park with lunch en route in Mbarara.
You will continue the journey after lunch, enjoying beautiful scenery as you sit back and admire the Kigezi highlands often referred to as the Switzerland of Africa. You will also have great views of terraced hills, plantations, lakes and rivers and the different virunga ranges.
Mgahinga Gorilla National Park is part of the Virunga Mountain ranges with three major peaks of Muhabura 4,127 metres above sea level) , Gahinga (3.474m ) and Sabinyo (3.645 meters above sea level). ,Mgahinga Gorilla Lodge being the  smallest park in Uganda should not be an issue. It is rich with great photogenic scenes, different types of primate species that include the rare mountain gorillas, golden monkeys among others. It should be noted that the park is home to 115 bird species including local forest Albertine species.
You will get at the lodge in time for dinner and Overnight
Journey Time: 9 hours
Accommodation: Lake Chahafi Resort- Mid range
Meal plan: Lunch and dinner
Day 2: Gorilla Tracking in Mgahinga Gorilla National Park.
Today is the special day for gorilla tracking. You will wake up early, have breakfast and with your packed lunch and enough water which will be provided, you will be driven to the park offices by your guide to be briefed about gorilla tracking.
Gorilla tracking is one of the bestest adventure and safari experiences on earth. Coming face to face with the mountain gorillas of Uganda and Mgahinga Gorilla National Park is an unforgettable experience. In Mgahinga Gorilla National Park, the gorilla trek takes about 2 to 5 hours since the park is small. You will be with the gorillas for one hour before returning to the park offices for congratulating you upon the gorilla trek.
You will then return to lodge for dinner and overnight
Journey time: 30 minutes to and from
Accommodation: Lake Chahafi Resort
Meal plan: Breakfast, Lunch and dinner
Day 3: Golden Monkey Tracking – Optional activities.
Today you will go for golden monkey tracking. These beautiful creatures are endangered too and tracking them and learning all about the golden monkey business is a great activity. Like gorilla tracking, a traveller needs to be fit too.
Optional Activities
Hike a Volcano Mountain
Alternatively, you may decide to go hiking one of the three virunga mountains on which Mgahinga Gorilla National Park is located.
The highest peak is Muhanura which offers a tough hike that can last for 9 hours, followed by Virunga peak and the least difficult is Gahinga volano peak which offers a chance of seeing golden monkeys and the forest birds that call this area home.
The Batwa trail: Today you may also decide to go for the batwa trail into Garamba cave and enjoy and learn about their cultural dance and drama, their lives when they were in the forest before it was gazetted into a national park, and how they treated themselves from diseases using plants and making fire.
You will return to the lodge for lunch, dinner and overnight
Let us know if you would like to combine this safari with a Wildlife Safari
Day 4: Return to Kampala
Today, you will enjoy your breakfast with views of Muhabura Volcano Mountain before you return to Kampala. You will have lunch en route and some break stopovers.
Accommodation for tonight is not inclusive; kindly let us know if you want us to book for you another night in Kampala or Entebbe
If you are flying out tonight, make sure your flight departs at 10pm or later
Accommodation depends on availability and will only be reserved after your booking. If the accommodation suggested in the itinerary is fully booked, we will reserve another accommodation with the same standard after consulting you.
This is a private tour that can depart anytime, throughout the year
Gorilla tracking permits can not be reserved. We will buy them after your down payment. Kindly note that they are on high demand and on first come first serve.
Kindly note that this safari may also begin from Kigali
Kindly let us know if you would love to combine this safari with our wildlife safari itineraries
When you book your trip with Gorilla Link Tours to any of our destinations, Gorilla Link Tours will donate US$ 5 per person to persons with Albinism.
Inquire now for rates
Cost includes
Gorilla tracking permit
Golden monkey tracking permit
Accommodation as per itinerary
English Speaking Safari Guide
4 x 4 safari vehicle
All fuel
Meals as per itinerary
Exclusions:
Airfares
Visa Fees
Personal Insurance
Expenses of personal nature such as; drinks, tips, laundry, telephone, cigarettes, accommodation & meals not indicated in the itinerary and optional activities.