19 Days Bird watching Uganda safari and exclusive photography tour
Bird watching Uganda Safari
Best time for this tour is January – February and July – August
19 Days Birding Uganda safari and exclusive photography tour to Uganda, an equatorial country of astonishing contrasts. No other area in Africa can match its amazing diversity of habitats, and this richness is reflected in its incredible bird list of over 1050 species. Amongst these are many highly sought-after birds, such as the unique and elusive shoebill stork, and the endemics of the Albertine Rift Valley. The number of birds of Uganda is huge given the small size of the country (approximately equal to Great Britain or state of Oregon in USA), making it, arguably the richest African birding destination.
Itinerary for the 19 Days Birding Uganda safari and exclusive photography tour
Itinerary  for Bird Watching  Uganda
Day 1: Airport pick up
Upon arrival at the Entebbe, depending on arrival time, u will bird the Botanical Gardens. Situated on the northern shores of Lake Victoria, the Entebbe Botanical Gardens are virtually on the Equator, and covers an area of 40.7 hectares. The gardens house a collection of species of plants of the tropical, sub-tropical and temperate zones, besides several shrubs and other plants which regenerated naturally over the years. The habitat has attracted a diverse array of birds (206 species) and monkeys. We shall look out for Orange weaver, Golden and Yellow-backed Weavers, Superb Sunbird, Bare-faced Go-away Bird, Ross's and Great blue Turacco, etc.
Accommodation: Lake Victoria Hotel
Meal Plan: Not inclusive
Day 2: Birding to Mabamba for Shoebill and Mpanga forest in the Afternoon
After an early breakfast, we bird to Mabamba Wetlands about 50km west of Entebbe area on the shores of Lake Victoria. This is one of the few remaining swamps in Uganda protected by the local communities – an extensive papyrus swamp, classified Ramsar Site and IBA (Important Bird Area) and home to several pairs of Shoebills, most probably Africa's most sought after bird. This charismatic species, the only representative in its family, is certainly amongst the most sought-after birds in Africa and we will make special efforts today to find it by paddling through the channels by boat. There will of course be a good selection of classic East African water birds: Pink-backed Pelican, Long-tailed Cormorant, Goliath Heron, African Fish-Eagle, African Marsh-Harrier, Yellow-billed Duck, African Water Rail, Allen's Gallinule, and Malachite Kingfisher along with slightly more local species such as Long-toed Plover, Blue-breasted Bee-eater, Blue-headed Coucal, Papyrus Gonolek, Papyrus Canary, Swamp Flycatcher, White-winged & Papyrus Yellow Warblers.
Accommodation: Laico Lake Victoria Hotel
Meal plan: Breakfast and lunch
Day 3 Uganda Birding to Murchison Falls National Park
After breakfast, we will depart for Murchison Falls National Park via Ziwa Rhino Sanctuary for the White Rhino, with lunch en route. Murchison falls National Park is one of the most popular and the biggest of our Uganda national parks. We will drive through the beautiful country side arriving in the evening. Special birds along the way may include Cliff Chat, Yellow Fronted Tinkerbird, Gray-headed Bush Shrike, Singing Cisticola, African Fin foot, Namaqua dove, Green-winged Pytilia, Red Backed Shrike, Crested Francolin, Black Headed Bush Shrike, Northern and Black-winged Red Bishops, Black-bellied Firefinch, Black-faced Waxbill, Lesser Blue-eared Starling and March Tchagra.
Accommodation at Paraa Safari Lodge
Meal plan: All meals
Day 4-5: Whole day birding and Wildlife Photography Adventure in the park
After an early breakfast, we will have a morning game drive. In the lush Borassus grassland, you may be able to encounter African Lion, Leopard, African Savannah Elephant, African buffalo, Rothschild giraffe, a variety of antelope and much more game. After enjoying a packed lunch, we will then have an afternoon boat trip to the Lake Albert delta. Here, you will have the best chance of sighting the elusive shoebills. You will also be dazzled with a variety of water birds including species like the Secretary Bird, Abyssinian Roller and Ground Hornbill, Pied Kingfisher, Red-throated Bee-eater, Goliath Heron, Saddle-billed Stork, Sacred Ibis, Fulvous Whistling-Duck, Senegal Thick-knee, Water Thick-knee, Black-headed Lapwing, Long-toed Lapwing, Little Bittern, Osprey, Red-necked Falcon, Blue-breasted Bee-eater, Vinaceous Dove and Grosbeak Weaver. Other specialties include Buff-bellied Warbler, Yellow-fronted Tinkerbird, Bar-breasted Firefinch, Red-winged Grey Warbler, Spotted Morning-Thrush, Marabou Stork, Red-throated Bee-eater, Silver bird, Beautiful Sunbird, Black-headed Gonolek, Speckle-fronted Weaver, Golden-backed Weaver, White-rumped Seedeater, Pels Fishing Owl, White Crested Turacco, Bruce's Green Pigeon, Chestnut-crowned Sparrow Weaver, Carmine Bee-eater, Pennant-winged and Standard-winged Nightjars, White-rumped Canary and many more.
Accommodation at Paraa Safari Lodge
Meal plan: All meals
Day 6: Bird watching Photography Tour to Budongo Forest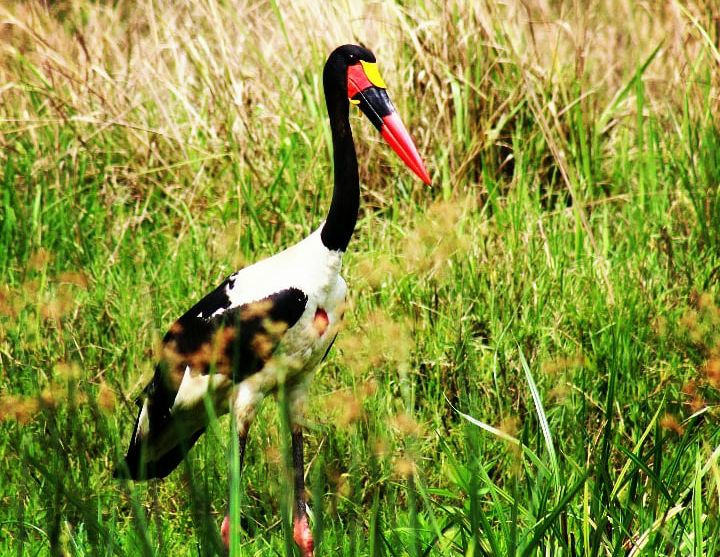 Take a long drive to Budongo arriving in Budongo area late in the afternoon. Depending on the road conditions, there are chances of either birding through the escarpment or through Kanio Pabid. The escarpment area is well known for its panoramic view of Lake Albert and the Rift Valley, and also being an open area it has quite a number of bird species. Kanio Pabide forest section is well known for its rare bird species including the Puvell's Illadopsis. Budongo forest is the largest natural forest area in East Africa. We can expect to find a wide range of other bird species such as the crested guineafowl, White Crested Turacco, Chestnut Crowned Eremomela, Yellow and Gray Longbills, Olive-bellied Crombec, Yellow-browed Camaroptera, Little Green Sunbird, and Red-headed Blue Bill among others. There are also many other special birds with a West African origin: White-thighed Hornbill, Green-breasted Pitta, Rufous-sided Broadbill, Blue-breasted, Dwarf & Chocolate-backed Kingfishers, Yellow-crested & Brown-eared Woodpeckers, Yellow Bill, Western Black-headed Oriole, Yellow-spotted, Hairy-breasted & Yellow-billed Barbets, Green Hylia, Buff-throated, Black-throated & Black-capped Apalis, Black-eared Ground-Thrush, Rufous-crowned Eremomela, the elusive Lemon-bellied Crombec, Crested & Red-headed Malimbe and also various forest starlings among others. We will also be in a prime area for a wide range of primates such as Blue & Red-tailed Monkeys and Black and white Colobus and Chimpanzees. There is also a wide variety of butterfly species in the forest. Budongo forest has recorded over 200 butterfly species among which include endemics and globally threatened.
Accommodation: Masindi Hotel
Meal plan: All meals
Day 7: Whole Day Bird Watching the Royal Mile
This is Uganda's historically known leisure spot for the traditional King, hence the name Royal Mile. Here the forest has been cut back a few meters along the sides of the main trail, which makes it a particularly good viewing area in this excellent forest.
Uganda Special Bird species here include White-thighed and Black-and-white-casqued Hornbills, Yellow-spotted and Yellow billed Barbets, Western Black-headed Oriole, along with Red-tailed and Blue Monkeys. Overhead, Sabine's and sometimes Cassin's Spine tails soar over the clearings. As we walk quietly along the trail, Red-tailed Ant-Thrushes skulk in the shadows, as do Red-tailed Bristle bill, Scaly-breasted, Pale-breasted and Brown Illadopsis. Greenbuls are always a challenge and include Cameroon Sombre, Slender-billed, Honey guide and Spotted Greenbul, whilst other regular species are Speckled Tinker bird, Yellow-crested Woodpecker, Green Crombec, Rufous-crowned Eremomela, Yellow-browed Camaroptera, Buff-throated Apalis, and both White-breasted and Grey-headed Negro finches. Lower down we should see Chocolate-backed and African Dwarf Kingfishers, White-spotted Fluff tails and the elusive Nahan's Francolin, believed to be one of the most hand some of all Ugandan birds.
Other possibilities here are Great Sparrowhawk, Cassin's Hawk-eagle, Crested Guinea fowl, Tambourine Dove, Grey Parrot, African Emerald and Dusky Long-tailed Cuckoos, Yellow bill, White-throated Bee-eater, Yellow-throated Tinker bird, Yellow-spotted Barbet, Yellow-crested Woodpecker, Dusky Tit, Western Nicator, Blue-shouldered Robin-Chat, Forest Robin, Black-throated and Black-capped Apalis, Yellow-browed Camaroptera, Brown-crowned Eremomela, Lemon-bellied Crombec, Sabine's and Cassin's Spine tails, Wilcock's Honey guide, Yellow and Grey Long bills, Jameson's Wattle-eye, Blue-throated Brown and Little Green Sunbirds, Rufous Flycatcher Thrush, Yellow-mantled Weaver, Red-headed Malimbe, the Uganda Woodland Warbler and the Ituri Batis which range-restricted to this site in the whole of East Africa.
Accommodation: Masindi Hotel
Meal plan: All meals
Day 8: Bird watching to Kibale Forest
After breakfast, we will drive to Kibale forest arriving in Fort Portal in the late afternoon. Kibale forest national park is the best tour destination for chimpanzee tracking in East Africa. It contains one of the loveliest and most varied tracts of all tropical forests in Uganda. It hosts 13 species of primates including the chimpanzee (Man's closest relatives- sharing over 98% DNA with man). It has 1450 chimpanzees and these represent Uganda's largest population of this endangered primate. It is also home to the rare L'hoest's monkey and East Africa's largest population of the threatened red colobus monkey.
Other primates that you may see include the black and white colobus, blue monkey, grey cheeked Mangabey, red tailed monkey, olive baboon, bush baby and pottos. Kibale forest cover predominates in the northern and central parts of the park. Kibale is highest at the park's northern tip which stands at 1590m above sea level. The park also boasts 325 bird species, including the Green-breasted Pitta (Africa's enigma), African pitta, Black Bee-eater, yellow-spotted Nicator, yellow rumped tinker bird, little Greenbul, black eared ground thrush, brown chested Alethe, blue breasted kingfisher, Abyssinian ground thrush, and the African Crowned Eagle.
Accommodation: Primate Lodge
Meal plan: All meals
Day 9: Chimpanzee Tracking
After an early breakfast we drive to Kibale National Park visitor centre for briefing before the Chimpanzee tracking experience. The activity may last from a few hours to several hours.
Birding in the afternoon along the main road may be productive. Depending on the weather predictions, birding Bigodi wetland is also productive with riverine forest birds. Kibale National Park is a good site for a number of birds that are hard to find elsewhere including Speckle-breasted Woodpecker, Cabanis's Greenbul and Joyful Greenbul as well as White-spotted Fluff tail, Dusky and Olive Long tailed Cuckoo, Lesser Honey guide, Blue-shouldered Robin Chat, White-chinned Prinia, Grey Apalis, Olive-green Camaroptera and White-collared Olive back.
Accommodation: Primate Lodge
Meal plan: All meals
Day 10: Bird watching
The Search for the Green-breasted Pitta in the Morning and Leisurely Birdwatching and Photography in the afternoon
Accommodation: Primate Lodge
Meal plan: All meals
Day 11: Bird watching to Queen Elizabeth National Park and Afternoon Launch Cruise
The Park which is named after the Queen of England who visited it in 1954 is the second largest national park in Uganda. In terms of diversity this park ranks among the best birding destinations in Uganda with over 610 species recorded, and a one day record of 296 species. Hard-core birders might nail special birds including; Harlequin Quail, Blue Quail, Common Buttonquail, African Crake, White winged Warbler, Martial Eagle, African Skimmer, Verreaux's Eagle-Owl, Papyrus Gonolek, Amur Falcon, Ovampo Sparrowhawk, Lowland Akalat, Greater and Lesser Flamingo, Caruthers's Cisticola, Terek Sandpiper, and Temminck's Courser.
Mammals may include; African Elephant, Spotted Hyena, Leopard, African Lion, Ugandan Kobs, Side-striped Jackal, Baboons, Chimpanzees, Bush and Water Bucks, Warthogs, Giant Forest Hogs to mention but a few.
Accommodation: Mweya Safari lodge
Meal plan: All meals
Day 12: Birding and game drive
After breakfast, we will have a morning game drive around the park. The fact that Queen Elizabeth national park has got a diverse eco system of savannah to rain forest, from dense papyrus swamps and brooding crater lakes to the vastness of Lake Edward is a major contribution to the fact that it is on the top list of World biosphere sites rating of game parks or reserves in the world. Therefore, while on the game drive, with the massive Rwenzoris as a backdrop, you will have excellent opportunities to see African Lion, Leopard, Giant forest hog, Cape buffalo, African Elephant, Deffassa waterbuck, Uganda Kob, Topi, and much more. After lunch, we will visit Lake Katwe where salt is mined and the Kasenyi landing site on the shores of Lake George.
Accommodation: Mweya Safari lodge
Meal plan: All meals
Day 13: Bird watching to Bwindi National Park
Today after breakfast, we head further South to Bwindi Impenetrable National Park. Depending on the season we may choose to go through the southern sector of Queen Elizabeth National Park, where there are chances of encountering the Tree-climbing Lions at Ishasha sector. Packed lunch will be arranged in advance to enjoy later as we travel. Depending on the time of arrival, we may enjoy birding on the self-guided Munyaga trail. Forest Birding at Bwindi provides some of the best bird watching in Uganda and Africa as well, having been voted as the Number One Birding spot in Africa by African Bird Club Members. It is home to over 23 highly localized Albertine Rift endemics.
Accommodation: Mahogany Springs Resort
Meal plan: All meals
Day 14: Mountain Gorilla Tracking
After an early breakfast, you will report to the park headquarters for briefing prior to the gorilla tracking excursion. This activity may take anywhere between 1 hour and 8 hours so a reasonable degree of fitness is required. It is a wonderful experience to stare in to the eyes of these gentle giants; watch them in awe as they play and go about their daily activities. It is indeed a "once in a lifetime" experience that you must never miss. Each encounter is different and has its own rewards, but you are likely to enjoy the close view of adults feeding, grooming and resting as the youngsters frolic and swing from vines in a delightfully playful display.
Accommodation: Mahogany Springs Resort
Meal plan: All meals
Day 15: Whole Day Birding
Accommodation: Mahogany Springs Resort
Meal plan: All meals
Day 16 -17: Bird watching to Ruhiija for Albertine Endemics (Spend two nights here)
This section of Bwindi is generally at a higher altitude (2000m to 2800m) and therefore is cooler. Temperatures range between 10 and 18 degrees centigrade. Forest birding at Bwindi ranks the best in Uganda. It is home to over 23 highly localized Albertine Rift endemics. Specialty birds include; Black-faced Rufous Warbler, Grauer's Warbler, Banded Prinia, Black-faced Apalis, Black-throated Apalis, Mountain Masked Apalis, Red-throated Alethe, Yellow-eyed Black-flycatcher, Ashy Flycatcher, Dusky-blue Flycatcher, Chapin's Flycatcher, Chin-spot Batis, Cassin's Grey Flycatcher, Rwenzori Batis, Black-and-white Shrike-flycatcher, White-bellied Crested-flycatcher, Pale-breasted Illadopsis, Mountain Illadopsis, African Hill-Babbler, Dusky Tit, Blue-throated Brown Sunbird, Blue-headed Sunbird, Northern Double-collared Sunbird, Grey-headed Sunbird, Mackinnon's Fiscal, Sooty Boubou, Pink-footed Puffback, Doherty's Bush-shrike, White-naped Raven, Montane Oriole, African Golden Oriole, Stuhlmann's Starling, Narrow-tailed Starling, Waller's Starling, Strange Weaver, Brown-capped Weaver, Black-billed Weaver, Dusky Crimsonwing, Yellow-bellied Waxbill, Magpie Mannikin, Yellow-crowned Canary, Thick-billed Seedeater, Streaky Seedeater, African Green Broadbill, Shelly's Crimsonwing, Oriole Finch, Mountain Buzzard, Ayre's Hawk-eagle, Handsome Francolin, Black-billed Turaco, Barred Longtailed Cuckoo, African Wood-Owl, Rwenzori Nightjar, Scarce Swift, Bar-tailed Trogon, Cinnamon-chested Bee-eater, Black Bee-eater, (Western) Bronze-naped Pigeon, Red-chested Owlet, Tullberg's Woodpecker, Elliot's Woodpecker, African Broadbill, Western Green Tinkerbird, Lagdens Bush Shrike, Petit's Cuckoo-shrike, Grey Cuckoo-shrike, Archer's Ground Robin, Toro Olive-Greenbul, Ansorge's Greenbul, Equatorial Akalat, White-bellied Robin chat, Olive Thrush, White-tailed Ant-thrush, Grauer's Rush-warbler, Short-tailed Warbler, Neumann's Warbler and Red-faced Woodland Warbler
Accommodation: Gorilla Mist Camp
Meal plan: All meals
Day 18: Bird and Scenery Photography Tour to Lake Mburo National Park
After breakfast, we will transfer to Lake Mburo arriving in the late evening. Lake Mburo National Park is 260 sq. km and it has markedly different fauna from other reserves. It is the only national park that contains an entire lake. Situated in rolling hills and open grassy valleys, the park also consists of 4 other smaller lakes.
Lake Mburo National park is covered in extensive open and wooded acacia savannah. This park is home to the largest diversity of both plant and wildlife of all Uganda's national parks. It is also the best place to see the gigantic eland antelope as well as well as Burchell's zebra, topi, impala, the more uncommon Klipspringer, African Buffalo, Hippopotamus, and several acacia associated birds.
Accommodation: Mihingo Lodge
Meal plan: All meal
Day 19: Departure
After breakfast, we will transfer to Entebbe arriving in good time for your departure flight.
Accommodation for tonight is not inclusive in the program. If you wish to depart tonight from Entebbe Airport, make sure your flight is at 10 pm or later. If you want us to book one (or more) nights in Kampala and/or Entebbe, please let us know.
Journey Time: 5 hours to Kampala, 6 hours to Entebbe
Accommodation: Not included
Meal plan: Breakfast and lunch
PACKAGE INCLUDES
Transport in a 4WD safari land cruiser with pop-up roof for excellent safari view;
All fuel for the tour;
English speaking Ugandan driver/guide;
Accommodation as listed in the program;
All breakfasts and dinners included;
All meals in Murchison Falls NP;
Packed lunch for the gorilla tracking
Park-entrance fees according to the program;
All activities described in the itinerary;
1 chimpanzee permit per person (a US$ 150 value);
1 gorilla permit per person (a US$600 value).
PACKAGE EXCLUDES
International air fares and entry visa Uganda
Meals that are not part of your accommodation
A porter for during the gorilla tracking (someone who carries your daypack);
Personal (medical/travel) insurance;
Tips and gratuities to rangers, driver/guide, porter, hotel staff, etc;
All expenses of personal nature (e.g. drinks, laundry, optional activities, souvenirs etc.).
Dates
This is a private tour, departure can be organised for anytime throughout the year subject to the availability of accommodation and transport.
Extension Tours
If you want to extend your tour to one of our other destinations or if you'd like to add a few side trips to the itinerary, kindly let us know.
Discount
When your gorilla tracking is in November 2017, you will receive USD $150 per person discount on this tour!
Transport
Our standard offering for this tour is a 4wd safari land cruiser with pop-up roof for easy safari viewing. All passengers will have a dedicated window seat. Your professional and courteous driver/guide will be at your disposal for questions or translations.
Booking
The bookings with the hotels mentioned in the program depend on availability. Reservations will only be made after your booking.
In case the mentioned hotels are not available during the requested period, we will do our utmost best to book a hotel in the same class for you (of course we will only do this after consulting you). It is not possible to 'reserve' gorilla and chimpanzee permits. Therefore we can only buy them after your booking and down-payment and also here it all depends on availability.
Important:
Please note the gorilla tracking in this itinerary can be done in Rwanda as well or in the other sectors on Bwindi or Mgahinga
Gorilla tracking is dependant on the permits availability at the time of your booking. Gorilla permits in all parks are on a very high demand and we advise that you book them as early as possible.
This tour can be tailor made to suite budget and mid range travellers
When you book your trip with Gorilla Link Tours to any of our destinations, Gorilla Link Tours will donate US$ 5 per person to persons with Albinism.