Mountain Gorillas are the world's largest living primates found only in specific places in Uganda, Rwanda and Democratic Republic of Congo (DRC). Mountain gorillas have two subspecies of the eastern gorilla. These are the Mountain gorilla which can be seen on a safari to Uganda and found in
Mgahinga Gorilla National park
,
Bwindi Impenetrable National park
,
Volcanoes National park
and
Virunga National park
. The second subspecies of eastern gorilla is the Grauer's gorilla which are endemic to the forest of the Albertine Rift in Eastern DRC.
Quick Facts about Mountain Gorillas
| | |
| --- | --- |
| Scientific Name | Gorilla beringei ssp. beringei |
| Conservation Status | Endangered |
| Weight | 135 to 220 kilograms (300 to 485 pounds) |
| Height | 1 to 2 years meters tall (4 to 6 feet) |
| Life Span | Live up to 40 to 50 years |
| Diet | Herbivorous |
| Gestation | 8.5 months |
| Population | About 1000 |
| Predators | Predominately humans, occasionally leopards |
| Habitant | Dense forest, rain-forest, bamboo forest, mixed forest, subalpine grassland on the volcanic peaks |
How Mountain gorillas behave
The silverback gorilla is the head of the family
Mountain gorillas are very social. The live in family groups of 2 to 20, protected and led by the silverback gorilla. A silverback gorilla develops silver hair on its back. When most males turn 11 years, they leave their biological groups. Some move alone and others travel with other males for a few years until they attract females to join them. The silverback leads the family to the best place for feeding and resting throughout the year. Generally, conflicts are resolved through standoffs and intimidating behaviours meant to frighten intruders away without causing physical harm. However, a silverback protects its group from attacks by humans, leopards, or other gorillas even if it means sacrificing his own life.
Relationship between Mountain Gorillas and Human beings
Mountain gorilla infants develop twice as fast as humans.
The female usually gives birth when she turns 10 and has offspring every four or more years. New-borns are weak and weigh only about four pounds. Their first movements are awkward, like a human infant, but they develop almost twice as fast. Infants nurse and are gradually weaned after they turn three when they are more independent.
DNA
Mountain gorillas share a close DNA with human beings. They share about 96.7% DNA with human beings. This shows are close the two are related.
Diet of Mountain Gorillas
Mountain gorillas spend most of the day eating. They are herbivores and eat about 10 different plant species. Their favourite are celery, thistles, wood, and roots. The rarely drink water since they get most of it from the plants they consume.
And it rarely needs to drink since it gets most of its water from the plants it consumes.
Challenges Faced by Mountain Gorillas
Human Encroachment.
One of the biggest challenge face by mountain gorillas is the human encroachment on their habitat. Although there are about 1000 mountain gorillas in the wild, there is an overall decline in eastern gorillas of about 5% every year.  The Grauer's gorilla population was previously estimated around 16,900 and dropped 77 percent to only 3,800. If this continues unabated, 93 percent of the eastern gorillas will be gone by 2054.
For mountain gorillas, the biggest threats come from political instability, human encroachment, and forest degradation. Their sanctuary in Virunga National Park is fertile and rich in biodiversity making it one of the most populated regions in Africa. As people move closer to gorillas, they also bring the risk of human diseases such as the flu, pneumonia, and even Ebola. The continued encroachment pose serious threats to critical eastern gorilla habitat.
War
War in the Democratic Republic of Congo has resulted in more than four million human lives lost over the past 14 years. The political instability and pressure from rebel groups throughout the area puts pressure on Virunga National Park, placing mountain gorillas in the middle of this social and economic crisis.
Locals depend on natural resources and wildlife-based tourism for their welfare. So the future of mountain gorillas will be closely linked with the peace and prosperity through the land.
Habitat Loss
As humans have moved into areas near mountain gorillas, they have cleared land for agriculture and livestock. Even land within protected areas is not safe from clearing—in 2004, for example, illegal settlers cleared 3,700 acres of gorilla forest in Virunga National Park.
Disease
Gorillas that come into contact with humans can be vulnerable to human diseases, which gorillas experience in more severe forms. Mountain gorillas can even die from the common cold. However, studies have found that mountain gorillas that are regularly habituated with researchers and tourists have survived better than unvisited gorillas; they benefit from the greater protection available in those areas and from regular monitoring. Increased survival is also largely due to better veterinary care of sick and injured gorillas.
Charcoal Burning in Virunga National park
Charcoal burning inside Virunga National Park where some mountain gorillas live has destroyed their habitant. Charcoal is used by people to cook food, and those selling it earn from it.
Poaching for other animals where Mountain gorillas live
There is little to no direct targeting of mountain gorillas for bushmeat or pet trade, but they can be caught and harmed by snares set for other animals.
Can one see Mountain Gorillas? And how much is a gorilla permit?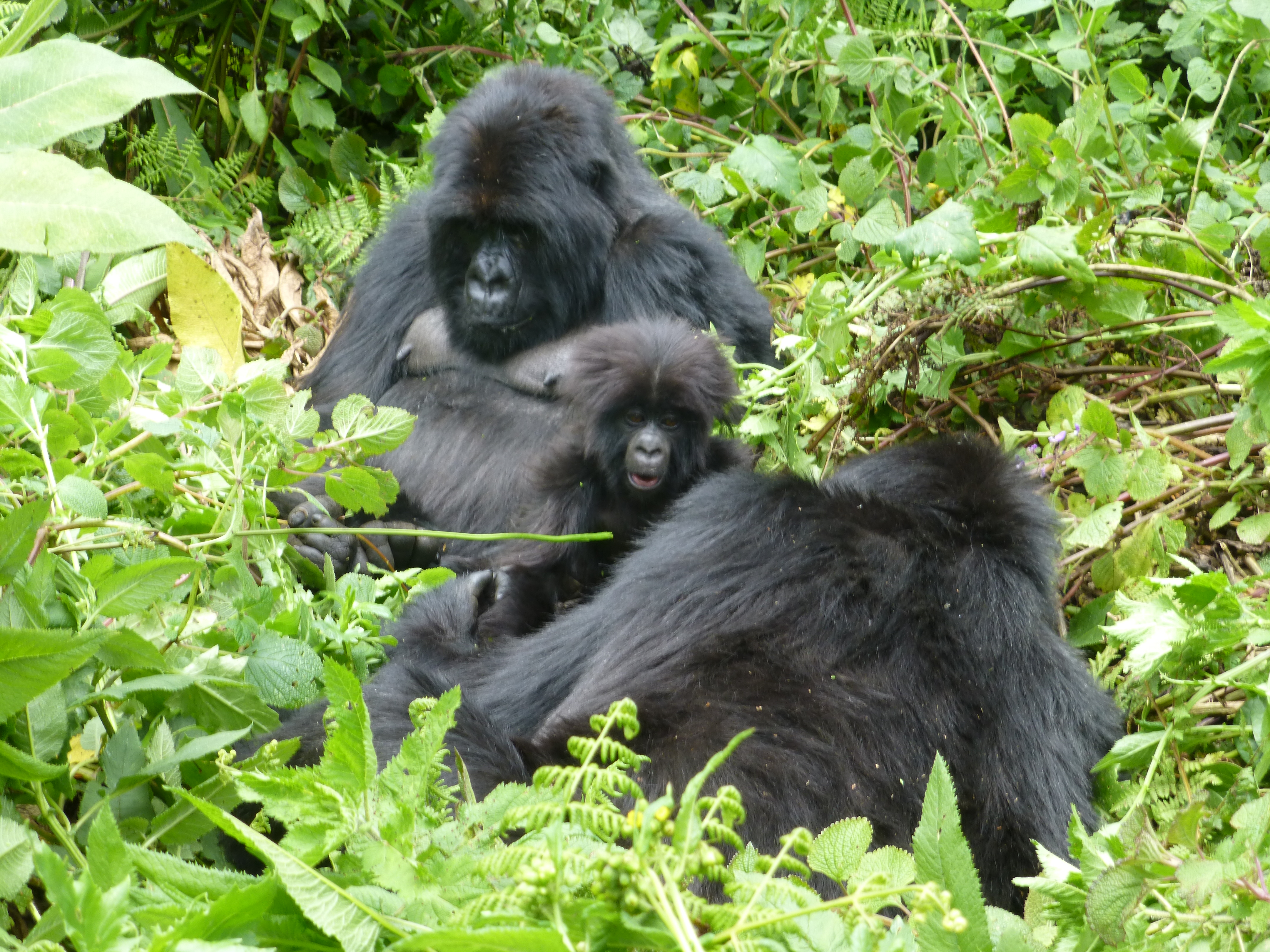 Yes you can see mountain Gorillas on our Gorilla trekking safaris in Uganda's Bwindi Impenetrable Forest, Mgahinga Gorilla National Park and Rwanda's Volcanoes National park. At the moment, it is not safe to go gorilla trekking in Congo's Virunga National park due to war. The park is closed at the moment and as soon it opens, we will resume with organizing gorilla tracking tours to this amazing national park.
To see mountain gorillas, you need a gorilla trekking permit. When you book your gorilla trekking tour through us, we do not charge you to purchase your gorilla trekking permit. In Uganda, the cost of gorilla permit is $600 US dollars for foreign non residents and $500 USD for foreign residents. Read more about the cost of a gorilla permit in Uganda
To see mountain gorillas in Rwanda's Volcanoes National park, again you need a permit which costs $1500 US dollars per person. Read more about the cost of a gorilla trekking permit in Rwanda
Best Places to see Mountain Gorillas
Mountain gorillas can not live in a zoo and the only places you can see them in their natural habitat are Uganda, Rwanda and Congo. Uganda is home to half of them, making it the best place to see them.
The best national parks in Uganda where you can see them are:
Bwindi Impenetrable Forest National park, which is located in South Western Uganda at the edge of the Western Rift Valley. It is 331sq Km and gorilla trekking and gorilla habituation can be done in three sectors of the park. The sectors are Buhoma which now has 4 gorilla families to trek, Ruhija has 3 gorilla families, and The Southern sector has about 11 habituated gorilla families to trek. The south combines Rushaga and Nkuringo areas.
Mgahinga Gorilla National park is the smallest National park of Uganda's 10 national parks. It is South Western Uganda, bordering Rwanda and Congo, 14 km from Kisoro. It is 33 square kilometres at an altitude range of 2227 metres – 4127 metres consists of the partly forested slopes of three extinct volcanoes. It is easy to do gorilla trekking in this national park due to its size and only 1 gorilla family is habituated here and always ready to be trekked.
The above national parks can be also visited via Kigali in Rwanda and then you cross the border to Uganda
Best places to see Mountain gorillas in Rwanda.
Volcanoes national park is the only and best national park to see habituated mountain gorillas in Rwanda. The Parc National des Volcans (PNV) is part of the Virunga Conservation Area and covers more than 125 km². It is home of five Virunga volcanoes: Sabyinyo (3.674 m), Gahinga (3.474 m), Bisoke (3711 m), Muhabura (4.127 m), and the Karisimbi, the highest volcano with an altitude of 4.507 m. All five volcanoes are extinct. The main activity in Virunga Volcanoes National park is Gorilla trekking. Visitors on a gorilla trekking safari in this park can trek its 5 habituated gorilla families which are, Susa group has 35 individuals, Amahoro group has 11 individuals, Sabyinyo A – group has 13 individuals, Sabyinyo B – group has 4 individuals (breakaway group)
What to bring for gorilla trekking
Hiking Boots
Garden Gloves
Rain Jacket
Long Sleeved Shirts/Blouse/
Snacks
Packed lunch (provided by us)
Drinking water (Provided by us)
Cameras and extra batteries
Hat and Sun Glasses
Pair of Binoculars
Suggested itineraries to Uganda and Rwanda that include Gorilla trekking