7 Days Uganda Gorillas, chimps and shoebill stork safari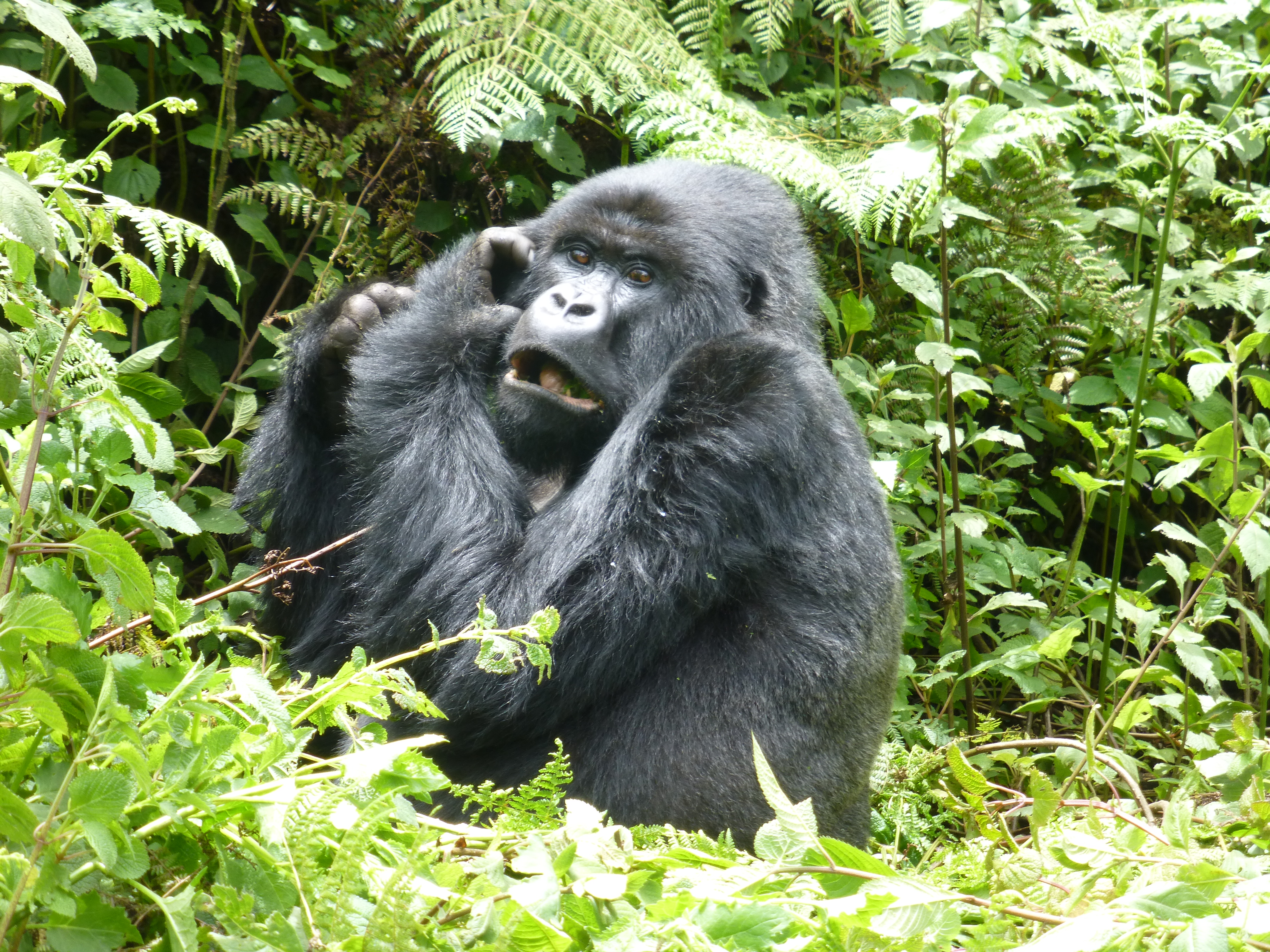 This 7 days gorillas chimps and shoebill stork safari will show you the highlights of Uganda starting with a shoebill stork tour at Mabamba wetland swamp in Entebbe. It also features gorilla trekking and chimp trekking in Bwindi Impenetrable National park and Kibale National Park respectively.Highlights of the 7 Days Uganda Gorillas chimps and shoebill stork safari
Shoebill stork
Gorilla and chimp tracking
7 days Uganda gorillas chimps safari
Day 1 of 7 days gorillas chimps and shoebill stork safari: Airport pick up.
Upon arrival at the airport, you will be picked up from Entebbe airport by a representative from Gorilla Link Tours and transferred to your hotel
Depending on the time you arrive in Entebbe, you may go for some optional activities that include a visit to the Botanical gardens.
All these optional activities will be paid by you on site
Journey Time: 10 minutes
Accommodation: Papyrus Guest House
Meal plan: No meals included
Day 2: Transfer to Mabamba Swamp for the shoebill stork
Today you will wake up early, have breakfast and after breakfast you will be transferred to Mabamba wetland swamp in search of the shoebill stork. The shoebill stork is one of the 10 highly sought after birds of Uganda and there is a huge chance of seeing one or two in the wild at the swamp especially when you go in the morning hours.
When you get to the swamp, you will welcomed by one of the site guides who will take you on a motorized canoe boat in search for the shoebill stork. Look out for other birds like the malachite kingfisher, yellow billed duck, white faced whistling duck, hammerkops, papyrus gonelek and other water birds.
Get up early, your guide will pick you from your hotel or place of your convenience and transfer you to Mabamba wetland swamp to look for the shoebill stork and other birds around and in the swamp. You will be transferred back to your hotel
Journey time: 2 hours each way
Accommodation: Papyrus Guest House
Meal Plan: Bed and breakfast
Day 3: Transfer to Kibale Forest NP
Today after your breakfast, your guide will pick you from your hotel after a briefing about your next destination. You will be transferred to Kibale National park, home to chimpanzees, birds and other primates. You will drive through a beautiful scenery through the communities, tea plantations and hills. You will have your lunch in Fort Portal town. After lunch, you will be driven to your lodge for check in and relaxation.
Journey Time: 5 hours
Accommodation: Primate Lodge Kibale – Standard cottages
Meal plan: All meals
Day 4: Chimpanzee tracking – Bigodi swamp walk
Today after your early breakfast, your guide will drive you to the park offices for briefing about chimpanzee trekking. Kibale National Park is not only home to chimpanzees but to other primates and boasts the biggest number of primates in the whole world. The chimpanzees you will be trekking are habituated and comfortable with the presence of humans. In Uganda, there are about 5000 chimpanzees in the world, making it the best place to spot them in the wild.
During chimp trekking, you will be guided by an experienced and knowledgeable ranger who will also be able to identify other monkeys and birds you will see on the way. Once you get to where the chimpanzees are, you will have a full face to face hour with them. You will either go for the morning or afternoon chimp trek.
In the afternoon after lunch, you will go for the guided swamp walk. The walk (2-3 hours) will take you through grassland, small communities and some beautiful scenery, where the locals are likely to greet you with enthusiastic waves. You may spot at least three to four different primate species during this walk, though the highlight is seeing the great blue turaco!
Optional Activities: Chimpanzee Habituation
Journey Time: 10 minutes each way
Accommodation: Primate Lodge Kibale
Meal Plane: All meals
Day 5: Transfer to Bwindi Impenetrable Forest
After early breakfast, you will be transferred to Bwindi Impenetrable Forest, home to last surviving Mountain Gorillas. You will pass through a beautiful scenery of bamboo, rolling hills, forests often referred to as the Switzerland of Africa.
You will stop for lunch on a local restaurant. You will get to your lodge in time for dinner and overnight
Journey Time: 8 hours (excludes breaks, stops and lunch break)
Accommodation: Ichumbi Gorilla Lodge
Meal plan: All meals
Day 6: Gorilla Trekking in Bwindi impenetrable forest
Today after early breakfast, you will be transferred to the park head quarters for briefing about gorilla trekking. You will encounter one of Bwindi's endangered mountain gorillas. For most people this is the absolute highlight of their tour in Uganda.
Bwindi Impenetrable national park boasts both mountain gorillas and chimpanzees – the only forest in Africa that can make this claim. It also hosts five other species of primates, 113 species of mammals, over 200 species of butterflies and 360 species of birds. The gorillas you track are habituated and can tolerate the presence of humans for a brief period of time, every day.
The time taken to track the gorillas can be as few as 2 hours to as many as 7 hours. Once the gorillas have been located, your group will be allowed a maximum of one hour with them. Coming face-to-face with a mountain gorilla is a truly humbling and emotional experience. This is a fantastic and privileged opportunity to get up close and personal with Uganda's very own 'Gorillas in the Mist'.
Journey Time: 15 minutes each way to the park offices
Accommodation: Ichumbi Gorilla Lodge
Meal plan: All meals
Day 7: Transfer back Entebbe airport or cross the border to Kigali airport
After breakfast at the lodge, you will drive back to Entebbe (Airport). As you pass through the equator, there will be a stop for the requisite snapshot and a bit of souvenir shopping.
Accommodation for tonight is not inclusive in the program. If you wish to depart tonight from Entebbe Airport, make sure your flight is at 10 pm or later. If you want us to book one (or more) nights in Kampala and/or Entebbe, please let us know.
Journey Time: 9 hours to Entebbe, 4 hours to Kigali (includes border crossing time)
Accommodation: Not included
Meal plan: Breakfast and lunch
Extension Tours
If you want to extend your tour to one of our other destinations or if you'd like to add a few side trips to the itinerary, kindly let us know.
Dates
Since this is a private tour, departure can be organised for anytime throughout the year subject to the availability of accommodation and transport.
Hotel reservations:
The bookings with the hotels mentioned in the program depend on availability. Reservations will only be made after your booking.
In case the mentioned hotels are not available during the requested period, we will do our best to book a hotel in the same class for you- of course after consulting you.
Gorilla and chimp permits
It is not possible to 'reserve' gorilla and chimpanzee permits. Therefore we can only buy them after your booking and down-payment and it all depends on availability.
Transport
Our standard offering for this specific tour is a 4wd Toyota Land cruiser with a pop-up roof for easy safari viewing. All passengers will have a dedicated window seat. When you are 3 or 4 persons the bigger model is included.
Tour Package Including:
Transport in a 4WD Toyota Land cruiser with pop-up roof for excellent safari view;
All fuel for the tour;
English speaking Ugandan driver/guide;
Accommodation as listed in the program;
All meals as per the itinerary;
Packed lunch for the gorilla tracking;
Park-entrance fees according to the program;
All activities described in the itinerary;
1 chimpanzee permit per person (USD 150)
1 gorilla permit per person (a US$ 600 value).
Excluding:
International air fares and entry visa Uganda
Meals that are not part of your accommodation;
A porter for during the gorilla tracking (someone who carries your daypack);
Personal (medical/travel) insurance;
Tips and gratuities to rangers, driver/guide, porter, hotel staff, etc;
All expenses of personal nature (e.g. drinks, laundry, optional activities, souvenirs etc.)
Important:
Please note the gorilla tracking in this itinerary can be done in Rwanda as well or in the other sectors on Bwindi or Mgahinga
Gorilla tracking is dependant on the permits availability at the time of your booking. Gorilla permits in all parks are on a very high demand and we advise that you book them as early as possible.
Social Responsibility
When you book your trip with Gorilla Link Tours to any of our destinations, Gorilla Link Tours will donate US$ 5 per person to persons with Albinism.