5 Days gorilla tracking Congo with Nyiragongo Volcano hike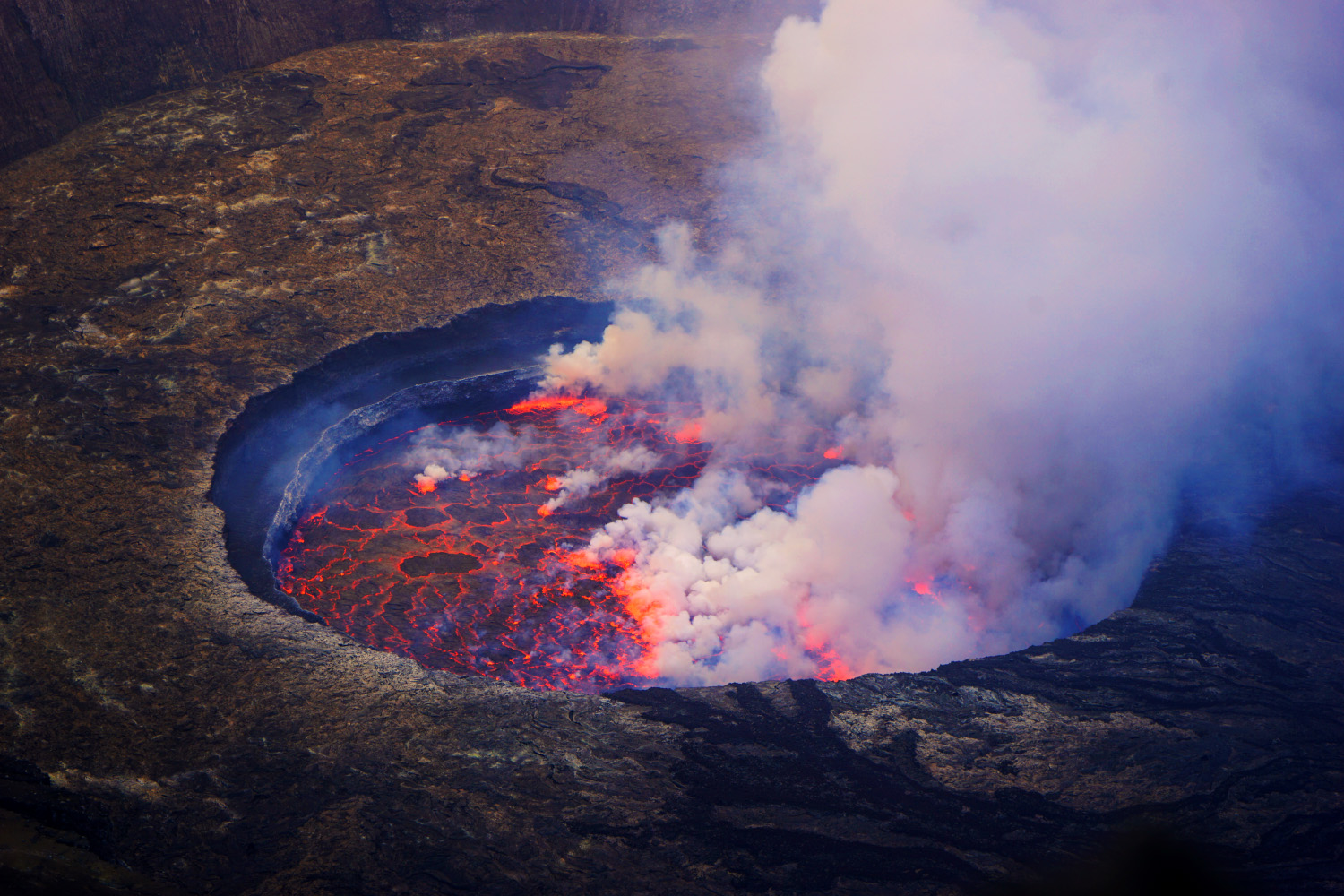 This 5 Days gorilla tracking Congo with Nyiragongo Volcano hike safari is the ultimate tour for adventurers. You will hike the active Nyiragongo Volcano and track mountain gorillas in Virunga National park. You will discover the highlights of Eastern Congo, with your personal guide explaining more about the rich history of the country.
Highlights of the 5 Days gorilla tracking Congo with Nyiragongo Volcano hike safari
Nyiragongo volcano hike
Mountain gorilla tracking
Day 1: Airport arrival
Upon arrival at the airport, you will be welcomed by your driver/guide who will transfer you to the airport. Depending on your arrival time you may be able to visit some of Kigali's craft markets. All activities and purchases today are at your own cost.
Your accommodation is in a quite suburb of Kigali- Flame Tree Lodge in the newly build Flame tree village. This hotel will make you feel right at home.
Journey Time: 15 minutes from the airport
Accommodation: Flame Tree Village
Meal plan: No meals inclusive today
Flame Tree Village is strategically located in the quiet suburb of Nyarutarama in Kigali.It boasts a total of 20 spacious villas that are not only comfortable, but provide a tranquil, homely experience. We provide free Wi-fi internet connection as well as a well-stocked pool bar. The residence has a pool as well as an in-door restaurant and an outdoor sitting area.
Day 2: Transfer to Virunga National Park
Today after early breakfast, you will be transferred to Virunga National park. You will enjoy a beautiful drive through the Rwandan country side to Goma- the boarder town with DRC. We can help process your Visas before your safari starts. You will only need your passport
The Virunga National Park  is the oldest national park in Africa and it is the most varied region on the entire continent. Home to the endangered Mountain Gorillas and Chimpanzee, it boasts the only glacier in Africa with its Rwenzori Mountains and has typical savannah grass land near Lake Edward and the Rwindi plains.
Tonight you will sleep in the most beautiful lodge in DR Congo.
Journey Time: 4 hours
Accommodation: Mikeno Lodge
Meal Plan: All meals
Mikeno lodge (Luxury) offers twelve unique bungalows, fashioned with lava stone, mahogany and thatch are nestled amidst the thick forest greenery and reaching trees. Comprised of a comfortable lounging area and fireplace to ward off the crisp evening air, the spacious bungalows enjoy en-suite bathrooms with stone carved baths and curved stone showers. The decor merges Congolese ethnicity and classic simplicity with patterned rugs, soft tones and sleek wooden furniture; whilst the private deck allows guests to enjoy the performance of the Blue and Colobus monkeys in the forest. Enjoyed beneath the thatched boma at the main lodge, dining is delicious and flavoursome.
Day 3: Gorilla Tracking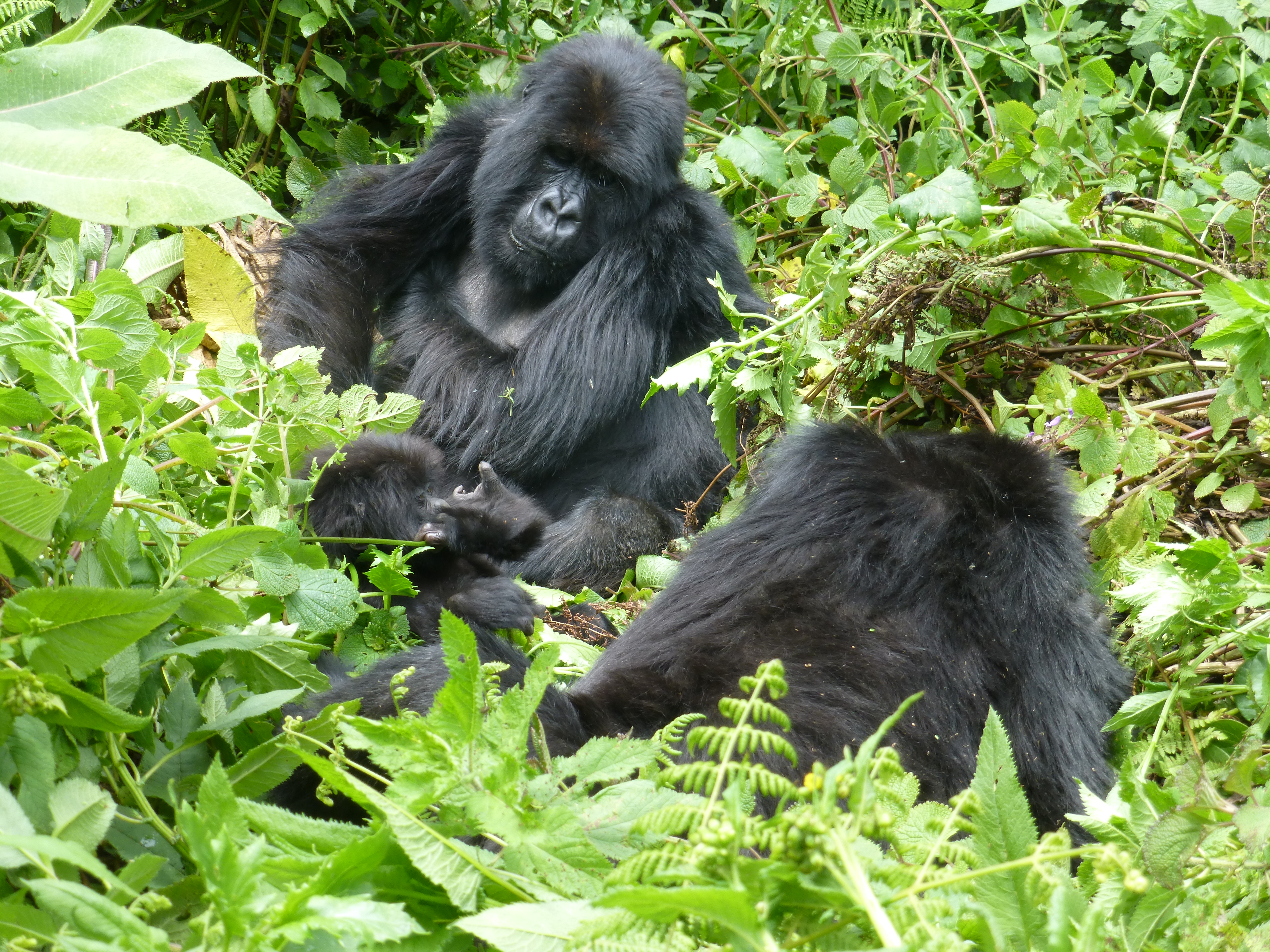 Today after breakfast, you will go for gorilla tracking at Virunga National park. Starting at the headquarters in Rumangabo you will go for a challenging hike in search of these gentle giants.
The park is UNESCO world heritage site and the oldest national park on the continent. It is a diverse protected areas with the peaks of the Rwenzori Mountains, erosion valleys, active volcanoes, forest and even savannah areas.
This national park has been hidden from the public for a long time due to civil war and unrest in Eastern Congo. At this moment it is fully operational and the perfect place to track the mountain gorillas in the wild.
Your track will be an exciting journey along forested slopes, entwined vines, bushes and bamboo before you eventually reach the gorillas' current location. Your guide will point out signs of previous gorilla activity, including dung, nests and chewed bamboo shoots. Once the gorillas have been located, you will be allowed a maximum of one hour with them. Coming face-to-face with a mountain gorilla is a humbling and emotional experience. This is a fantastic and privileged opportunity to get up close and personal with Congo's own 'Gorillas in the Mist'.
Note: Gorilla Link Tours purchases the permits in advance but is unable to reserve a specific gorilla group as it is for the head-ranger to decide this.
Optional Activity:
Visit the Senkwekwe Gorilla Orphanage
When you are back from the Gorilla tracking you can choose to visit the Senkwekwe Gorilla Orphanage which is located in Rumangabo next to Mikeno lodge. Each of the gorillas living at the centre was victimized by poachers or animal traffickers, and likely witnessed family members being murdered.
Thanks to the financial support of individuals around the world and the loving care provided by their human caregivers. The orphans now lead happy and secure lives in their forested enclosure. Please note that you will not be interacting with the Gorillas but you can see them from a distance playing and how their caregivers take care of them. This activity is for free.
Journey Time: 1 hour
Accommodation: Mikeno Lodge
Meal Plan: All meals
Day 4: Nyiragongo Volcano
Today, your driver will take you to the Kibati patrol post on the foot of the Nyiragongo Volcano.  You will start hiking at 10 AM in the morning. You will have your own porter to carry your backpack and your personal cook will prepare your meal on top of the crater rim.
The Nyiragongo is one of the world's most active volcanoes and has the world's largest lava lake. This strato volcano recently erupted in 2002 but is predictable and therefore safe to climb. The volcano's forested lower slopes are home to a variety of animals, including monkeys and bushbucks.
In the late afternoon you will reach the top with an extraordinary view of the crater filled with sea of lava. You are one of the few to admire this spectacle.
At night you can see the sea of lava in the crater which gives spectacular pictures! You will sleep in one of the huts on the crater rim. These huts are very basic at the moment.
Journey Time: 30 minutes
Accommodation: Nyiragongo Summit Shelter
Meal plan: All meals
Day 5: Descend – Transfer to Kigali
Today, you will descend down and will be transferred to Kigali in time for your flight back home.
Journey Time: 4 hours
Accommodation: Not included
Meal plan: Breakfast.
Today you will descend and have a picnic lunch. After this amazing experience your driver/guide will take you across the border again and he will take you to your accommodation in Kigali or drop you at the airport in time for you flight.
Please note that you will not arrive in Kigali before 6 PM. It is possible to book an extra night in Kigali depending on your flight departure. Contact info@gorillalinktours.com  for more information.
Extension Tours
If you want to extend your tour to one of our other destinations or if you'd like to add a few side trips to the itinerary, kindly let us know.
Dates
This is a private tour, departure can be organised for anytime throughout the year subject to the availability of accommodation and transport.
Accommodation
The bookings with the hotels mentioned in the program depend on availability. Reservations will only be made after your booking.
In case the mentioned hotels are not available during the requested period, we will do our best to book a hotel in the same class for you- of course after consulting you.
Gorilla and chimp permits
It is not possible to 'reserve' gorilla and chimpanzee permits. Therefore we can only buy them after your booking and down-payment and it all depends on availability.
Transport
Our standard offering for mid-range tours is a 4wd safari van with a pop-up roof for easy safari viewing. All clients will have a dedicated window seat. Your professional driver/guide will be at your disposal for questions or translations.
Tour Package Including:
Transport in a 4WD minivan with pop-up roof for excellent safari view;
All fuel for the tour;
English speaking Ugandan driver/guide;
Accommodation as listed in the program;
Meals as per the itinerary
Packed lunch for the gorilla tracking;
Park-entrance fees according to the program;
All activities described in the itinerary;
Golden monkey tracking
1 gorilla permit per person
Nyiragongo Hike
Excluding:
International air fares and entry visa
Congo Visa fees ($130)
Meals that are not part of your accommodation;
A porter for during the gorilla tracking (someone who carries your daypack);
Personal (medical/travel) insurance;
Tips and gratuities to rangers, driver/guide, porter, hotel staff, etc;
All expenses of personal nature (e.g. drinks, laundry, optional activities, souvenirs etc.)
This tour can be tailor made to suit budget and luxury travellers
Important: 
Please note the gorilla tracking in this itinerary can be done in Bwindi and or Mgahinga national parks
Gorilla tracking is dependant on the permits availability at the time of your booking. Gorilla permits in all parks are on a very high demand and we advise that you book them as early as possible.
Safety and risks
Your own responsibility
Every country in the world has a negative travel advice for travelling in Congo/ DRC. Gorilla Link Tours can only be held responsible for the organization of the trip itself.
Travelling against the travel advice of your country therefore will be on your own risk and you will have to sign for this before going on tour with Gorilla Link Tours. Please check the status from the website of your own embassy and check if this will affect the validation of your travel- or medical insurance. You might have to take alternative or additional travel and health insurances to be covered.  Check The UK travel  Advice:
Travel with the right attitude
Although the Democratic Republic of the Congo is no longer considered as risky as it used to be, it remains a destination for only the most seasoned, hardcore African traveller. It is not a country for the casual "tourist": the average backpacker, holidaymaker, and especially those seeking luxury safaris or organized cultural experiences. The DRC remains one of the least developed countries in Africa.
When you travel expect that almost every activity runs late, people do not speak English and service at hotels and activities are not to be compared with more experienced tourist destinations in Africa. As well information provided by guides and rangers can be a bit poor.
Be flexible and patient. Those who do brave the elements to travel here are in for quite the adventure.
IMPORTANT: LIABILITY INSURANCE
The client acknowledges and accepts that there may be no policy covering Gorilla Link Tours liability to its clients for death, injury, damage or loss occurring anywhere in the world. The client also specifically acknowledges that with respect to passenger accident liability cover this cover may be very limited or may not exist at all.
The client acknowledges that he has taken reasonable steps in safeguarding its liability. Although Gorilla Link Tours does hold various insurances this booking condition states that the client must assume he/she is not covered by any Gorilla Link Tours insurance policy, including all liability insurance, for death, injury, damage or any other loss.
Inquire now for rates
When you book your trip with Gorilla Link Tours to any of our destinations, Gorilla Link Tours will donate US$ 5 per person to persons with Albinism.