Chimpanzee trekking tours in Uganda
Chimpanzee trekking tours in Uganda / Chimp trekking safaris / Trek chimps in Kibale National Park
Chimpanzee trekking tours in Uganda are one of the popular tours for majority of travellers. Chimpanzee trekking tours in Uganda take place in different forests and national parks but the main national park with the highest number of habituated chimpanzees and other primates is Kibale National Park in South Western Uganda. This makes the park the best place to go for chimpanzee trekking tours in Uganda.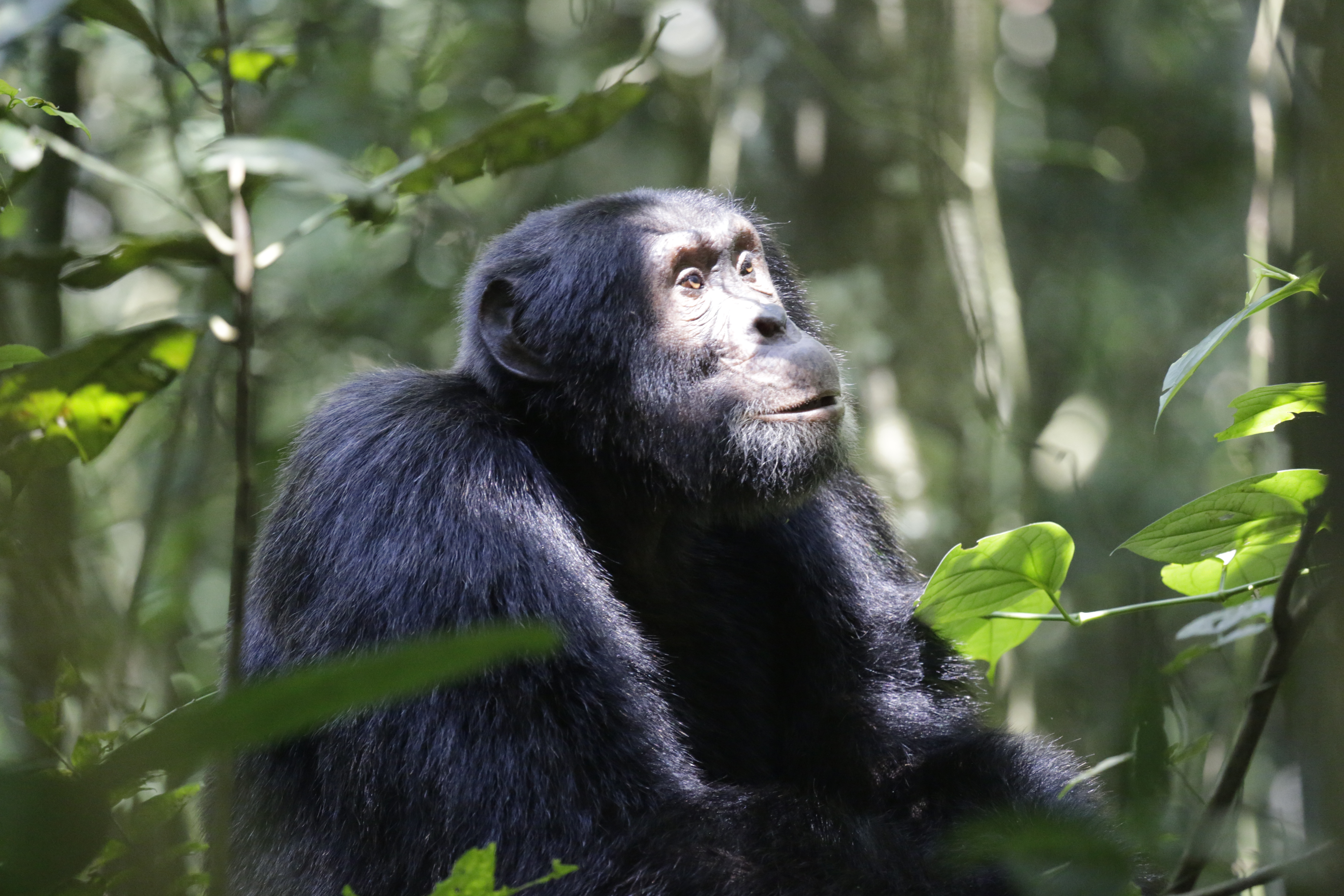 Chimpanzee trekking tours in Uganda can be done independently on our 3 days chimpanzee trekking tours or combined with other Uganda wildlife safaris and or with gorilla trekking and gorilla habituation.
Chimpanzees are man's closed cousin, sharing a DNA with man of 98.8%. They are very intelligent and seeing them in the wild in free nature on chimpanzee treks is a memorable experience.
During these chimpanzee trekking tours in Uganda, you will be briefed by experienced and knowledgeable ranger guides from Uganda Wildlife Authority about the dos and the don'ts. The treks take place two times, the first group of visitors in the morning and the second group goes in the afternoon.
The chimpanzee trekking tours in Kibale National Park can also be combined by a guided swamp walk of Bigodi wetland. Here you will learn about the community and their conservation contribution to the swamp and Kibale forest, and you will see lots of birds and other primates that include grey cheeked mangabeys, red tailed monkeys, black and white colobus monkeys among others.
The most popular bird on this walk it the beautiful great blue Turaco.
Apart from Chimpanzee trekking, visitors can opt for Chimpanzee Habituation, a unique experience for visitors who would like to be part of the habituation process. Habituation makes wild chimpanzees to get comfortable with the presence of man. It takes place the whole day, observing and doing research on wild chimpanzees to get them prepared for normal regular treks. Only a limited number of six people can go for chimpanzee habituation
Best time for chimpanzee trekking tours in Uganda
The best time for chimpanzee trekking tours in Uganda is throughout the year. Chimpanzees live in forests and that is where treks take place. These are rain forests and it can rain any time of the year. The most important thing is to wear appropriate gear (light rain jacket, hiking shoes, hat, etc)
It should be noted however that during the high season months of June-October and December to February, the demand is very high and we recommend that you book your chimpanzee tours early enough.
The demand is lower during the low season months also known as the green months (March-May) and November.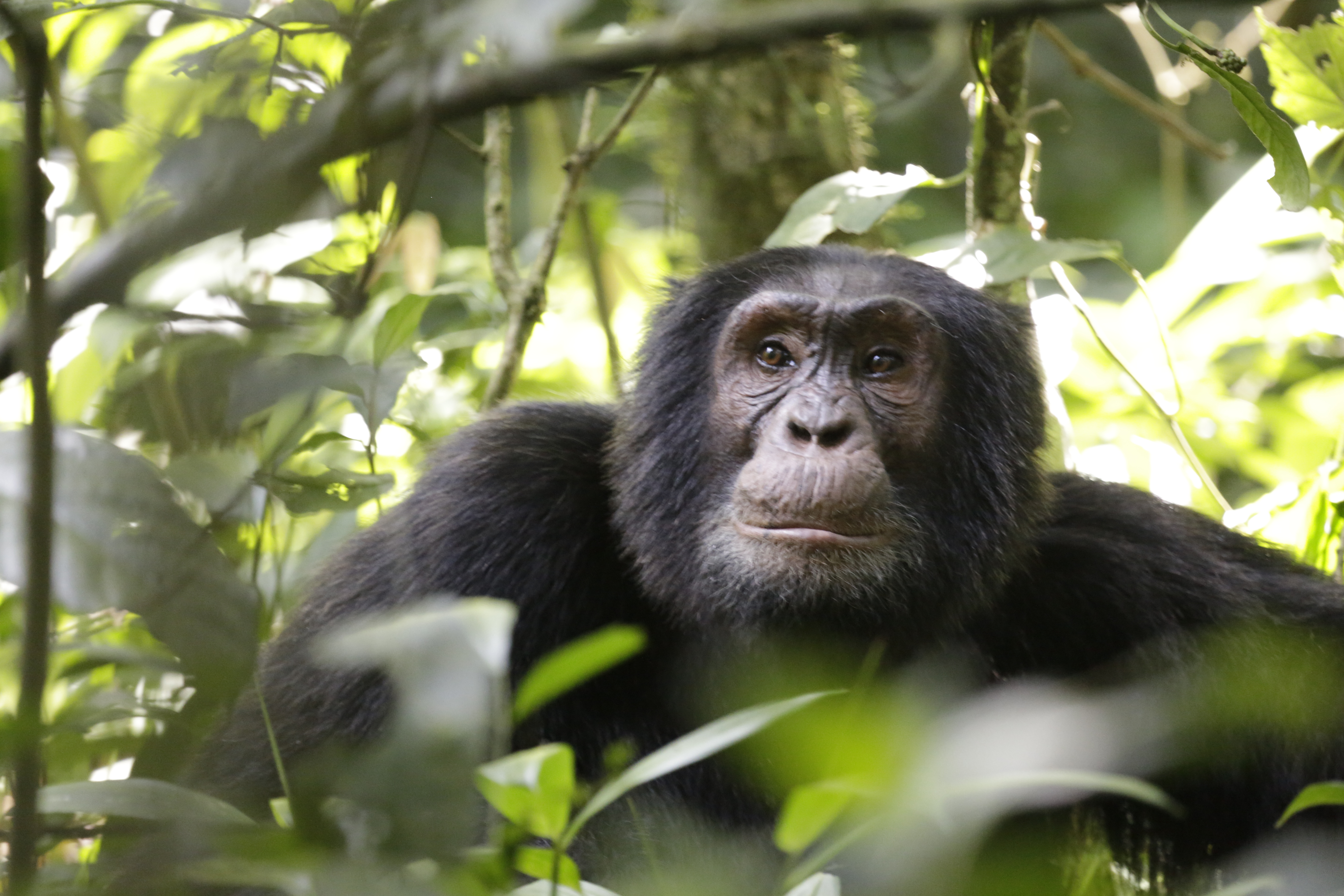 Cost of chimpanzee trekking permits
The cost of chimpanzee trekking permits in different forests in Uganda is
Kibale National Park
150 US dollars for the regular permits for foreign non residents
200 US dollars for chimpanzee habituation
100,000/= for East Africans
Kyambura Gorge
50 US dollars
30,000/= for East Africans
Budongo Forest
100 US dollars
Kalizu Forest
40 US dollars
Best places for chimpanzee trekking tours in Uganda
The best places for chimpanzee trekking tours in Uganda are Kibale National Park, Budongo forest, Kyambura Gorge and Kazlizu forest. Read more
Are children allowed to go for chimpanzee trekking tours in Uganda?
This is a commonly asked questions by travellers coming on chimpanzee safaris with their children.
Yes children can go for chimpanzee trekking in these forests but they must be twelve years and above.
Suggested chimpanzee trekking tours in Uganda