Gorilla trekking or Gorilla tracking is the biggest highlight for most travelers on Uganda wildlife and adventure safaris. Gorilla trekking or gorilla tracking takes place in Uganda, Rwanda and Democratic Republic of Congo and one needs a gorilla tracking permit.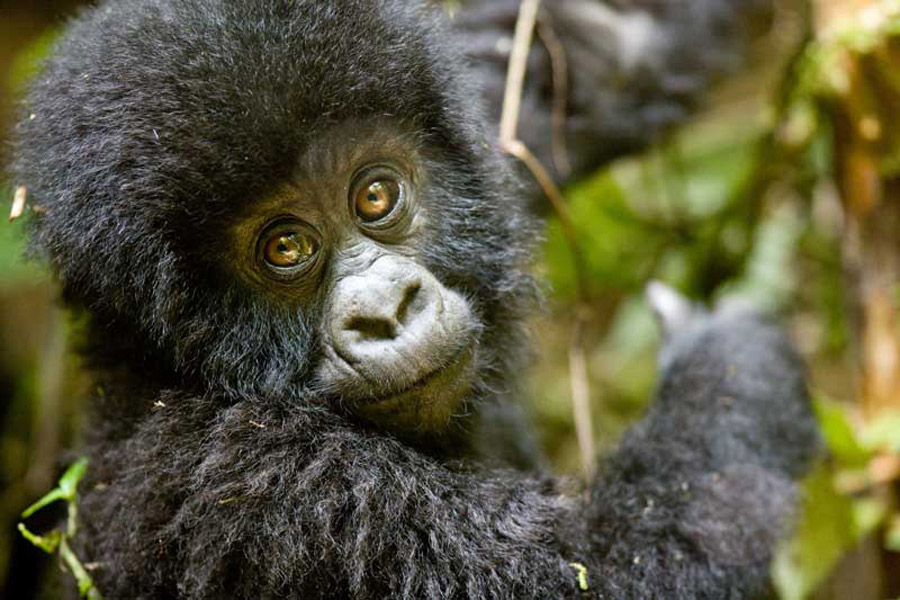 It is actually the main reason many travelers get on the plane to Uganda since it is one of the unique activities in world, considering that highly endangered mountain gorillas cannot live any where else, but where they are now which is Uganda, Rwanda and Congo. Although about 880 mountain gorillas live in these three countries, half of the world's them live in Uganda's Bwindi Impenetrable National park and little Mgahinga Gorilla National park. One needs to prepare very well for the gorilla trek and Gorilla Link Tours always provide a per-departure guide to help with preparations. Click here for our gorilla tracking safaris. These safaris offer you a great opportunity to come close to the mountain gorillas in their natural habitat.
The whole gorilla tracking process can take place from 1 hour to 8 hours depending on where they nested the previous night. When finally found, one is allowed 1 hour with them, taking photos, 'selfies' and observing how they live. Mountain gorillas live in family groups headed by a giant silverback gorilla. The family normally has black backs, females, juveniles and babies. Coming face to face with Mountain gorillas in one of the best feeling; a feeling that is forever memorable.
Gorilla Habituation Experience
Gorilla habituation is a new activity that Uganda Wildlife Authority has opened up for travelers in Bwindi Impenetrable Forest National Park. Gorilla habituation can only be done in Uganda, in Rushaga which is the southern sector of the park for $1500 a gorilla habituation permit
There are two gorilla groups that are being habituated and one can be part of that habituation program with researchers from Uganda Wildlife Authority. Instead of 8 people as is the case of gorilla tracking, only 4 people are allowed to participate in the gorilla habituation.
You will spend 4 hours with the gorilla family being habituated from the time you find where they nested the previous night; learning about their behaviors and so on. Your data collected will be added into the data base and even when you go back home and are still interested in updates about the gorilla family you habituated, they will be availed to you. The activity begins at 7am, with a team of trackers, researchers and ranger guides.
As per Uganda Wildlife Authority, the conservation body in Uganda, a gorilla tracking permit is USD 600 and the gorilla habituation permit costs $1500.
In Rwanda, one gorilla tracking permit costs 1500 USD while in Democratic Republic of Congo, it costs 400 USD depending on the time and conditions
Gorilla Link Tours can help organize your gorilla tracking and habituation permits in these three countries
There is no bad or best time for gorilla tracking because it can be done throughout the year, evenly good since there is no higher or lower success of seeing the mountain gorillas in the different seasons. Visitors are guaranteed 95% chance to see them.
During the rainy season, the trek especially in the boggy areas might be with more mud, but the gorillas do not move very far for food too. Bwindi Impenetrable Forest is a rain forest, so there is no big difference between a rainy or dry season since it can rain anytime in the forest. The forest is always wet anyway.
The advantage of tracking during the rain season is you will likely track the gorillas a lone or in a very small group since green months in Uganda are low season months
Is it easy to book a gorilla permit?
All our safaris that include gorilla tracking, a gorilla tracking permit is included in the cost. Gorilla permits are on high demand and only 80 gorilla tracking permits are available per day. In high season, the gorilla permits are sold out way in advance and we advise you to always book your gorilla permits in advance to avoid disappointment. The demand has been made worse since Rwanda increased their gorilla tracking fees from 750 USD to 1500 USD. Kindly note that we always have to check if gorilla permits are available before we confirm your Uganda and gorilla tracking safari
You don't have to book a tour with us to book your gorilla permit
You don't have to book a gorilla tracking safari with us, but we can help organize your permits at on 50 USD as handling fees. We will then organize on how you can get your gorilla permits, either from Kampala or Entebbe or from your lodge
How many Gorilla Family groups in Uganda?
In Uganda's Bwindi Impenetrable National park, there are about 12 habituated for gorilla tracking and 1 gorilla family in Mgahinga Gorilla National Park.
Bwindi Impenetrable has three sectors but 4 places where one can go for gorilla tracking of the habituated gorilla families. There is the Northern sector also known as Buhoma which has three gorilla families. Gorilla tracking first took place from here and the first gorilla family to be habituated and open for tracking in 1998 is Mubare gorilla family. Then the Eastern sector also known as Ruhija has three habituated families too and Rushaga and Nkuringo in the Southern Sector. There are 5 gorilla groups in Rushaga and 2 gorilla groups in Nkuringo.
Gorilla tracking in Mgahinga Gorilla family is easier and takes a shorter time because the park is small. Nyakagezi gorilla family that is tracked from here is found mainly in the open areas of the bamboo Zone. The gorilla family used to cross boundaries from Uganda to Rwanda but came back to Uganda and has not gone back since
What is the best gorilla family to track?
This is one of the frequently asked questions by travelers coming on a Uganda gorilla tracking safari. The further ask which gorilla family has more members, is better and the time to track a particular gorilla family.
It is very hard to answer those questions since the mountain gorillas live and move freely in free nature. Much as they are habituated, they are still wild and it is hard to predict their movements, behaviors and so on.
Some gorilla families like Rushegura of Buhoma are easily spotted because it doesn't move far but this too is unpredictable.
When a traveler wants to track the nearer or easier gorilla family, with the help of the safari guide, on the day of tracking at the gorilla briefing point, one can easily get an easier family to track depending on where they last nested the previous day.
There are four different places in Uganda for mountain gorilla tracking each with a distance of 2 to 5 hours drive from each other. So the choice of accommodations also plays a big part in which area one will track gorillas from.
Unfit for Gorilla Tracking? No problem
A traveler who is not fit and not able to walk long distances should go for gorilla tracking in Rwanda or Mgahinga Gorilla National Park. In Rwanda, all gorilla treks start from one point and easier and less difficult treks are chosen according to the fitness level of visitors
However, it is more expensive to track gorillas in Rwanda- 1500 USD for a gorilla permit and the trek is not as exciting as it is in Uganda
It is easier to track mountain gorillas in Mgahinga Gorilla National Park because it is a very small area and the gorilla family is around the open areas of the bamboo Zone. A gorilla trek here can be combined with a golden monkey trek which is not the case with gorilla tracking in Bwindi Impenetrable Forest National Park.
During the gorilla trek
Only 8 visitors are allowed to visit each habituated gorilla family and only 4 visitors for the gorilla habituation
Always wash your hands before you head out into the forest to see the gorillas
Do not leave rubbish in the national park
Always keep your voices very low so you are able to enjoy other sights in the Park. But you can still ask your ranger guide questions
When you finally get up close to the gorillas, follow your guide's instructions. He will inform you when to get your cameras ready to photograph these giant apes
Rules while with the mountain gorillas
Remember to keep a distance of 7 meters (21 feet) from the gorillas
Your voices must be kept low at all times
Do not eat or drink while you are with the mountain gorillas
When the gorillas charge which happens sometimes, follow your guide's instructions. He will tell you to crouch down slowly, and please don't look in the eyes of the gorillas
Don't attempt to run away. This will increase the risk of the attack from the gorillas
Gorillas are wild animals, do not touch them
Turn off the flash from your camera. Flash photography is not allowed
You will only be allowed a maximum of one hour with the gorillas
Gorilla trekking safari Requirements:
Sturdy hiking boots
Water proof trousers
Long sleeved Shirt/blouse
Water proof raincoat/jacket
Sun Cream
Gloves
Insect repellent
Backpack for carrying water/packed lunch
Camera
Gorilla trekking tours in Uganda, some via Rwanda