Chimpanzee Tracking and Chimpanzee habituation in Kibale Forest National Park are one of the most popular activities in the park and in Uganda at large. Chimpanzee trekking and habituation are activities like no other, and travelers on a Uganda safari should not miss these primate walks that take place in Kanyanchu area of the park
The stars of Kibale National Park are definitely the chimpanzees, but the forest is home to thirteen primate species that include diurnal monkeys. Chimpanzees in Kibale Forest National Park have been tracked since 1993 with great chances of seeing them.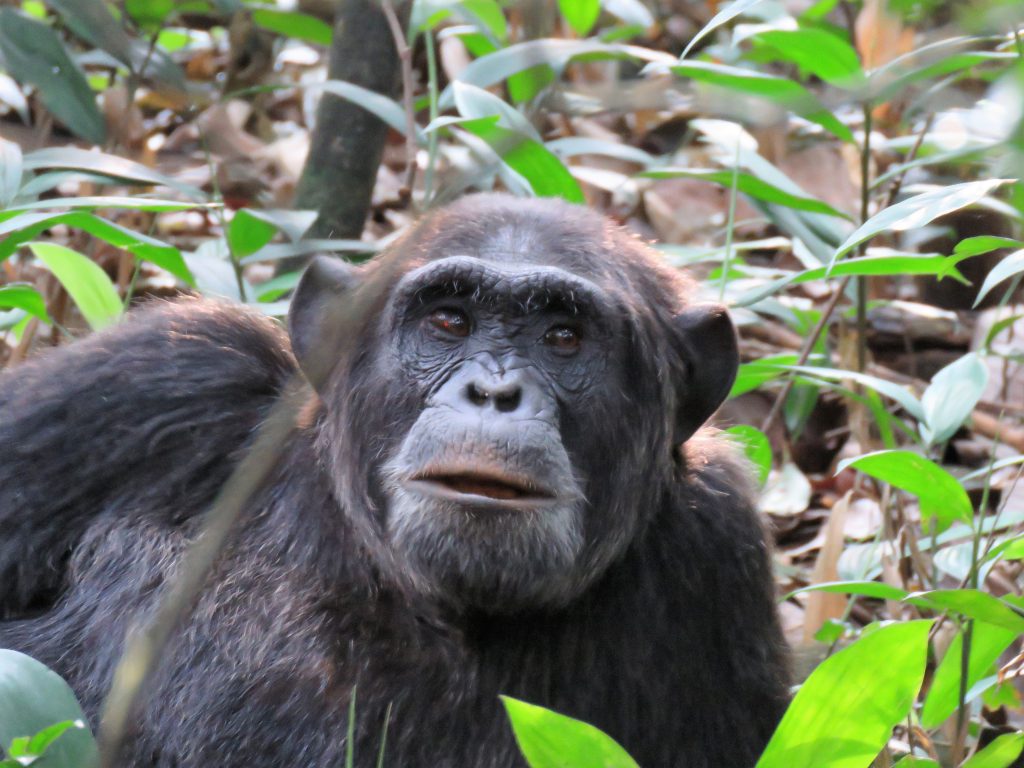 The chimpanzee trekking takes place two times, in the morning starting at 8am and in the afternoon starting at 2pm and can take about 3 hours depending on where the chimpanzees move to.
Chimpanzee Habituation
Chimpanzee habituation is rather a new activity and takes a full day introduced by Uganda Wildlife Authority.
Habituation is the process by which wild animals become used to the presence of human beings. The habituation process for chimpanzees can take up to two years. In Kibale Forest National Park, there are three habituated communities; two for research and one for visitors
Travelers get a chance to visit a chimpanzee family that is under going habituation and involve visitors waking up so early, joining researchers from Uganda Wildlife Authority, to watch and habituate chimpanzees before they leave their nests at 6.30am, watch them hunt, rest, breast feed, feed among others until when they start building their new nests at around 7pm. Because chimpanzee is becoming very popular, some new groups are being habituated so as to make them ready for chimpanzee trekking.
Chimpanzee Facts
Kingdom: Animalia
Phylum: Chordata
Class: Mammalia
Order: Primates
Family: Hominidae
Genus: Pan
Scientific Name: Pan Troglodytes
Common Name: Chimpanzee
Other Name(s): Common Chimpanzee
Group: Mammal
Number of species: 2
Location: Western, Eastern and Central Africa
Habitat: Tropical forest and woody Savannah
Colour: Black, Brown
Skin type: Hair
Size (H): 1m – 1.7m (3.25ft – 5.5ft)
Weight: 26kg – 70kg (57lbs – 154lbs)
Total speed: 40kph (25mph)
Diet: Omnivore
Prey: Fruits, seeds, insects
Lifestyle: Diurnal
Group Behaviour: Group
Predators: Leopards, Snakes, Humans
Life span: 50 – 60 years
Age of Sexual maturity: 13 – 16 years
Gestation Period: 8 months
Average Litter Size: 1
Name of young: Infant
Age of weaning: 5 -6 years
Conservation status: Endangered
Estimated population size: 100,000 – 200,000
Biggest Threat: Habitat loss
Most Distinctive Feature: Dexterous hands and feet and complex communication
Fun fact: Has 32 teeth including fang-like canines
Price of Chimpanzee Tracking and Chimpanzee Habituation
The price for the regular chimpanzee treks for either in the morning or in the after is 150 US dollars per person, per trek.
The cost for the chimpanzee habituation is 220 US dollars per person, per habituation.
The fees include park entry and guiding fees.
You need a lot of water for these two activities.
Other activities in Kibale National Park
Nocturnal walks
For travelers interested in nocturnal walks, there is an opportunity in Kibale Forest National park. This activity can be booked on site with the warden of the park who decides whether or not you should go depending on the activities of the elephants in the forest. The nocturnal walk focuses on nocturnal primates such as the bush babies among others.
Bird Watching safari in Kibale National Park
A bird watching safari is not complete without birding Kibale National Park, which is home to countless birds with rare bird species that include the Papyrus Gonolek, White-winged Warbler, White-collared Oliveback and Papyrus Canary among others. Bird watching begin at 7am at Kanyanchu. The bird watching activity must be booked well in advance and it involves park entry and activity fees.
Bigodi swamp walk
The other popular activity around Kibale National Park is the Bigodi Wetland Sanctuary guide walk. The sanctuary is located just outside the park and it is home to 138 bird species which may be seen during guided walks along the boardwalk trail and viewing platforms. Birds to look out include White-spotted Flufftail, Yellow-spotted Barbet, Hairy-breasted Barbet, Yellow-billed Barbet, Western Nicator, Grey-winged Robin-chat, White-tailed Ant-thrush, Brown-backed Scrub-robin, Black-and-white Shrike-flycatcher, Brown-throated Wattle-eye, Superb Sunbird, Brown-crowned Tchagra, Bocage's Bush-shrike, Black Bishop, White-breasted Negrofinch and Black-crowned Waxbill, the great blue turaco among others.
Best places to trek and habituate chimpanzees in Uganda
Kibale Forest National park– This is the main and best location where chimpanzee trekking and habituation takes place. The park is home to the biggest concentration of primates and thus has been nick named the Primate capital of the world. It is located in Western Uganda and connects to Queen Elizabeth National park. The chimpanzee family trekked has about 120 family members.
Budongo Forest
Bundongo forest which located near Murchison Falls National Park is a great destination for chimpanzee tracking too.
The chimpanzees here are newly habituated but there are great chances of seeing the chimps. The chimpanzee group in Budongo forest has about 45-50 individuals and has a high biodiversity of about 24 mammals, 9 primate species, 465 tree and shrub species, 359 bird species, 289 butterfly species, and 130 moth species.
Chimpanzee tracking here is cheaper than Kibale National park, between 85-95 US dollars per person
Kyambura Gorge in Queen Elizabeth National Park
The other main location for chimpanzee tracking is the Kyambura gorge, located in Queen Elizabeth National Park. Travelers are able to trek the chimpanzees for only 90 US dollars per trek. The gorge has about 20 habituated chimpanzees. Kindly note that the walk here is steep and slippery and you would require some minimum fitness
Other habitats for chimpanzees in Uganda
Bwindi Impenetrable Forest National Park- Famous for mountain gorillas
Semliki National Park
Kalinzu Forest
What to wear for chimpanzee tracking and chimpanzee habituation
Layers of clothes when you set of in the morning which can easily be removed as it warms up during the chimpanzee trek
A good rain jacket
Long, light weight (but strong) trousers are also advisable as the vegetation can be thick with sharp thorns.
Comfortable walking boots or shoes (worn in) since you may be walking for a long time over some pretty tough terrain.
A small day bag to carry your camera, spare film/memory cards; spare camera battery, insect repellent, sun cream, loo roll, water and lunch etc.
Important points to remember
The best time for chimpanzee trekking in Uganda is during the low season months of March, April, May and November when there are fewer tourists, but keep in mind this is also the rainy season.
Chimpanzee habituation permits must be booked in advance (the earlier, the better) since the number of people to habituate chimpanzees is limited to 6 people
Don't go chimpanzee tracking or habituating if you have a human born disease like flue since these can be transmitted to the chimpanzees because they share a 98.8% DNA with them.
A day pack will be required to carry your lunch. Place the food in a plastic bag in case of food leakages.
The weather is unpredictable, so rainproof gear, including boots with strong traction, is recommended, especially during the low/rainy season when the slopes are muddy.
Please bring a good insect repellent
Please bring long-sleeved shirts and long pants that will protect your skin from pricking foliage
Wear hiking gaiters or tuck your pants into your socks/boots to prevent ants from climbing up your legs.
With respect to photography, chimpanzees can be challenging to shoot in the dense, shaded forest. Add to that their tree-top lounging habits and swift movements, and you'll fumble with your camera if you're not prepared. Use a telephoto lens and increase your ISO to capture sharp images of them in action.
Some lodging options in and around Kibale National Forest National Park
Kyaninga Lodge- High end lodge located between Kibale National Park and Fort portal. It has beautiful views of Kyaninga crater lake
Ndali Lodge- Luxury Lodge located between Kibale and Fortportal. It has beautiful views of Ndali Crater Lake
Papaya Lake Lodge– Luxury lodge located between Kibale National Park and Fort Portal. Beautiful views too of some of the crater lakes
Primate Lodge Luxury and standard cottages– It is located inside the National Park
Crater Lake Lodge- Mid range lodge located an hour away from the forest with great views of the crater lakes
Kibale Forest Camp- Budget camp located inside the park
Planning your own trip to Kibale Forest National Park to see the chimps? Below are some of the recommended itineraries that include chimpanzee tracking in Kibale National Park?
3 Day the Ultimate chimpanzee Habituation
4 Day Kibale National park to Queen Elizabeth National park
10 Days Gorillas, Chimps & Lions