In Uganda, there are different national parks and wildlife reserves where wildlife, birds and plant species are conserved from by Uganda Wildlife Authority. Pian Upe is one of the beautiful reserves in the pearl of Africa, found in Eastern Uganda, just before Sipi Falls. This wildlife reserve is home to rare bird species which can be seen on our bird watching safaris, cheetah, buffalo, zebra, Ostrich, and the only place with a Roan Antelope in Uganda. To explore Pian Upe wildlife Reserve is a rare opportunity for travelers who come on Uganda safaris to encounter the raw wilderness the country has got to offer.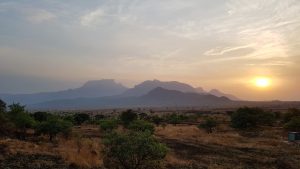 Travelers on their safaris to Uganda, should take an opportunity to explore Pian Upe Wildlife reserve, the second largest protected conservation area, after the Murchison Falls National park. Travelers interested in finding out more of what Pian Upe has to offer can find it in the Karamoja region, covers about 2788 Square KM, as you head north of Mount Elgon National park, the 8th highest peak in Africa. The reserve can be explored as an additional activity either at the beginning or at the end of the Uganda classic safari.
Explore Pian Upe Wildlife Reserve
Pian Upe wildlife reserve is one of the less traveled destinations in Uganda and therefore including it on your safari to Uganda will make you among the few visitors that have been to the reserve. The tracks are not yet developed, and because it is not yet well known, you will feel like you have the whole reserve to yourself.
From the reserve, you may decided to hike Mount Elgon National park, or proceed to Kidepo Valley National park, discovering the North Eastern tourism circuit which is less explored.
What to see in Pian Upe Wildlife Reserve
Birds of Pian Upe Wildlife Reserve Ostrich, great Hartlaub's Bustard, Jackson's Hornbill, the white-headed buffalo- weaver among others. These can be seen in Loporokocho swamp. This makes it perfect for bird watching
Animals seen in Pian Upe wildlife reserve on game drives include the vervet monkey, olive baboons, savanna monitor lizard, cheetah, zebra, eland, buffalo, roan antelope among others.
All the above can be explored by a traveler who comes on our safaris to Uganda's Pian upe wildlife reserve.
Contact us if you are interested in combing a traditional Uganda safari with a side trip to Pian Upe wildlife reserve
Suggested Itineraries to Pian Upe wildlife Reserve