Bird watching in Uganda is one of the most popular activities in the country. Uganda is a popular birding destination in the whole of Africa, well known for its diversity of bird species, with a number of them that cannot easily be spotted in any other part of the African continent, and some are endemic to Uganda only.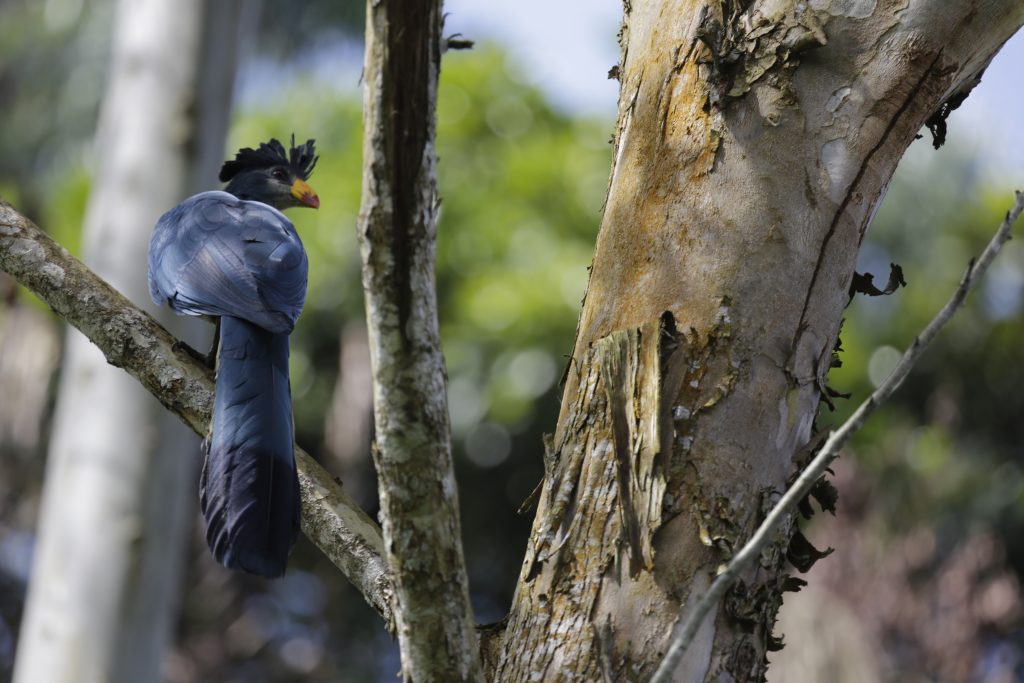 There are many birding destinations in Uganda, making the country one of the best birding destinations, with more than 1010 bird species that can be seen even on a classic Uganda safari. The 10 national parks of Uganda are the largest homes for most bird species in the country. The best time for spotting most of these birds is early in the morning and late in the evening.
Best Bird Watching Destinations in Uganda:
Queen Elizabeth National park
Queen Elizabeth National park is a habitat for 550 bird species, making it one of the most popular birding destinations in Uganda. The park is located in Kasese district in the Southern part of the country, covering a total land area of 1978 sq km, on an altitude of 900 meter. It is up tp 1845 meters at the peak of the Western Rift Valley's Eastern Escarpment. It has most semi-deciduous forest, moist thicket and riparian forest and a river-line bush land, open woodlands, rivers, open grassland, seasonal and permanent lakes as well as lakes, which all male a perfect habitat for birds that call this park home.
Queen Elizabeth National park is has many water birds such as African fish eagle, long tailed cormorants, white faced whistling ducks, pick and white backed pelicans, spur winged plovers, African Jacana, squacco heron, water thick knee, yellow backed weavers, the black crake, knob billed duck, yellow billed and spoon billed storks, different types of king fishers like the pied and grey headed king fishers, and so on. These birds are commonly spotted from the boat safari a long the Kazinga channel which connects lakes Edward and George.
Other species of birds here include black-ramped buttonquail, Collard Pranticles, papyrus canary, verreauv's eagle-owl, black bee-eater, squacco heron, African fish eagle, swamp fly-catcher, long-tailed cormorants, Martial Eagle, African Skimmer, White winged terns, White-winged Warbler, shoebill, African skimmer, papyrus gonolek, and the thin-tailed Nightjars
Bwindi Impenetrable Forest National Park
Bwindi Impenetrable Forest National Park is Africa's number one birding spot and has a record of 357 bird species that include 23 of Uganda's 24 Albertine Rift endemics, making the forest a birder's paradise. Bwindi is located in South Western Uganda, on the edge of the Western Rift, 1,160 – 2,607 meters above sea level. Among these endemics include the highly globally threaten species like the Shelley's Crimsonwing and the African Green Broadbill.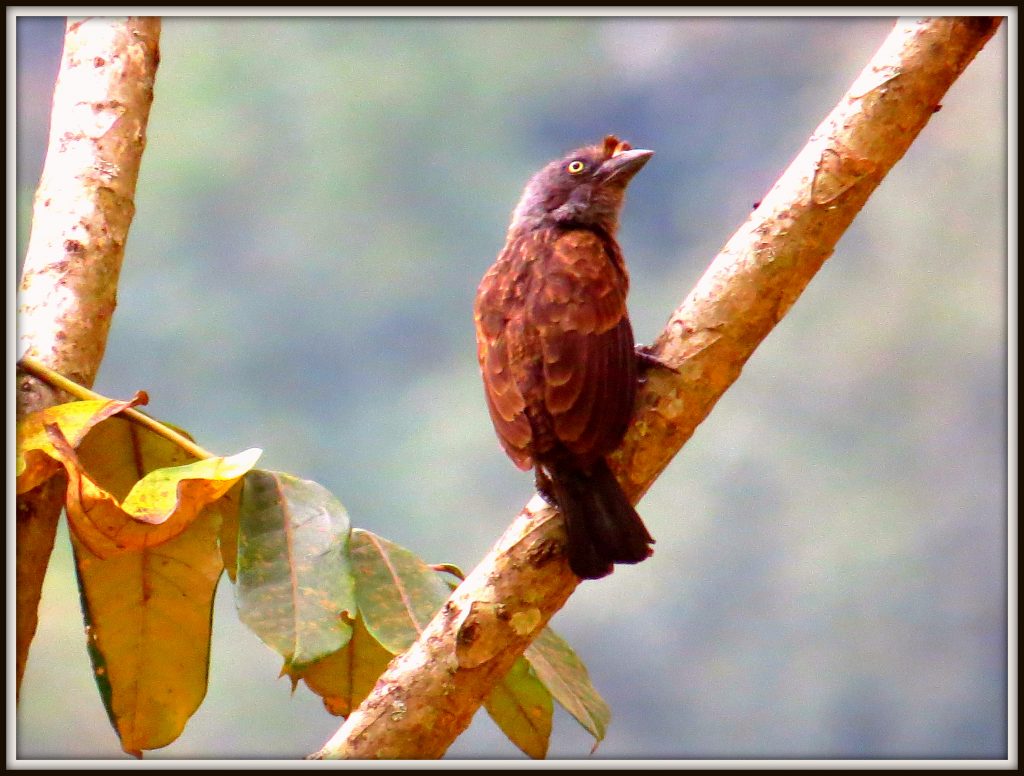 Other Albertine Rift endemics inlcude strange weaver, Archer's Robin chat, Regal sunbird, purple breasted Sunbird, Red faced woodland wabler, Rwenzori double collared Sunbird, Dusky Crimson-wing, Lagden's Bush shrike, Yellow eyed black Flycatcher, Grauer's Rush wabler, blue headed sunbird, Rwenzori Batis, Neumann's wabler, Montane Masked Apalis, Kivu Ground Thrush, Stripe breasted Tit, Red throated Alethe, Handsome Francolin, Yellow crested Helmet Shrike, Rwenzori Turaco, Rwenzori Night jar.
Mgahinga Gorilla National Park
Mgahinga Gorilla National Park is Uganda's smallest national park at a size of 33.7 sq km, located in South Western Uganda bordering Rwanda and Congo forming the Virunga ranges.
The park is a bird's haven with a record of 115 bird species, with 14 of the 24 species of the Albertine Rift Endemics, and 39 of the 88 bird species of Afro tropica highlands in Uganda.
Mgahinga Gorilla National park is not only a birding paradise, but like Bwindi Impenetrable National park, is also home to endangered mountain Gorillas, with one habituated gorilla family open for gorilla tracking.
Other wildlife like Golden monkeys which can also be tracked, forest elephants, bush bucks, jackals, Egyptian mongoose, spotted hynas, buffaloes and different types of special cats call this park home.
For active travellers, three volcanic mountains are found here. These include Mt. Muhavura at 4127 meters above sea level, Mt. Sabinyo at 3645 meters above sea level and Mt Gahinga at 3475 meters above sea level
Mount Elgon National Park
Mount Elgon National Park is located on the Uganda Kenya border and is an important water catchment for Nzoia River which flows into Lake Victoria and for Turkwel River that flows into Lake Turkana. It is 4,200 meters above sea level. The mountain has unique features like flat topped basalt called the Koitobos and lava tube caves.
The mountain has over 240 recorded bird species, making it one of the best birding destinations. These bird species include 3 of the eight Kenya Mountains Endemic Bird Area species, five of the thirteen species of the Sudan-Guinea biome species, 19 of the 43 Guinea Congo Forests biome species, 47 of the 70 species of the Afrotropical biome, and quiet a number of the Sudan-Guinea Savannah biome species that occur in Kenya have been recorded here. The park is also home to Sharpe's longclaw, a globally threatened species along with some regionally threatened and range restricted species; Gypaetus barbatus, Stephanoaetus coronatus, Francolinus streptophorus, Sarothrura affinis,Bubo capensis, Glaucidium tephronotum, Indicator conirostris, Phyllastrephus baumanni, Kakamega poliothorax, Sheppardia polioptera,Campephaga quiscalina and Cisticola hunteri, Francolinus jacksoni respectively.
Mount Elgon vegetation is characterised by wet montane forest dominated by Olea capensis and Aningeria adolfi-friedericii grading into Olea, Podocarpus falcatus forest, a zone of mixed Podocarpus and bamboo Arundinaria alpina, and the Hagenia abyssinica zone with giant heath Erica arborea and Erica trimera elgonensis. Afro-alpine moorlands occupy the highest parts of the mountain, with tussock grasses such as Festuca pilgeri, bogs of Carex runssoroensis, giant groundsels and giant lobelias. Open wooded grassland with Erythrina and Combretum covers part of the lower, drier north-eastern slopes.
Among other activities in Mount Elgon is sport fishing on River Suam, mountain hiking and game viewing of Elephants, Buffaloes, Water bucks, monkeys, and giant forest hog among others
Lake Mburo National Park
Lake Mburo National park is the smallest savanna park of Uganda's national park at 260 sq km at an altitude of 1,280 – 1,520 meters above sea level
313 bird species have been recorded in Lake Mburo National park. It is situated in swamp finged lakes which provide a perfect habitant for countless birds that include the African finfoot and the Red-faced Barbet.
It has Acacia woodland that favours great savannah bird species. Birds recorded here include the elusive Shoebill stork and White-winged Warbler; other species to lookout for are; the Crested, Coqui, and the Red-winged Francolins, Blue-spotted Wood Dove, Brown Parrot, Barefaced Go-away bird, Harlequin and Blue Quails, Common Button Quail, White-headed and Black-billed Barbet, Greenwood Hoopoe, Common Scimitarbill, Blue-napped Mousebird, Blue-breasted and Shining-blue Kingfishers, Lilac-breasted Roller, African-grey Hornbill, the Nubian, Buff-spotted, Brown-eared, and the Grey Woodpeckers, Trilling, Stout, and Wing-snapping Cisticolas, Red-necked spurfowl, Black-bellied Bustard, Temminck's Courser, African-wattled Plover, Rufous napped and Flappet larks, Rufous-chested Swallow ,Yellow-throated Longclaw, Black-winged Bishop, Chubb's, Carruther's and a number of other Cisticolas, the Lesser and Great Swamp Warblers, etc
The lake itself also home to animals like crocodiles, Hippopotamuses and birds like Pelicans, Black Crake, Common Squacco, Striated, Goliath, Purple, Black-headed, Grey, and Black-headed Herons, Great White and Pink-backed Cormorants, the African Fish Eagle, Shoebill stork among others.
Kibale Forest National Park
Kibale National park is 766 sq km at an altitude of 920 – 1,590 meters above sea level and is located in South Western Uganda. 37 bird species have been recorded here that include the Green Breasted Pitta, which is one of the 10 highly thought after birds of Uganda. Kibale National park is also a habitant to Chubb's Cisticola, Black-capped Waxbill, Africa Shrike-flycatcher, African Black-headed Oriole, African Emerald Cuckoo, African Green-pigeon, Black-crowned Tchagra, African Wood Owl,African, Rwenzori, Abyssinian Hill-Babbler, Alpine Swift, Ashy Flycatcher, Barn Swallow, Black Bee-eater, Black Cuckoo, Black Cuckoo-shrike, Black-and-white Casqued Hornbill, Black-and-white Mannikin, Black-and-white Shrike-flycatcher, Black-billed Turaco, Black-billed Weaver, Black-faced Rufous Warbler, African Dusky Flycatcher, Black-headed Weaver, Black-necked Weaver, African Citril (Western Citril), Black-throated Apalis, Blue-shouldered Robin-chat, Blue-throated Brown Sunbird, Blue-throated Roller, African Blue Flycatcher, Bocage' Bush-shrike, Bronze Mannikin, Zebra Waxbill, Bronze Sunbird, Brown Illadopsis, Brown-capped Weaver, Brown-chested Alethe, Brown-eared Woodpecker, Brown-headed Tchagra, African-pied Wagtail, Cameroon Sombre Greenbul, Brown-throated Wattle-eye, Yellow-billed Barbet, Afep Pigeon, among others
Apart from bird watching, Kibale National park is popular for chimpanzee tracking and chimpanzee habituation. It is the primate capital of the world and apart from chimpanzees, it is also home to other primates that include Guereza Colobus, Olive Baboon, Grey-cheeked Mangabey, L'Hoest's and Red-tailed Monkeys, black and white colobus monkeys, among others.
The park is also home to forest elephants, bush pigs, buffalos, Pigs and Buffaloes and on rare occasion Blue, Harvey's and Peter's Duickers may be spotted.
On guided night walks, you may come across Potto, Bush Babies- Spectacled Demidoff's and Thomas's Galagos, Lord Derby's Anomalure, African Civet, Kibale African Golden Cat, and Common Genet
Murchison Falls National Park
Murchison Falls National Park is the largest national of Uganda and is located in North Western Uganda. It is 3,840 sq km at an altitude of 650 – 1,292 meters above sea level.
460 bird species have been recorded in Murchison Falls National Park and it ranks 9th of Africa's birding sports. It is named after the famous Murchison Falls which are with the park and are a result of the Nile River forcing through a narrow gorge.
The banks of the river are donned with wildlife and birdlife. Wildlife include elephants, giraffes, crocodiles, African Cape buffalo, water buck that come to the river to drink water, but these can also be seen on during game drives on the Savannah plains of the national park.
The river is also flocked by birds that include pied and giant king fisher, African fish eagle, snake dada, bee eaters, among others.
In the Southern part of the park, there is Budongo Forest which is home to some primates that include chimpanzees. The Park is a habitat to 20 species from three non qualifying biomes, 11 species of the Guinea Congo Forests, 6 species of the Afro tropical Highlands and 3 of the Somali Masai biome.
A boat safari to the Nile delta is highly recommended for bird watchers. You are likely to be rewarded with the shoe bill stork, African skimmer among others.
Other birds in the park include the Silver Bird, Blue-napped Mouse birds, Grey-crowned Crane, Bluff-bellied Warblers, Goliath Heron, Black-headed Batis, Black-headed Gonolek, Green-winged Ptyilia, Chestnut-crowned Sparrow-weaver, Long-toed Plover, Vitelline Masked Weaver, Saddle-billed Stork, Spotted Mourning Thrush, Spotted and Verreaux's Owls, Long-tailed and Pennant-winged Nightjars, standard-winged Nightjar, White-backed Night Heron and Pel's Fishing Owl.
Other activities in Murchison Falls National Park include sunrise and night game drives, sport fishing of Nile Perch and tiger fish, guided nature walks in Rabongo Forest, hike to the top of the falls and chimp tracking in Budongo forest
Budongo Forest Reserve
Budongo Forest Reserve was gazetted as a Central Forest Reserve in 1932. It is a semi-deciduous moist tropical forest and it is a habitant to over 335 bird species. It is Uganda's biggest forest reserve and the scond most important forest after Semliki National park. The forest is home to 24 small mammal species of which 9 are primates, 46 tree and shrub species, 289 butterfly species and 130 month species.
The rare bird species found here include Pubel's Illadopsis, Nahan's Francolin, and the Chocolate–Backed Kingfisher, White-headed Saw-wing, White Wagtail, Black-eared Ground-Thrush, Little Crake, Yellow-billed Barbet, Chestnut-capped Flycatcher, African Paradise Flycatcher, Chin-spot Batis, Grey-backed Camaroptera, Lemon-bellied Crombec, African Moustached Warbler, Green-backed Eremomela, Yellow-throated Greenbul, African Citril, African Golden-breasted Bunting, Black-crowned Waxbill, Bronze Mannikin, Black-billed Bluebill, Black-winged Red Bishop, Yellow-mantled Widowbird, Fan-tailed Widowbird, Spectacled Weaver, Black-necked Weaver, Yellow-backed Weaver, Compact Weaver, Northern Brown-throated Weaver, Holub's Golden Weaver, Red-headed Weaver, Yellow-billed Oxpecker, Greater Blue-eared Starling, Purple Starling, Purple-headed Starling, Splendid Starling, Northern Puffback, Black-headed Gonolek, Tropical Boubou, Isabelline Shrike, Red-backed Shrike, Lesser Grey Shrike, Western Violet-backed Sunbird and many more.
Semuliki National Park.
Semuliki or Semliki National park is 220 sq km, at an altitude of 800-900 meters above sea level, with a most semi-deciduous forest, mostly ironwood, with a swamp forest in some parts and forest streams and oxbow lakes
The park is a birder's paradise with about 400 bird species recorded here.
Semuliki National park is located on the Uganda DRC border within the Western Rift Valley, covering the Eastern extension of Ituri forest, making it one of the richest parks for flora and Fauna in Africa, making it very favourable for birds found here that include some of Africa's highly sought after birds such as the Long-tailed Hawk, Congo Serpent Eagle, Lyre-tailed Honeyguide, Black-wattled Hornbill, the Nkulengu Rail, etc. There is a single, unconfirmed report of the globally threatened Lesser Kestrel.
Other bird species to look out in Semuliki National Park include Blue Swallow, White-throated Blue Swallow, Swamp Palm Bulbul, Spotted Greenbul, White-starred Robin, Lowland Akalat, Red-throated Alethe, Fire-crested Alethe, Snowy-headed Robin-Chat, Blue-shouldered Robin-Chat, Red-eyed Puffback, White-tailed Robin-Chat, Northern Bearded Scrub-Robin, Capped Wheatear, Common Stonechat, Abyssinian Ground-Thrush, Oberlaender's Ground-Thrush, Grey Ground-Thrush, Little Grey Greenbul, Toro Olive Greenbul, Mountain Greenbul, Yellow-throated Nicator, Western Nicator, Purple-throated Cuckoo-shrike, Petit's Cuckoo-shrike, Black Saw-wing, Eurasian Oystercatcher, Long-tailed Hawk, Red-thighed Sparrowhawk, Chestnut-flanked Goshawk, Grant's Bluebill, Afep Pigeon, Blue-headed Coucal, Bates's Nightjar, Swamp Nightjar, Cassin' Spinetail, Sabine's Spinetail, White-bellied Kingfisher, Shinning-blue Kingfisher, Gabon Woodpecker, Hairy-breasted Barbet, Yellow-billed Barbet, Double-toothed Barbet, Black-billed Barbet, White-headed Barbet, among others.
Apart from birds, 53 mammals species have also been recorded here, many of which are shy, elusive and nocturnal. These include Grey-cheeked Mangabey, Vervet, Red-tailed monkeys, Olive Baboon and Guereza Colobus, rare De Brazza's Monkeys and Chimpanzees which are more heard than seen. The park is also home to some of the Nocturnal primates that include Pottos and Galagos. With luck, there chances of seeing Elephants, Bush pig, Water Chevrotain, Buffalo, Sitatunga, White-bellied Duiker or Dwarf Antelope, Beecroft's Anomalure or Zenker's Flying Mouse. There are also squirrels such as Fire-footed Rope or Red-legged Sun Squirrel, the Little Collard Fruit Bat and the Target Rat living in this forest
A number of butterfly species has also been recored here and these include 46 species of forest Swallowtails and Charaxes (75% of Uganda's total) and at least 235 species of moths have been classified as restricted. There are also 305 species of trees recorded, of which 125 species are restricted to this park alone.
Tribes of people found here are The Pygmies "Batwa" who settled near the Ntandi some years ago, the Bwamba, Bakonzo, Babwitsi, Batooro, and Babutoku.
Kidepo Valley National Park
Kidepo Valley National Park gazetted in 1962 to commemorate Uganda's independence, is 1,442 sq km, at an altitude of 1,220 – 2,750 meters above sea level and has a record of 480 bird species. Kidepo Valley National park is in North Eastern Uganda, bordering Kenya and Sudan between the hills of Karamoja and Nageya Valley. Its vegetation consists of montane forest, grassy plains, open tree savannah, thick miombo-like woodlands and the rocky outcrops.
Kidepo Valley National park is home to 28 bird species from the Somali-Masai and Sudan–Guinea Savanna biomes and these species are endemic to this area in the country. With a whooping record of 480 species in total, the park has the second-highest bird record of any Ugandan protected areas, after Queen Elizabeth National Park. It is also the only IBA located entirely within the Somali– Masai biome. It supports some of the rarest species in Uganda, such as Black-breasted Barbet and Karamoja Apalis.
Birds to look out for include Silverbird and small bands of Yellow-billed Shrike, the Vinaceous Dove, Hoopoe, Nubian Woodpecker, Mosque Swallow, the Ruppell's and Superb Starlings, Scarlet-chested Sunbird, Little Weaver and Red-cheeked Cordon-bleu, the Yellow-rumped Seedeater, Clapperton's Francolin, Black Coucal, African Moustached and the Broad-tailed Warblers, Marsh Tchagra and Crimson-rumped Waxbill.
Other birds include the Common Ostrich, Secretary Bird, African Swallow-tailed Kite, Eastern Pale Chanting Goshawk, Pygmy Falcon, Fox Kestrel, Stone Partridge, Clapperton's and Heuglin's Francolins, Yellow-necked Spurfowl, Kori, White-bellied and Hartlaub's Bustards, Violet-tipped Courser, Black-headed Plover, Four-banded Sand Grouse, Bruce's Green Pigeon, Rose-ringed Parakeet, White-crested Turaco, White-bellied Go-away bird, White-faced Scoops Owl, Long-tailed and Standard-winged Nightjars, Little Green Bee-eater, Abyssinian and Rufous-crowned Rollers, the Abyssinian Ground, Eastern Yellow and Jackson's Hornbills, Red-fronted and Black-breasted Barbets, Brown-backed Woodpecker, Singing Bush lark, Red-winged Lark, Ethiopian Swallow, the Pied, Isabelline and Heuglin's Wheaters, African Grey Flycatcher, Foxy and Red pate Cisticolas, Karamoja Apalis, White-bellied Tit, Mouse-coloured Penduline Tit, Northern White-crowned and Yellow-billed Shrikes, Slate-coloured Boubou, Fan-tailed Raven, Superb Starling, Red billed Oxpecker, Eastern Violet backed, Pygmy and Beautiful Sunbirds, Rufous and Chestnut Sparrow, Yellow-spotted Petronia, White-headed and White-billed Buffalo Weavers, White-browed and Chestnut- crowned Sparrow Weavers, Grey-capped Social and Speckle-fronted Weavers, the Green-winged, Orange-winged and Red-winged Pytilias, Black-bellied and Black-faded Waxbills, Steel-blue and Strawtailed Whydahs, and the Brown-rumped Bunting, are just a few of the 480 bird species in Kidepo Valley National Park.
Kidepo Vallay National park also has 80 mammal species 28 of which are not found else where in Uganda and include Bat-eared Fox, Carcal, Cheetah and Klipspringer. Other animals include Lesser Kudu, Grant's gazelle and Beisa Oryx have not been seen at all in recent times and were presumed to be locally extinct. The larger animals include the Elephant, Common Zebra, Buffalo, Bohor Reedbuck, Waterbuck and Kongoni.
Predators include the Spotted Hyena, Leopard and Lion which are frequently seen during morning and evening game drives. The Oribis are abundant in the Narus Valley, whilst the dry thorn thickets in the north are home to Guenther's Dik Dik. The Senegal Galago and Sidestriped Jackal may be found in the rest camp at night and White-tailed Mongoose is common but more likely to be see on a night drive.
Botanical Gardens in Entebbe
Birding watching can also be done in the botanical gardens in Entebbe, the only national botanical garden in Uganda. The gardens were established in 1901, located at the shores of Lake Victoria.
The garden is home to different types of water, open country and woodland bird species which include the Pink-backed Pelican, Yellow-billed Stork, Eastern Grey Plantain-eater, Yellow White-eye, Purple-banded Sunbird, African Jacana, Lesser Jacana, Yellow-billed Duck, Glossy Ibis, African Open-billed Stork, Malachite Kingfisher, Blue-checked Bee-eater, Common Sandpiper, Wood Sandpiper, Green Sandpiper, Black Crake, Long-tailed Cormorant, Crowned Hornbill, Vieillot' Black Weaver, Woodland Kingfisher, Pied Kingfisher, the Africa and Red-billed Firefich, Black-and-white-Casqued Hornbill, Senegal Coucal, Little Stint, Little Weaver, Striated Heron, Ruff, Gull-billed Tern, White-winged Tern, Klaas's and Diederik Cuckoos, Northern Crombec, Tambourine Dove, Cameroon Sombre Greenbul, Little Grey Greenbul, Water Thick-knee, Madagascar Bee-eater, Egyptian Goose, Black-headed weaver, Slender-billed Weaver, Yellow-backed Weaver, Black-headed Gonolek, Ruppell's Long-tailed Sterling, Grey-Headed Sparrow, the Spur-winged Lapwing, among others.
The gardens are also a habitat to primates that include the black and white colobus monkeys, butterflies, and different plant species
Mabamba Wetland swamp
Mabamba wetland swamp is 2,424 ha at an altitude of 1,130 meters above sea level. It has a record of 260 bird species and no birder should miss birding watching here. Mabamba swamp is the best place in Africa and in Uganda to see the elusive and bizzare looking shoebill stork which can be seen here any time of the day and year.
7 of the 12 Lake Victoria basin biome can are also found here.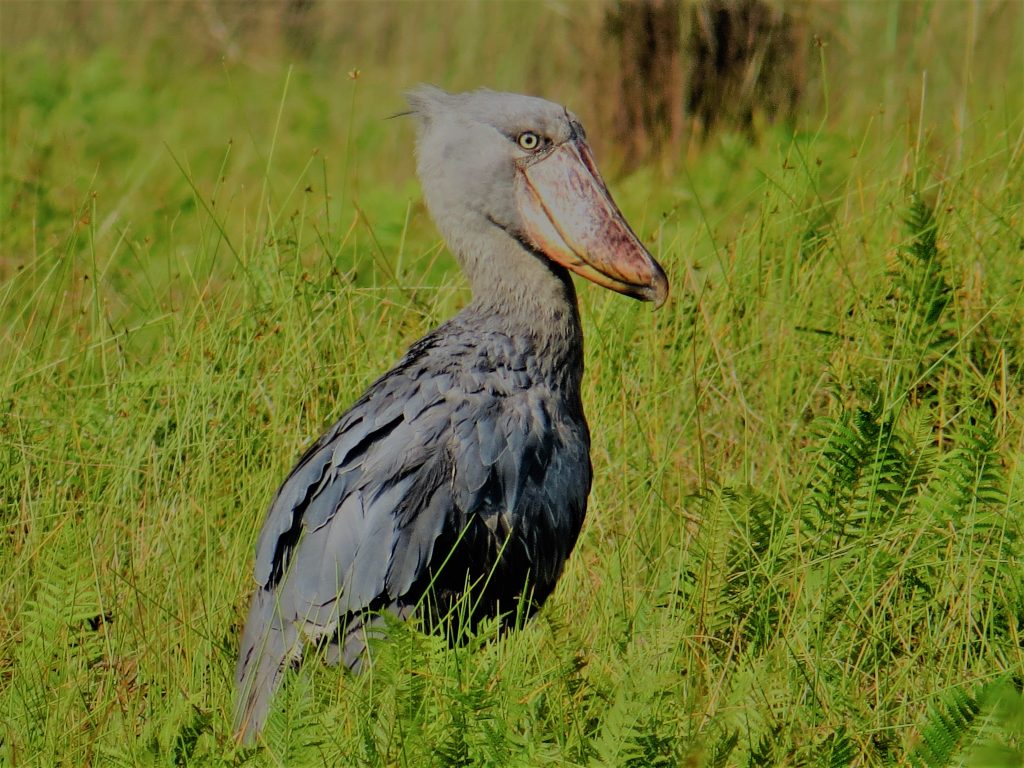 Apart from the shoebill stork, the swamp is also home to the Papyrus Gonolek , House Sparrow which is Vagrant, Mosque Swallow (monteiri race), Weyn's Weaver, White-shouldered Tit, Sand Martin, Brown Snake-Eagle, Eurasian Hobby, Grosbeak Weaver, Blue-headed Coucal, Fork-tailed Drongo, Feral Pigeon, Flappet Lark, Long-Crested Eagle, Stripped Kingfisher, Common Stonechat, Common Greenshank, Little bee-eater, Whinchat, Grey Wagtail, Great Blue Turaco, Grassland Pipit, Orange Weaver, Northern Brown-throated Weaver, Tawny-flanked Prinia, Black-headed weaver, Slender-billed Weaver, Yellow-backed Weaver, Black Headed Gonolek, Ruppell's Long-tailed Sterling, Grey-Headed Sparrow, Spur-winged Lapwing, Yellow Wagtail, African Pied Wagtail, Pied King Fisher, Grey-headed Kingfisher, Yellow Billed Stork, Olivaceous Warbler, Tawny Eagle, Carruther's Cisticola, Ross's Turaco, Fan-tailed Widowbird, Ashy Flycatcher, Rufous-napped Lark, Yellow-throated Greenbul, Common Squacco Heron, White-faced Whistling-duck, Fulvous Whistling-duck, Goliath Heron, Slender-billed Gull, Spur-winged Goose, Long-toed Lapwing, African Marsh Harrier, White-browed Coucal, Violet-backed Sterling, among other.
Mabamba wetland swamp has also become home for the migrant Blue Swallow with over 100 individuals recorded every year. Apart from birds, Mabamba papyrus swamp is home to the Sitatunga, a swamp antelope which is commonly hunted by local people. It is also a habitat to rare plant species for example Sandboxes
Mabira Forest Reserve
Mabira is 30,600 ha, at an altitude of 1,070 – 1,340 meters above sea level and has a record of 315 bird species, making it a special place for bird watching. 74 of the 144 species are of the Guinea–Congo Forests biome that occur in Uganda. The forest has well developed trails that include the Red-tailed Monkey, Turaco and the Buttress trails which makes it easyto search for Nahan's Francolin which is an IUCN Red list' endangered species, Cassin's Hawk-eagle, White-spotted Flufftail, Afep Pigeon, Grey Parrot, Dusky Long-tailed Cuckoo, Black-shouldered Nightjar, Sabine's Spinetail, Cassin's Spinetail, Blue-throated Roller, African Dwarf-kingfisher, White-bellied Kingfisher, Forest Woodhoopoe, African Pied Hornbill, Black-and-white-casqued Hornbill, Speckled Tinkerbird, Yellow-throated Tinkerbird, Yellow-spotted Barbet, Hairy-breasted Barbet, Yellow-billed Barbet, Green-breasted Pitta, African Shrike-flycatcher, Jameson's and Chestnut Wattle-eyes, the Forest Robin, Fire-crested Alethe, Red-capped Robin-Chat, the Speckle-breasted, Yellow-crested, Brown-eared, Grey and the Buff-spotted Woodpeckers, Cassin's Honeyguide, Red-tailed Bristlebil, Little Greenbul, Honeyguide Greenbul, Sooty Boubou, Grey-green Bush-shrike, just to mention but a few.
The forest is a natural Habitat of 312 species of trees that include the Diphasia angolensis only found here in Uganda and 5 species which are of international conservation concern, the Cordia Millenii, Milicia Excelsa, Irvingia gabonensis, Entandrophragma angolense, and Lovoa swynnertonii. The Warbhugia Ugandenesis has medicinal properties and is known to cure over forty ailments; and the vulnerable prunus Africana are also here.
The forest is also a natural habitant to other animals that include endangered primates.
Lutembe Ramsar Site
Lutembe Ramsar site is 98 ha, at an altitude of 1,130 meters above sea level with a record of over 200 bird species, 108 of these are water bird species; 26 are palearcti migrants. Because Lutembe Ramsar site supports thousands of water birds, it is qualified as both an IBA and Ramsar site
Lutembe has a record of eight of the twelve species of the Lake Victoria Basin biome that occur in Uganda, and sometimes there has been sightings of the Shoebill stork. Birds here include Tawny Pipit, and the Madagascar Squacco Heron, The Purple Starling, House Sparrow, Brown Twinspot, Fawn-breasted Waxbill, Black-necked Weaver, Holub's Golden Weaver, Speckle-breasted Woodpecker, Africa-Pygmy Kingfisher, Scaly Francolin, Black Kite, Grey-backed Fiscal, Black-headed Gonolek, Black-crowned Waxbill, Barn Swallow, Helmeted Guineafowl, Wire-tailed Swallow, Brimstone and the Yellow-fronted Canaries, Little Ringed Plover, Collared Pratincole, Splendid Sterling, Blue-spotted Wood-dove, Pin-tailed Whydah, Yellow-browed Camaroptera, Common Waxbill, Marico Sunbird, Tree Pipit, Grosbeak Weaver, Blue-breasted Bee-eater, Cape Wagtail, Africa Wattled Lapwing, Senegal Lapwing, Yellow-throated Longclaw, White-headed Saw-wing, Broad-billed Roller, White-browed and the Brown-backed Scrub-robins, Whiskered Tern, Lead-coloured Flycatcher, African Green Pigeon, Sooty Chat, Plain-backed Pipit, Tropical Boubou, etc
Rwenzori Mountains National Park
Rwenzori Mountains National Park is 996 sq km at an altitude of 1,700 – 5,110 meters above sea level and although it is populare for mountain kinking, this park is a bird watcher's dream, with a record of 217 bird species. Rwenzori National park is also home to 17 of the 24 Albertine Rift endemics and 59 of the 88 Afro-tropical Highlands biome that live in Uganda. Birds here include; the Handsome Francolin, Strange Weaver, Rwenzori Turaco, Rwenzori Nightjar, Archer's Robin-Chat, Red-throated Alethe, Montane Masked and Collared Apalises, Stripe-breast Tit, Rwenzori Batis, Purple-breasted, Malachite, Blue-headed, Rwenzori Double-collared, Tiny and Scarlet-tufted Malachite Sunbirds, Barred Long-tailed Cuckoo, African Long-eared Owl, Western Green Tinkerbird, Olive Woodpecker, Grey-chested Illadopsis, Rwenzori Hill Babbler Grey-winged Robin, Cinnamon Bracken Evergreen Forest and Bamboo Warblers, Lagden's Bush-Shrike, Mountain Sooty Boubou, White-collared Olive-back, Red-faced, Dusky, and Shelley's Crimsonwings and many more.
Best time for bird watching in Uganda
Bird watching in Uganda is good all year-round, especially since the main birding interest lies in the resident birds. The climate is an important factor to consider as fas as birding in Uganda is concerned. Uganda is a very wet country. During the Wet seasons, roads and forest trails might be in poor condition and rains could interfere with birding time.
The best time for bird watching is from late May through September, when the rain is less and food is abundant. The main nesting season in Bwindi and Mgahinga which are important sites for the Albertine Rift endemics is May and June, but from mid-April to mid-May the rains might still be too heavy. February and early March is the only time Toro-Semliki is relatively dry, but it is uncomfortably hot in the north, including in Murchison Falls NP. December and January are also good months since the north is not yet too hot and there is less rain in the southern part of the country
Recommended bird watching safaris
19 Day Exclusive Photography Birding Tour