5 Days Rwenzori mountains trekking and climbing safari in Uganda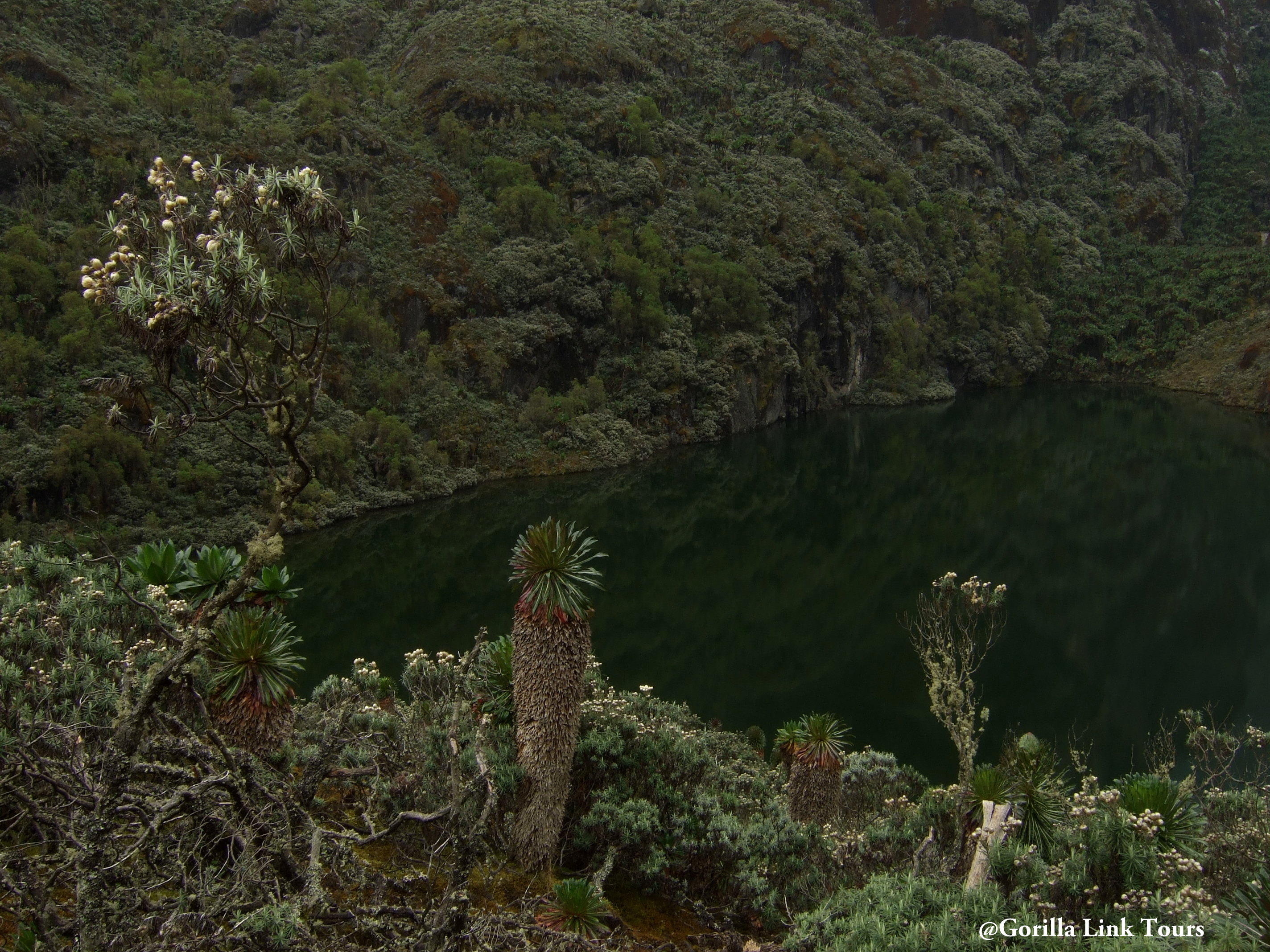 This
5 Days Rwenzori mountains trekking and climbing safari
is for travelers or for beginners but want to hike this UNESCO world heritage site. The hike starts at Trekkers Hostel in Kyanjuki, located at 1,450 meters above sea level and 12 kilometers from Kasese.  It is best to start by 9 am but can leave as late as 11am. You will walk 2.2km to the UWA rangers post at 1,727 meters, which takes about one hour. This is where briefing takes place about the rules of
Rwenzori Mountain National Park
. If
Gorilla Link Tours
picks you up and transfers you to Entebbe airport, it will make 7 days.
Day 1: Steady walk with a steep climb. Start at Trekkers at 1,450 meters and sleep at Sine Hut at 2,596 meters being a height gain of 1,146 meters
Today after breakfast, you will be driven by the guide to the park offices where you will be briefed and then start by walking up the valley floor through tall forest trees of the Afro Montane Forest Zone. This is a steady climb with multitudes of birds and a chance of seeing a wild chimpanzee or blue monkey scampering off through the forest.  Look out for the L'Hoest monkey which are part of the Bukonzo cultural emblems and are protected by the virtue of the King or Omusinga.
You will see variety of plant species from forest trees to bamboos thickets, low shrubs, flowers, fungi, and with many moss and lichen covered vines hanging from the tall trees creating an awesome appeal. Enock's Falls are just 200 meters from Sine Hut and offer a splendid photography opportunities to capture great memories.
Accommodation:
Overnight at Sine Hut (2,585 meters above sea level) – The wooden hut with 10 beds is a set between tall forest trees on a narrow ridge, with ten beds and a large verandah where you may sit and enjoy the beauty of the Afro Montane forest while you look down at a fantastic waterfall crashing over the rocks far below.  Sine is just below the bamboo zone and the area around has many different bird species.
Day 2: Hike to Bamboo-Mimulopsis Zone
After breakfast, you will start your trek which starts at 8.30am and will soon take you in to the Bamboo-Mimulopsis Zone. This zone is a steep climb with many high steps. In the wet season the bamboo area is rather muddy and slippery making the trek slow. However the atmosphere and the forest is beautiful as you climb 551 metres altitude and a distance of 1.8km to Kalalama Camp at 3,147 meters which is in the Heather – Rapanea Zone where you can take a rest and a quick cup of tea or coffee before heading on to Mutinda Camp.
The trail meanders up and over several small knolls a long a ridge top then drops down the side of the valley before climbing again, and in doing so cross several small streams and passing close to moss covered waterfalls. You then climb steadily along the side of a beautiful mossy river which tumbles down over the rocks under the Giant Heather trees whose trunks are covered in green moss with old man beards (Usnea lichen) hanging from the branches. The trail twists and turns as you climb up the deep valley, which has an enormous variety of plants and flowers. This valley is unique with many Giant Heather trees creating a beautiful atmosphere often shrouded in mist.
You will then get to Mutinda Camp which is set near a small river that drops off a waterfall and offers a chance to wash, refresh and relax or, you may wish to climb up to the top of the Mutinda Lookout (one and a half hours up and one hour down) The view and the atmosphere is amazing as you stand on moss covered rocks at 3,925 meters with views across the Rwenzori Mountains, down to Kasese town and Lake George.
Accommodation: Mutinda camp
Day 3: Mutinda camp – Kiharo camp (3,380 meters above sea level)
Today after early breakfast, you will hike from summit Mutinda peaks then climb up past Lake Nsuranga to Kiharo Camp at 3,380 metres directly at the base of some good granite rock climbs of 20 to 40 metres, with towering peaks above. You may opt to do a spot of rock climbing before settling down for the evening.
Accommodation: Kiharo Camp
Day 4: Kiharo camp – Descend to Samalira camp
Today, you will descend to Samalira camp, which takes  about 3 to 4hours ,after breakfast  you start descending down  through the giant heather trees which make up most of the vegetation from Kiharo to Samalira past the small garden on lobelias.This is a flat trail trek down for the first 2 hours with very beautiful views of river Nyamwamba across then you hike up a ridge for about 45minutes then sloping down to Samalira camp 3174m
Accommodation: Samalira Camp (3,174m)
Day 5: Descend from Samalira Camp
Today, you will descend from Samalira down a long ridge, through the Bamboo-Mimulopsis Zone and Afro Montane Forest Zone back down to base camp in Kilembe
If you are interested in this 5 day trek or other packages to Rwenzori Mountain National park, please don't hesitate to contact us.