What to Wear on a Gorilla Trekking Safari in Uganda and Rwanda
Wondering about what to wear for a gorilla trekking safari in Uganda and Rwanda? Read on! A gorilla trekking safari in either Uganda or Rwanda is on everyone's bucket. It is a highly popular tourist activity in East Africa. Mountain gorillas are greatly endangered and can only be seen from Uganda, Rwanda and Congo, one of the reasons so many people 'die' to see them.
Mountain Gorilla trekking takes place in Uganda's Bwindi impenetrable National park and Mgahinga Gorilla National park, Rwanda's Volcanoes National park and Congo's Virunga National parks. These places have a high altitude which makes them cold, wet and humid and so it is important not to forget weather and temperature conditions as far as gorilla trekking wardrobe is concerned.
Travelers planning or hoping to come and see mountain gorillas up close and personal should be well prepared. You need to be mentally and physically prepared and well equipped too for the trek. This preparation includes shopping appropriate wear for gorilla trekking and gorilla habituation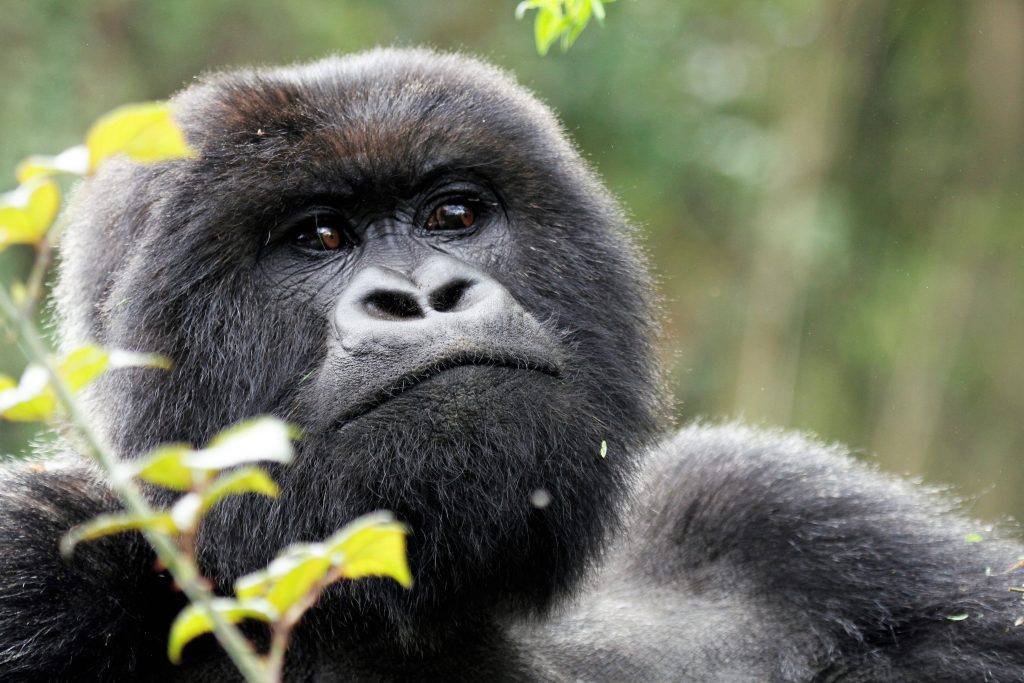 What to wear on a gorilla trekking safari
Long sleeved shirts and pants
During gorilla trekking in Uganda and Rwanda, you need long sleeved shirts and comfortable pants. The forests where the treks take place are very cold. Staying warm and comfortable is key. We advise that you layer your clothes so you can remove or add some according to the temperature changes
The shirt should have a synthetic material since cotton ones get muggy. The long sleeved shirts protect you from insect bites and tree hanging branches during the gorilla trek.
You also need a fleece or anything that can keep you warm. This should be light
For pants, we highly advise that you bring cargo pants. These should be in neutral colours and should have many pockets. The fabric should be very comfortable. Bring pants that have synthetic material. You may also bring waterproof pants although you can do without these.
Some travelers go for gorilla trekking wearing jeans, however, these get drenched and heavy should it rain. Bwindi Impenetrable forest and the other forests where gorilla trekking takes place are rain forests, so it can rain any time of the year.
Rain Jacket.
A rain jacket or rain poncho will protect you from the rain during gorilla trekking.
All in all, you need comfortable long sleeved shirts, a fleece and a rain jacket and you are good to go for gorilla trekking
Sturdy boots and socks
You need sturdy boots and socks for gorilla trekking. You will trek through thick bushes and forest, muddy paddles to mention but a few. So you need the right trekking shoes to enjoy your gorilla trek. Go for sturdy hiking boots that go above the ankles.
Hand garden gloves and head gear
To protect your hands from thorns, you need a pair of garden or hand gloves.
You also need sunglasses to protect your eyes from the sun whenever it comes out. The sun glasses can also protect your eyes from the wind.
Remember to carry a hat or a cap.
Of course you need a pair of binoculars, you lunch pack which we provide, a camera, about 2 litres of water, batteries, a porter to carry your back pack and to give you moral support (Highly recommended) and of course your gorilla trekking permit which will be with your guide if you book your gorilla trekking safari through us.
Contact us now for your gorilla trekking safari
Recommended Gorilla trekking itineraries in Uganda and Rwanda
3 Day Budget Gorilla Tracking Tour
3 Day fly into Rwanda track Gorillas in Uganda- Mid range
4 Day fly into Rwanda track Gorillas in Uganda
6 Day Uganda Gorillas and wildlife safari
8 Day Uganda wildlife Budget safari