9 Day Uganda Family safari – Mid range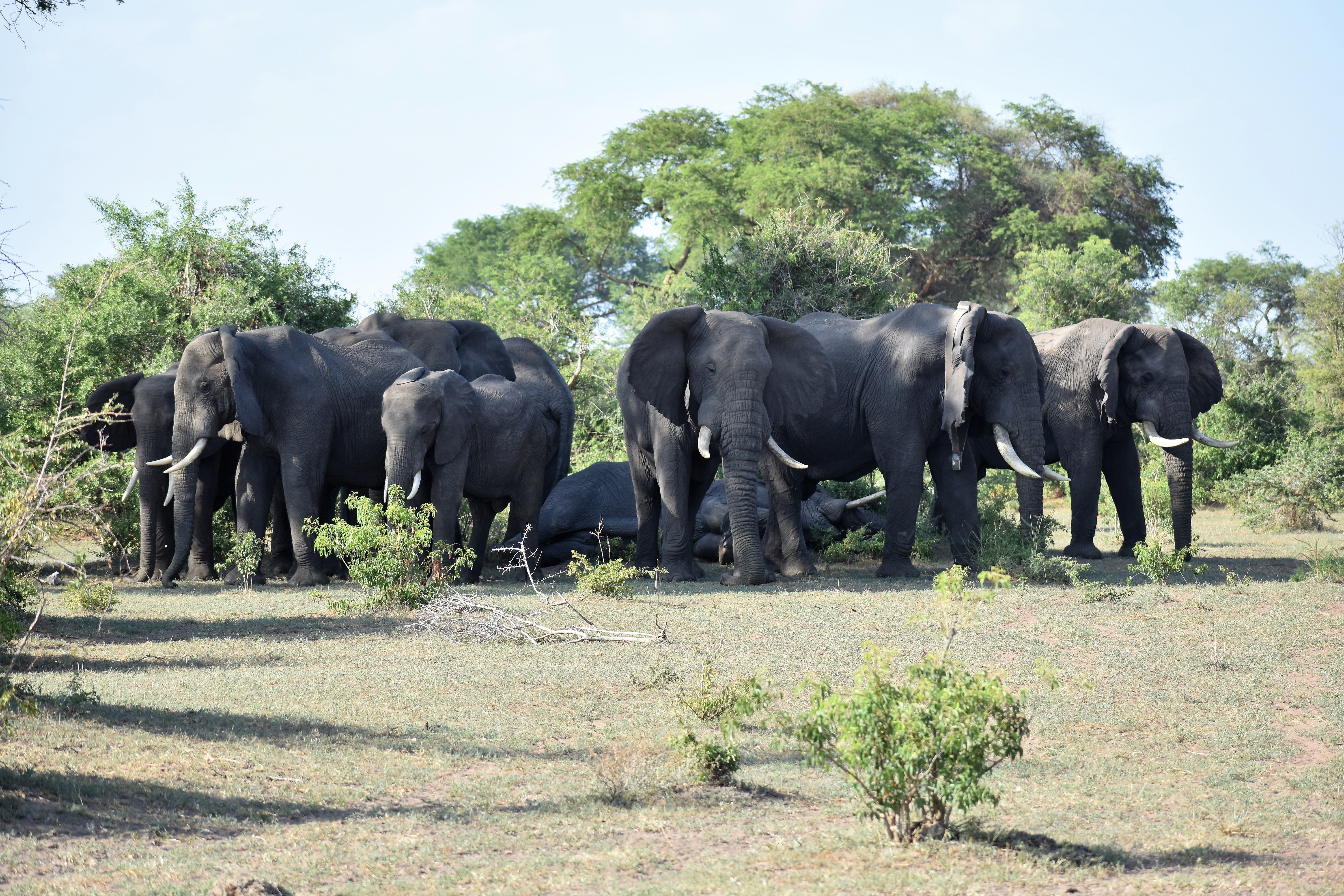 This 9 Day Uganda family safari with widlife tour, rhino tracking and boat safaris will show you the best of what Uganda has to offer for your family. Activities are for all ages and you will stay in the best mid range family designed lodges
Highlights of the 9 Day Uganda Family safari
Wildlife game drives
Boat safaris
Source of the Nile
Rhino tracking
Day 1: Airport pick up.
Upon arrival at the airport, you will be picked up from Entebbe airport by a representative of your accommodation for tonight. You will meet your driver/ guide tomorrow morning when he picks you up from your hotel.
Depending on the time of your arrival, you might be able to do some optional activities in Entebbe like a visit to the Botanical gardens. Please note that all activities today are at your own cost.
Journey Time: 10 minutes
Accommodation: Karibu Guest House
Meal plan: No meals included
Karibu Guesthouse (Mid-range) is an ideal place to spend a relaxing night. From the open-air veranda and upstairs terrace you can enjoy the abundant bird life in the garden, the sunset over Lake Victoria or the brilliant night sky.
The seven uniquely designed rooms can all be configured to accommodate single, twin or double bookings and have en suite bath. Wifi Internet is available free of charge and staff speak English, French, and Spanish.
Day 2: Transfer to Jinja
Today after breakfast, you will make your way to the second largest town and the colonial manufacturing hub, Jinja. In Jinja,   the Nile River begins its journey from Lake Victoria all the way up to the Mediterranean Sea. Many activities are available around town.
Journey Time: 1 ½ hours
Accommodation: The Nile Porch – Family bungalow
Meal plan: Breakfast
Nile Porch (Mid-range) is situated on the banks of the Victoria Nile, just downstream of its source, overlooking the spectacular Bujagali Falls; the Nile Porch offers a unique experience in comfortably appointed semi tented en suite accommodation.
Unwind and relax next to the crystal blue swimming pool and enjoy the abundance of native fauna and flora and look forward to a sumptuous meal at the Black Lantern restaurant before retiring to a peaceful night sleep with the sound of the Nile flowing by on its journey to the Mediterranean Sea.
Day 3: Optional activities in Jinja
Today you may decide to go for some of the optional activities in Jinja. Please note that all activities today are at your own expense. In Jinja, you will stay at the Nile Porch
Today you can relax at the lodge or choose optional activities:
White water rafting  (full day USD 145 / half day USD 125)
A horseback safari  (USD 50 for 2 hours / USD 70 for 3 hours)
Quad-biking  (USD 70 for 2 hours / USD 90 for 3 hours)
A day of whitewater kayaking on the river (USD 120)
A sun downer cruise on the Nile (USD 35)
A visit to the source of the Nile
A visit to Jinja market
Accommodation: The Nile Porch – Family bungalow
Meal plan: Breakfast
Day 4: Transfer to Sipi Falls
Today, you will be transferred to beautiful Sipi Falls that are on a plateau of1800m above sea level.
The Sipi River flows over the foothills of Mount Elgon, forming a spectacular series of waterfalls, some nearly 100m high, surrounded by village walking trails and lush green coffee-producing hills. You will stay in a wonderful lodge. From your lodge you have beautiful views over one of the waterfalls.
Journey Time: 4 hours
Accommodation: Sipi River Lodge- Family cottage
Meal plan: All meals
Sipi River Lodge (Semi-luxe) is by far the most comfortable place to stay in Sipi Falls. Sipi River Lodge is wonderfully set amongst the Kapsurur Falls (the second of the three Sipi waterfalls), several caves and peaceful gardens to explore.
The Lodge is run with only a small number of guests at any time making it a very 'home away from home' experience. The food is among the best in Uganda and the fire place makes the cozy restaurant warm during the cold nights.
The 3 spacious cottages are self contained. They as well have some wonderful non-self contained bandas, which are more affordable and come with the same service standards. In this case it would be more like a mid-range option.
Day 5: Explore Sipi Falls
Today after breakfast, you can choose to go on a 3 hour or for the real adventurers a 7 hour hike through the region. A local guide takes you on your hike to explain flora, fauna and culture of the area. Whichever option you choose, you can be certain that you will pass many picturesque waterfalls, plantations and caves.
Accommodation: Sipi River Lodge
Meal plan: All meals
Day 6: To Murchison Falls National Park.
Today after early breakfast, you continue your journey to Murchison Falls National park. Murchison Falls National Park is the largest conservation area in Uganda, covering an area of over 3,840 km². The park's name derives from its famous waterfall: the mighty Murchison Falls, which are formed where the Victoria Nile powerfully forces its way through a narrow cleft before plunging 43m down with a thunderous roar
You will be staying at a great mid-range lodge.
Journey Time: 8 hours
Accommodation: Murchison River Lodge- Family cottage
Meal plan: All meals
Murchison River Lodge (Mid-range) has been carefully and sensitively built on the edge of the mighty River Nile, overlooking pods of hippos and Uganda's stunning Murchison Falls National Park.
Comfortable and relaxing accommodation is offered in the beautiful thatched cottages. The cottages are spacious and comfortable and the careful finishing makes each one truly special.
Day 7: Morning game drive- Afternoon boat safari-Top of falls
Today after breakfast, you will depart for an early morning game drive across the rolling plains of Uganda's largest National Park.  The 3,893 sq km park is home to a range of animals, and you will have a chance of viewing some of the Park's residents including lions, giraffes, hartebeest, buffalo, and elephants.  For the birders amongst you, these areas support the secretary bird and the black chested snake eagle, to name a few.
In the afternoon, go for a boat trip to the base of Murchison Falls, where the Nile thunders through a small 7 meter gap plunging 43 meters into the Nile on the way to Lake Albert.  The banks of the Nile are densely populated with crocodiles, hippopotamus, and a range of other wildlife that come to the river to drink.
After the boat safari you will hike to the top of the falls. From here you have a wonderful view and fantastic photo opportunities!
Accommodation: Murchison River lodge- Family cottage
Meal Plan: All meals
Optional activity: Chimp tracking Budongo forest
Budongo Forest is located in the southern part of Murchison Falls National Park and has the highest number of wild chimpanzees of Uganda. The habituated groups are located in Kaniyo Padibi, where you can go for chimpanzee tracking. Budongo Forest has an incredible biodiversity that beside the chimpanzee includes several other species like the Blue monkeys, Red-tailed monkeys, Vervet monkeys and Olive baboons.
Costing: $95 us dollar p.p.
Optional activity: Hot air balloon safari
Discover Murchison Falls from the air and enjoy the unique experience of flying over Murchison Falls NP in a hot air balloon. You will have the most amazing views over the river Nile, Lake Albert, the great Murchison Falls and of course this is the best way to spot lots and lots of animals. You will start early morning, so you will see the sun rise over the park. After your balloon safari you will have a bush breakfast in the park (inclusive).
Costing: $380 us dollar p.p.
Day 8: Transfer to Ziwa Rhino sanctuary
After breakfast, you will be transferred to  Ziwa Rhino Sanctuary where you will go with an experienced ranger for rhino tracking. You will see the rhinos in a very close range.
Kidepo Valley National park and Murchison Falls National Parks once had both black and white rhinos; however widespread poaching during the Idi Amin era resulted in the disappearance of these majestic animals from the wild. Founded in 1998, Rhino Fund Uganda works to reintroduce black and white rhinos into Uganda and runs a breeding program, as well as work to educate communities on endangered rhinos.
You will stay in the family room of Amuka safari lodge. This semi-luxury lodge has everything you need in the bush, a nice swimming pool and cosy environment. It is located at walking distance from the Ziwa Rhino sanctuary.
Journey Time: 3 hours
Accommodation: Amuka Safari Lodge- Family room
Meal plan: All meals
Day 9: Transfer back to Entebbe
Today, your driver/guide will transfer you to Kampala or Entebbe airport for your international flight back home. Your flight must leave after 5 PM today. Otherwise we can organize an additional night in Entebbe or Kampala at an additional cost.
Journey Time: 6 hours
Meal plan: Breakfast
Meal plan: Breakfast and lunch
Note: children are between 2 years old till 15 years old. A 16 year old is considered an adult and the adult rates apply.
Dates
Since this is a private tour, departure can be organized for anytime throughout the year subject to the availability of accommodation and transport.
Hotel reservations:
The bookings with the hotels mentioned in the program depend on availability. Reservations will only be made after your booking.
In case the mentioned hotels are not available during the requested period, we will do our best to book a hotel in the same class for you- of course after consulting you.
Transport
Our standard offering for this specific tour is a 4wd Toyota Land cruiser with a pop-up roof for easy safari viewing. All passengers will have a dedicated window seat. When you are 3 or 4 persons the bigger model is included.
Tour Package Including:
Transport in a 4WD safari land cruiser with pop-up roof for excellent safari view;
All fuel for the tour;
English speaking Ugandan driver/guide;
Accommodation as listed in the program;
Meals as per the program
Park-entrance fees according to the program;
All activities described in the itinerary;
Excluding:
International air fares and entry visa Uganda
Meals that are not part of your accommodation;
Personal (medical/travel) insurance;
Tips and gratuities to rangers, driver/guide, porter, hotel staff, etc;
All expenses of personal nature (e.g. drinks, laundry, optional activities, souvenirs etc.)
This tour can be tailor made: Inquire now for rates
When you book your trip with Gorilla Link Tours to any of our destinations, Gorilla Link Tours will donate US$ 5 per person to persons with Albinism.
Other suggested itineraries