9 Day Rwenzori Margherita Peak Trek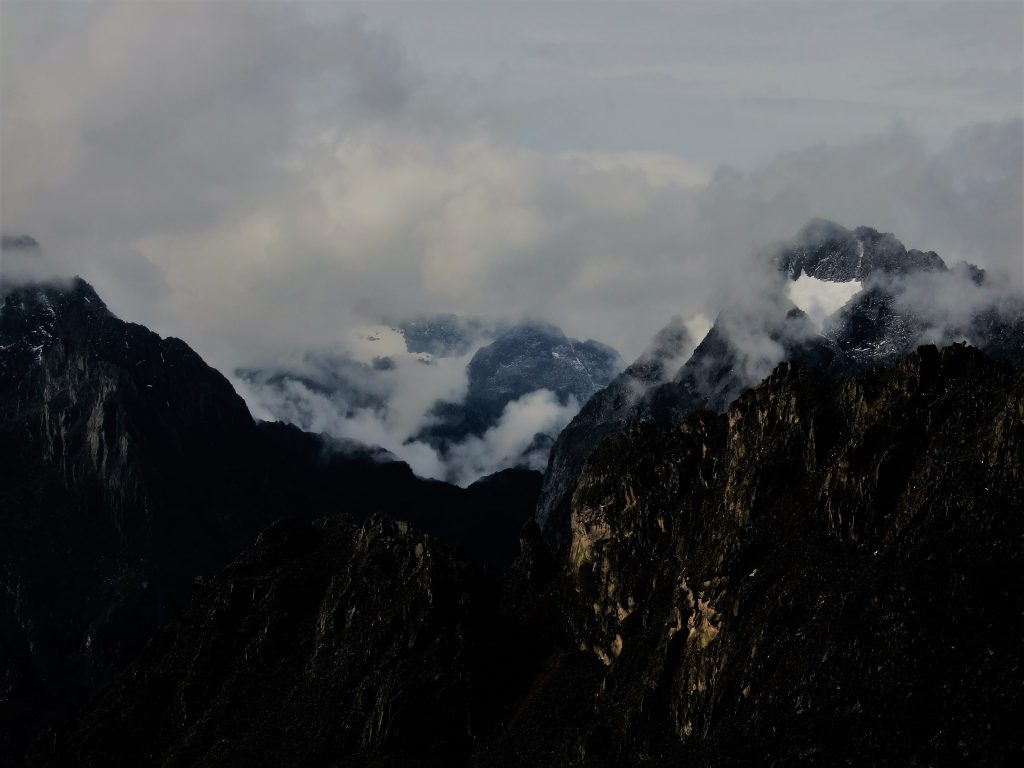 This 9 Days Rwenzori Margherit trek will take you to the highest peak of Mountain Rwenzori National Park also known as the mountains of the moon, found in Rwenzori Mountain National park, in Kasese, Western Uganda. It excludes Day one of the airport arrival and the day of traveling to the Kasese.
9 Day Rwenzori Margherita Peak Trek
Day 1: Steady walks with a steep climb for the last kilometer. Start at Trekkers at 1,450 meters and sleep at Sine Hut at 2,596 meters being a height gain of 1,146 meters.
Guides generally brief clients at the start of the trek or the night before. The trek starts at Trekkers Hostel in Kyanjuki, which is situated 1,450 meters above sea level and 12 kilometers from Kasese.  It is best to start by 9 am but can leave as late as 11am. You walk 2.2km to the Uganda Wildlife Authority rangers post at 1,727 meters, which takes about one hour. Here you pay the gate entrance fee and the rangers brief you on the rules of the National Park.
We start by walking up the valley floor through tall forest trees of the Afro Montane Forest Zone. This is a steady climb with multitudes of birds and a chance of seeing a wild chimpanzee or blue monkey scampering off through the forest. At times visitors see troupes of 15 to 20 Colobusmonkys scampering through the tree tops.  There are rare sightings of the L'Hoest monkey which are part of the Bukonzo cultural emblems and are protected by the virtue of the King or Omusinga. There is wide variety of plant species from forest trees to bamboos thickets, low shrubs, flowers, fungi, and with many moss and lichen covered vines hanging from the tall trees creating an awesome appeal. Enock's Falls are just 200 meters from Sine Hut and offer a splendid opportunity to capture a great screensaver for your memories.
The wooden hut with 10 beds is a set between tall forest trees on a narrow ridge, with ten beds and a large verandah where you may sit and enjoy the beauty of the Afro Montane forest while you look down at a fantastic waterfall crashing over the rocks far below.  Sine is just below the bamboo zone and the area around has many different bird species.
Sleep at Sine Hut – 2,585 metres
Day 2: Bamboo-Mimulopsis Zone
After a good breakfast, trekking starts at 8.30 am and you soon enter the Bamboo-Mimulopsis Zone which is steep climb with many high steps. In the wet season the bamboo area is rather muddy and slippery making the going slow. However the atmosphere and the forest is beautiful as you climb 551 metres altitude and a distance of 1.8km to Kalalama Camp at 3,147 meters which is in the Heather-Rapanea Zone where you can take a rest and a quick cup of tea or coffee before heading on to Mutinda Camp. The trail meanders up and over several small knolls along ridge top then drops down the side of the valley before climbing again, and in doing so cross several small streams and passing close to moss covered waterfalls. You then climb steadily along the side of a beautiful mossy river which tumbles down over the rocks under the Giant Heather trees whose trunks are covered in green moss with old man beards (Usnea lichen) hanging from the branches. The trail twists and turns as you climb up the deep valley, which has an enormous variety of plants and flowers. This valley is unique with many Giant Heather trees creating a beautiful atmosphere often shrouded in mist.  Eventually you get to Mutinda Camp which is set near a small river that drops off a waterfall and offers a chance to wash, refresh and relax or, you may wish to climb up to the top of the Mutinda Lookout (one and a half hours up and one hour down) The view and the atmosphere is amazing as you stand on moss covered rocks at 3,925 meters with views across the Rwenzori Mountains, down to Kasese town and Lake George.
Note: – During the summer of 2011/2012 from December to late March there was a unprecedented dry spell and a large fire burnt across much of the alpine area of the Rwenzori Mountains. Fortunately, due to the high rainfall, the vegetation is recovering and the mosses are again growing on the rocks and cliff faces. The worst effected area is above Kiharo Camp where there was a large forest of Giant Heather trees, which are now blackened sticks, however the area still holds a beauty with towering cliffs and small areas unaffected by fire along the valley floor with the deep green of fresh shoots and vegetation, bringing new life to the mountains. All of the tussock grass, Giant Groundsel have regrown and the Malachite Sunbird
feeding on the flowers of the Giant Lobellias. Kiharo Camp has been moved below the burnt area and is particularly beautiful with many birds, animals, rock hyrax and several species of rare chameleons; some have been found living at altitudes of 3,650 metres. The affected areas are between Mutinda and Bugata Camps on day 3 and on the way down from Bugata Camp to Kiharo Camp.
Day 3: 4.9km starting at 3,688 meters climbing to 4,062 meters Alpine Zone.
The trail here is boggy particularly in the wet season but with a little skill you can step from tussock to tussock to make the going easier. You cross the Mutinda valley through the tussock grass and everlasting flowers interspersed with many Giant Lobelias before climbing a steep section up to the Namusangi Valley (3,840 meters), which ends abruptly with sheer waterfalls and fantastic views of Mutinda Peaks. The Namusangi Valley is wide, with many ups and downs and crossing several bogs as the trail climbs steadily to Bugata Camp at 4,062 meters.  Bugata Camp is situated way up Bamwanjara Pass high above Bugata Lake with views across Lake Kopello to Weismann's Peak, which is often covered with snow then down the valley views of Lake Africa and Lake Kanganyika and the many small peaks towards Mutinda Camp. The area is covered with tussock grass, everlasting flowers (Helichrysum), St John's Wort (Hypericumbecquaeritii), giant groundsel (Senecioadnivalis) and Giant lobelia (Lobelliagibberoa).  There are a many Red Forest Duiker (Cephalophucnigrifronsrubidus) which are a sub-species only found in the Rwenzori Mountains. In the past they have been very hard to see due to the thick vegetation but since the fire, which burnt across the alpine region of the Rwenzori Mountains, they are now easier to see in the new shorter growth.
In the dryer season you may choose to walk directly up the valley but a more scenic trail meanders along the hilltops with fantastic views of Lake Nusuranja from Plozza Rock.  From Plozza Rock you also get fantastic views down the valley of nine lakes ringed by rugged peaks and ridges
Bugata Camp has good facilities, solar lights, good toilets and bathrooms where the guides may prepare some warm water in a basin for you to wash. Bugata also has a heli pad (GPS reading N 18.312 E29 53.457) in case of any need for rescue by helicopter.
Day 4: 6.2km starting at 4,062 meters climbing over 4,450 meters sleeping at 3,974 meters  Commence trekking at 8.30am to climb up Bamwanjara Pass, the trail climbs steadily with several long flat bogs. The area is covered by everlasting flowers and Giant groundsel with the bogs being mainly tussock grass and Giant lobelia whose nectar is the main food source for the Scarlet-tufted Malachite Sunbird (Nectariniajohnstonudartmouthi) which is common in this area and unique to the Rwenzori Mountains. As you climb you look back to see the glacial lakes far down in the valley. On reaching the top of Banwamjara Pass you get excellent views of all the main snow capped peaks where we have a small shelter for you to rest and enjoy the scenery. The walk down to Kacholpe Lakes is steep and often very muddy but offers fantastic views of the lakes and McConnell's Prong. Butawu Camp (3,974m) is set on a ridge high above Butawu River which flows down from Scott Elliott Pass through Kitandara Lakes and has excellent views of the snow capped Mt Baker.
Day 5: 4.2km starting at 3.974 meters climbing to 4.485 meters
Walk back along the ridge before crossing several wet areas and small rivers coming from Mt Baker and Freshfields Pass to join Butawu River.  The walk up Scott Elliott Pass is enjoyable as you climb through the pass and up over the rocks to Margherita Camp at 4,485 meters which is below Elena Hut. It is sheltered with a ring of high rocks and it is the original camp used by the Italian Prince Luigi Amadeo di Savoia, Duke of the Abruzzi, who mounted a very powerful
expedition in 1906, composed of biologists, surveyors, a geologist and a photographer. The Italian led team, between June and July 1906 climbed the mountains, opening a new page in the history of mountaineering and exploration in Africa, and providing an answer to the most unresolved geographical questions in the region for centuries. Some of the peaks still have the names, which the Duke chose to honor the Italian Kingdom and Queen Margherita hence our naming this camp Margherita Camp. From here you have great views of Mt Baker, Scott Elliot Pass and some of the high glaciers on Mt Stanley.
Day 6: Day starts at 4,485 meters climbs to Margherita Peak at 5,109 meters return to Margherita Camp then descend to Butawu Camp at 3,974 meters to sleep.Distance 3.5km to the peak then 3.5km return to Margherita Camp plus 4.2km down to ButawuCamp.Total distance 11.2km.
Wake up at 4.30am have a quick snack and start climbing so as to get on the Stanley Glacier before sunrise. The climb up from Elena can be difficult if covered in snow and ice but it is classed as a difficult scramble. Once on the Stanley glacier the going is easy however, the climb to Margherita glacier can be challenging and slippery in bad weather. Rwenzori Trekking Services has recently installed a new fixed static rope with bolts every three meters leading down a ledge to the top of a six-meter aluminum ladder. This is a safe route and anyone with reasonable fitness and head for heights is able to pass. It is not classed as technical and it is easy in dry conditions. The climb up Margherita glacier is steep and requires that you are fit.  On getting near to the top of the glacier you then climb around an exposed section of rock, which is also bolted and roped, to get on the ridge running up to the top of Margherita Peak. On a clear day the views from Margherita Peak are awesome and your goal is achieved!
After summiting you then descend directly to Butawu Camp or in the case of bad weather, you may need to stay in Margherita Camp however the following day it will be necessary to bypass Butawu Camp directly to Bugata Camp.
Day 7: 6.2km starting at 3,974 meters climbing over 4,450 meters sleeping at Bugata Camp 4,062 meters
A late breakfast at 8.30am start trekking by 9am. The climb up Bamwanjara Pass which is steep and in wet weather can be rather boggy making it slow going and tiresome. While crossing the pass you get the chance to see hyrax sitting at the entrance to their rock shelter warming in the sun. Their main predator is the Rwenzori Leopard Pantherapardusruwenzori, which is rarely seen, but occasionally people do get a glimpse. The leopard has been heavily poached for it's skin in the past and there are few left. There is a skeleton nearby in a small rock shelter for those who doubt the existence of leopard at those heights. However on a rare occasion on a misty or overcast day, you may be lucky to see one briefly as they move between the rocks. You will sleep at Bugata Camp.
Day 8: Descend to either Kiharo Camp 3,460 metres or Samalira Camp 3,170 metres
Early morning set off around Lake Bugata and the outlet of Kopello Lake; then climbs 200 metres to the confluence of the two valleys. As you descend down the upper areas of the Nyamwamba Valley there is a large area of thick Giant Groundsel with dense evergreen undergrowth and moss with the rocky peaks towering above. As you descend the valley you will notice the terrain is made up of several flat boggy areas where millions of years ago glaciers sat and melted leaving a wall of big rocks in front of where it lay. The valley is home to many Red Forest Duiker (Cephalophucnigrifronsrubidus) At night you may stay in Kiharo Camp at 3,460metres an area rich in evergreen plants and babbling streams. At night the air is filled with the calls of the rock
hyrax as they sit in the rocky cliffs high above.
Note:  As it is necessary to skip one of the camps you may either stay in Kiharo or enjoy the lush vegetation and rocky cliffs or may descend to Samalira Camp at 3,170 meters making a shorter trek down to base camp the following day.
Day 9: Assuming that you slept in Kiharo Camp, you wake up to the shrill calls of the Ruwenzori Turaco (Ruwenzorornisjohnstoni) and other birds. After a hearty breakfast you walk down the valley which is home to many species of birds that dive in and out the thick vegetation. Chameleons are a common sight as they crawl along the branches of the thick vegetation feeding on insects.  In the clear areas you may catch a glimpse of a Duiker quietly feeding surrounded by Giant Lobellias and a variety of flowering plants. After descending a few kilometers you climb two hundred metres height to a ridge overlooking the valley before crossing several small valleys and streams to Kyalavula which means view or lookout in the local Bakonzo language with beautiful views down the valley and across to Lake Edward in Queen Elisabeth National Park.  Samalira Camp (3,147 meters) is situated in a closed valley at the top of several waterfalls and is the alternative to sleeping In Kiharo Camp. From here you descend down a long ridge, through the Bamboo-Mimulopsis Zone and Afro Montane Forest
Zone back down to base camp in Kilembe
This 9 Day Rwenzori Margherita Peak Trek can be combined with a safari to Queen Elizabeth National park and a gorilla trekking tour to Bwindi Impenetrable National park.
Inquire now about this safari and others.