7 day Rwanda luxury Tour
This 7 Day Rwanda Luxury Tour will show you the best of Rwanda, the "land of a thousand hills". It will offer you an excellent experience to East Africa. You will track mountain gorillas and chimpanzees and experience all the highlights of this fascinating country with a rich history.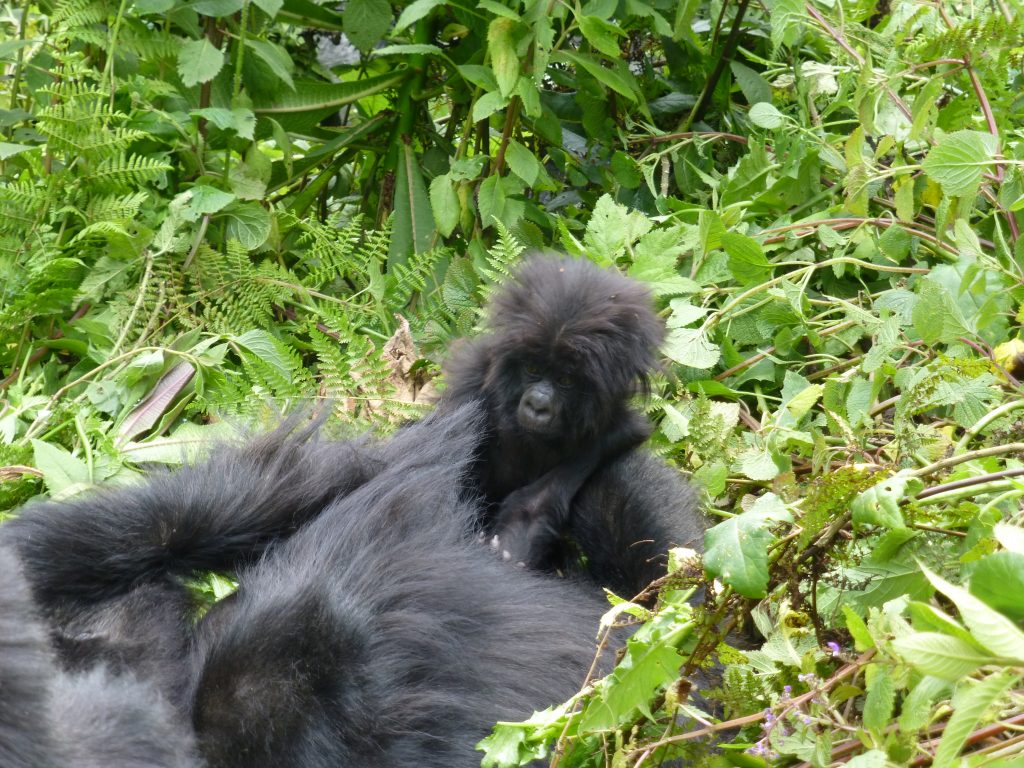 Highlights of 7 Day Rwanda luxury Tour
Gorilla Tracking in Volcanoes N.P.
Chimpanzee Tracking in Nyungwe forest
Golden monkey tracking
Day 1: Airport pick
Upon arrival at the Kigali airport, a representative of Hotel des Mille Collines will be there to pick you up and transfer you to the hotel.
Depending on your arrival time you may be able to visit some of Kigali's optional activities which will be at your own cost.
Journey Time: 15 minutes
Accommodation: Hotel Des Mille Collines
Meal plan: No meals inclusive
Hotel des Mille Collines (luxury) is known from the tragic film 'Hotel Rwanda' as the UN headquarters during the 1994 crisis in the country. Today it is a charming accommodation with the refurbished structure of the old building still visible. The swimming pool and the live music in the afternoon make it a wonderful place to just unwind before or after the flight.
Day 2: Transfer to Nyungwe Forest
Today after breakfast, your guide will come to pick you up from the hotel and transfer you to Nyungwe Forest. Nyungwe Forest is one of the largest forests in East and Central Africa. The forest is abundant with flora and fauna including 13 primate species from colobus monkeys, mangabeys, blue monkeys and, of course, the chimpanzees. Nyungwe Forest is also a famous location for birders. With about 310 recorded bird species, 26 of which are endemic, this is one of the most important and still little known bird-watching destinations in Africa.
You will have en route lunch
In the evening, you will settle into your private cottage at Nyungwe forest lodge.
Journey Time: 6 hours
Accommodation: Nyungwe Forest Lodge
Meal plan: All meals
Nyungwe Forest Lodge (luxury) is located in the Gisakura tea plantation. The lodge is an oasis of tranquillity within striking distance of the national park. From your villa you can enjoy the beautiful design, comfort and sublime views of the surrounding tea plantations. In the evening you can join in the tea tasting extravaganza. For relaxation, you can also laze in the heated infinity pool, exercise in the gym, or have a massage. This lodge is, without a doubt, one of the best accommodations in Rwanda!
Day 3: Chimpanzee Tracking
Today after early morning breakfast, you will proceed to the chimpanzee tracking trail in either the Cyamudongo or Uwinka sections. The total population between the two groups is a healthy 80 individuals. This is an exciting up close encounter with human's closest relative which you will not soon forget.
After the chimp tracking you can relax at the hotel or choose an optional activity that you can discuss with your guide.
Journey Time: 1-2 hours each way
Accommodation: Nyungwe Forest Lodge
Meal plan: All meals
Optional activity:
Canopy walk
In the afternoon you can go for East Africa's only canopy walk. This walk takes place above a deep gorge cutting across the massive forest. Lasting about 1½ hours, the walk takes you through some beautiful foliage and animal habitats. En route you will have the chance to spot blue monkeys and unique birds that dwell in the upper levels of the forest canopy.
Sign up for this activity with your booking.
Day 4: Transfer to Lake Kivu
Today in the morning you can enjoy the nice views from your lodge. After lunch you will travel to Kibuye on the eastern shores of Lake Kivu. Time allowing, you can visit the Ndaba Falls or take a walk around Kibuye town. In the afternoon you can you can rent a boat and visit a few islands. All activities today are at your own cost.
Your accommodation for the night is the semi-luxury Cormoran Lodge located on the shores of Lake Kivu.
Journey Time: 3-4 hours
Accommodation: Cormoran Lodge
Meal plan: Breakfast
Cormoran Lodge (semi-luxury) is a beautiful lodge on the edge of Lake Kivu made entirely of wood. The rooms are spacious and in the evening you can dine in the stylish restaurant with a drink of your choice next to a cosy fireplace. Kayaks and a 'Jet Ski' boat are available for hire, as well as access to the private beach on the lake where you can also take a refreshing dip in the clear blue water if the mood suites you.
Day 5: Transfer to Volcanoes N.P.
After heavy breakfast, you will be transferred to Volcanoes National park, home to mountain gorillas.
You will stay in a luxury lodge with beautiful views.
Journey Time: 4 hours
Accommodation: Five Volcanoes Lodge
Meal plan: All meals
Five Volcanoes Boutique Hotel (high end) is located in Ruhengeri. It is a perfect starting point to go for different activities that the Volcanoes National Park is offering but also gives you lot of opportunities to rest and to enjoy the relaxing atmosphere. It has 11 bedrooms (double/twin), a Family Suite, a VIP cottage, a restaurant, a pool, and a beautiful garden
Day 6: Gorilla tracking and Iby'iwacu cultural tour
Today after breakfast, you will drive into the park office. The head ranger of the ORTPN will divide you into groups based on interest and fitness. From here your driver/guide will take you as close as possible to the starting point of your tracking. You will track one of the habituated Gorillas groups. The time taken to track the gorillas can take as little as half an hour to as much as 8 hours
Your track will be an exciting journey along forested slopes, entwined vines, bushes and bamboo before you eventually reach the gorillas' current location. Your guide will point out signs of previous gorilla activity, including dung, nests and chewed bamboo shoots. Once the gorillas have been located, you will be allowed a maximum of one hour with them. Coming face-to-face with a mountain gorilla is a humbling and emotional experience. This is a fantastic and privileged opportunity to get up close and personal with Rwanda's own 'Gorillas in the Mist'.
In the afternoon, you will go to Iby'iwacu Cultural Village, a Non-Profit umbrella organization that aims at improving the lives of reformed poachers and communities around Rwanda's Volcanoes National Park through provision of conservation incentives, supporting community enterprise development and livelihood based projects
It provides tourists experiences beyond wildlife. It has created a new understanding of tourism among tourists, rural communities, tour operators, but also has changed the traditional perceptions of tourism in Rwanda.
Journey Time: 15 minutes by car, tracking time varies
Accommodation: Five Volcanoes Lodge
Meal plan: All meals
Day 7: Golden Monkey tracking- Airport Transfer
After breakfast, you will be transferred to the park headquarters for golden monkey tracking, which is a completely different experience but just as rewarding. These beautiful, lively creatures are on the endangered list, and are fascinating to watch as they leap through the vegetation.
Later, you will transfer back to Kigali airport. Depending on your departure flight you can visit the Genocide Memorial and Education Center. It's a dignified tribute to the victims, including a poignant Children's Memorial, and a detailed description of the darkest hour in Rwanda's recent history.
Your driver/guide will take you to the airport in time for your flight home.
Note: This is only possible when your flight departs from Kigali at 5 p.m. or later. If you need another night in Kigali, we will be happy to make a booking for you.
Accommodation for tonight is not inclusive in the program. If you want us to book one (or more) nights in Kigali, please let us know.
Journey Time: 2 hours
Accommodation: Not included
Meal plan: Breakfast
Transfers
Your transfers are provided by a vehicle from the lodge. This is a 4wd mini bus
Dates
This is a private tour, departure can be organised for anytime throughout the year subject to the availability of accommodation and transport.
Accommodation
The bookings with the hotels mentioned in the program depend on availability. Reservations will only be made after your booking.
In case the mentioned hotels are not available during the requested period, we will do our best to book a hotel in the same class for you- of course after consulting you.
Gorilla and chimp permits
It is not possible to 'reserve' gorilla and chimpanzee permits. Therefore we can only buy them after your booking and down-payment and it all depends on availability.
Transport
Our standard offering for mid-range tours is a 4wd safari van with a pop-up roof for easy safari viewing. All clients will have a dedicated window seat. Your professional driver/guide will be at your disposal for questions or translations.
Tour Package Including:
Transport in a 4WD safari land cruiser with pop-up roof for excellent safari view
All fuel for the tour
English speaking Ugandan driver/guide
Accommodation as listed in the program;
Meals as per the itinerary
Packed lunch for the gorilla tracking
Park-entrance fees according to the program
All activities described in the itinerary
1 gorilla permit per person
Golden monkey tracking permit
Excluding:
International air fares and entry visas
Meals that are not part of your accommodation;
A porter for during the gorilla tracking (someone who carries your daypack);
Personal (medical/travel) insurance;
Tips and gratuities to rangers, driver/guide, porter, hotel staff, etc;
All expenses of personal nature (e.g. drinks, laundry, optional activities, souvenirs etc.)
This tour can be tailor made to suit budget and luxury travelers
Important: 
Please note the gorilla tracking in this itinerary can be done in Bwindi impenetrable National park and or Mgahinga national Gorilla National park
Gorilla tracking is dependent on the permits availability at the time of your booking. Gorilla permits in all parks are on a very high demand and we advise that you book them as early as possible.
When you book your trip with Gorilla Link Tours to any of our destinations, Gorilla Link Tours will donate US$ 5 per person to persons with Albinism.