River Nile is located in Jina town. Jinja town, in Eastern Uganda is located on the shores of Lake Victoria, 82km north East of Uganda's Capital city Kampala. The town is famous for being the source of the world's longest river, River Nile and is one of the biggest towns in Uganda and it is a major route from Kampala Uganda, to Kenya one of the bordering countries to Uganda. The town has also been nick named the adventure and adrenaline capital of East Africa which makes it perfect for adrenaline junkies, and one of the most thrilling adventures is the white water rafting on the River Nile
Activities to do in Jinja Town:
There are different adventures, and or adrenaline activities that visitors can choose from and en route one may choose to go for zip lining with the canopy grey cheeked mangabeys in Mabira Forest and bird watching and nature walks in the same tropical forest and or go for a cultural visit to Ssezibwa falls. A visitor can go for grade 5 white water rafting, an experience like no other. One can also go for bungee jumping over the Nile rive, quad biking through the villages, river Nile horse riding and a visit to the source of the Nile shouldn't be missed out.
White water rafting on River Nile in Jinja Town, Uganda: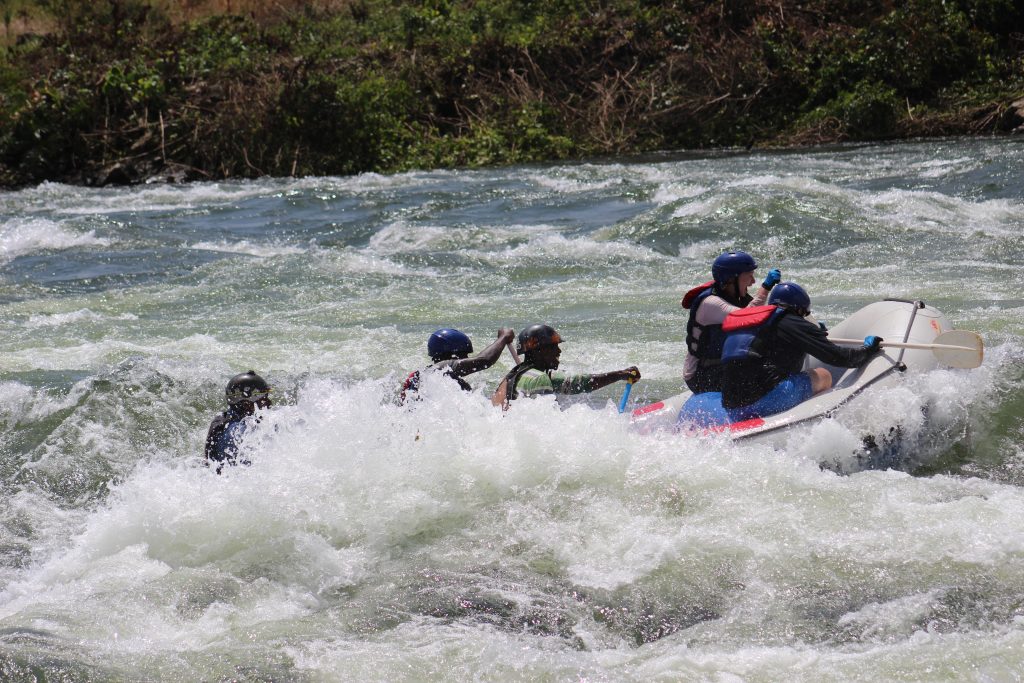 White water rafting on River Nile in Uganda is one of the most popular activities in Jinja. It is a favorite for many, perfect for visitors with a one day off. It is a safe activity which is guided by professional guides. Most of the guides are local guides from the region. White water rafting on river Nile gives you the ultimate adrenaline experience.
White water rafting has become one of Uganda's popular tourist activities and one can choose to go for a one day trip for this exciting adrenaline activity or combine it with our 10 days gorillas, chimps and lions of Uganda safari
A horseback safari in Jinja Town

A horse ride at the source of the Nile is the best way to explore the fantastic views of the Nile banks. You will see a traditional Uganda village with beautiful views of hills overlooking the River Nile. One can go for short horse safaris, overnight horse safaris, weekly and or sunset safaris
The horses used for the rides are well schooled, treated and healthy and one does not require horse riding experience. The horse rides are also perfect for families with children. Time taken for the ride safaris is from 1 hour to 3 hours and overnight and multi day safaris are also available for those staying in Jinja. The one hour ride safari is perfect for those with children from 4-10 years and who want to go on a mild pace as they enjoy the stunning scenery. The children on the horse walk with a guide.
Only experienced horse riders can go for the multi day safaris since the route taken is physically demanding and takes longer hours. The rider will be in the saddle for about 4-7 hours on a rough terrain.
At the time of your inquiry, you can let us know if you want to include a horse ride on your Uganda wildlife safari.
Quad-bikingin Jinja Town

This is a ride yourself adventure and from as low as $49, you can go for a quad bike ride adventure through farms, forests and villages in Jinja. Quad bike ride safaris a long the source of River Nile can take 1-4 hours. There are also circuits exclusive for children of up to 12 years and no experience is needed. One is offered a free training session before each quad safari bike starts takes about 30 minutes. The best times for these quad bike safaris a long river Nile is during the wet seasons, the wetter the better to ride through the mud, splashing through the rainy waters and potholes on a dirt road. Below are the different safari options for the quad bike rides along River Nile
The Kyabirwa safari, a 1 hour quad bike ride safari a long river Nile takes you through villages, farms and forests and it is suited for families. Children can either bike with their parents or with a trained guide.
You can go for The Explore safari from Bujagali falls to the new dam site with stopovers at the river banks to wash off dust or mud. You will also stop at a local trading centre for a soda and a chat with local people at the shops
The River Nile safari quad ride is also available depending on your time and is tailored according to what the adventure wants. You will have more fun as you will be more used to the quad bikes.For clients who want to get out to the off the beaten track, this is the best quad safari for you. One rides through local villages and downstream along the river Nile past some big River Nile rapids. At this point, the ride is still easy and you can choose to take on the more difficult routes in selected areas of the village
The twilight quad bike safari offers you sunset rides a long the banks of River Nile. You are offered a delicious Uganda banquet and a night quad bike ride back to Bujagali falls.
White water kayaking on River Nile
One of the other great ways to experience the River Nile is white water kayaking. One can go for a full day white water Kayak which offers a more memorable experience off the beaten track which showers you with warm water, sun and islands.
Multi day packages are also available and these depend on your time and can be tailor made to suit your kayaking need. They can go for a whole weekend or five complete days in Jinja.
With white water kayaking, you will learn to kayak on River Nile which is the world's longest river. You will be guided by experience guides who will help you explore through big rapids of the Nile
Lunch and soft drinks are offered every day on the river and all the necessary safety and kayaking equipment are provided. You do not need kayaking experience and you will learn a new skill to tackle through the rapids at your own space.
In the morning, you will start Kayaking from Bujagali and you head down with an experience kayaking instructor from the calm waters, who will teach the basics of kayaking like how to control the kayaks and the different strokes and techniques.
In the afternoon, you will take on the real kayaking activity, joining River Nile at the first free flowing part. From here, you will tackle your first rapid, with your guide taking the lead. You will kayak through fun waves and rapids, though deep warm waters of River Nile
A sun downer cruise on the Nile
River Nile offers relaxing and sunset sun downers. Nothing beats the Ugandan sunset over River Nile, combined with good company and food and a cold Nile special beer
A visit to the source of the Nile
A boat trip to the source of River Nile is worth it.  River Nile is the world's longest River and it has its source at Lake Nyanza also known as Lake Victoria. The Nile leaves Lake Victoria at the Ripon falls near Jinja, Uganda as the Victoria Nile. It takes about 2 hours drive from Kampala to Jina town, where river Nile flows from. One can go for a sunset cruise a long Lake Victoria and get to the source of the Nile sign and take some pictures. The source of the Nile is on a small tiny island in the middle of the lake and you get stunning views. During the boat trip which takes about 1 and a half hours, you get to see some wildlife too that include monkeys and some exotic bird life. You can also visit a small basic reptile park
Bunjee jumping
Bunjee jumping over River Nile is one of the most thrilling activities to do. You may go for tandem jumps, water touches, full moon jumps and the more daring ones can jump in the dark.
The experience is out of this world and jumping from 44metres high is terrifying but at the same a once in a life experience. Bunjee jumping over the River Nile is a fantastic adrenaline thrilling experience and we recommend it for all the adrenaline junkies out there.
A visit to Jinja market
One can also take a walk to the colorful market of Jinja town and buy souvenirs for families and friends back home
Accommodations in Jinja;
Jinja has different types of accommodations, from luxury, semi-luxury, mid range and budget accommodation.
The Wild Waters Lodge- Luxury accommodation
The Wild Waters lodge is one of the most beautiful lodges in Uganda. This luxurious lodge is well sited on Private Island, mid stream in the River Nile in a rain forest. The lodge has breath taking views of River Nile and its rapids and has 10 timber floor rooms each nested in the middle of the forest with private decks and grass thatched roof. The private decks have free standing bath tubs and wash basins. The lodge has hand made furniture. There is a restaurant with excellent food. One can watch many birds from the deck and listen to the roaring thunder of River Nile rapids. The wild Waters Lodge is a perfect gate away from Kampala and it can be accessed via Jinja road through Mabira forest
The Haven- Semi-luxury accommodation
The Have is perfect for those looking for breath taking views of River Nile. It has nice designs and it is located on top of waterfalls. The lodge has friendly staff, spacious clean rooms, a restaurant, a pool, and many sports activities and caters for campers too. From the restaurant and bar, you will see otters, monitor lizards, and different types of birds too.
From the lodge, you may also arrange foe different optional activities
Nile Porch- Mid-range accommodation
The Nile Porch has a perfect location with stunning views of River Nile. The hotel has spacious, comfortable and clean rooms, a restaurant that services great food and staff who are very friendly and attentive to a client's needs. From the hotel, you will watch monkeys and exotic birds in trees.
Visitors can also easily go for half or full day white water rafting on River Nile from Nile Porch
River Nile camp- Budget accommodation
The River Nile camp is located just 6km from Jinja town and offers amazing views of River Nile and conducive environment.  It offers budget accommodation in basic safari tents which come with beds. All the tents have stunning views or River Nile and there is also a restaurant and bar and a swimming pool. The camp also offers different white water rafting options for adrenaline junkies
Below are recommended trips to Jinja, the Adventure capital of East Africa