Rwenzori Mountains National Park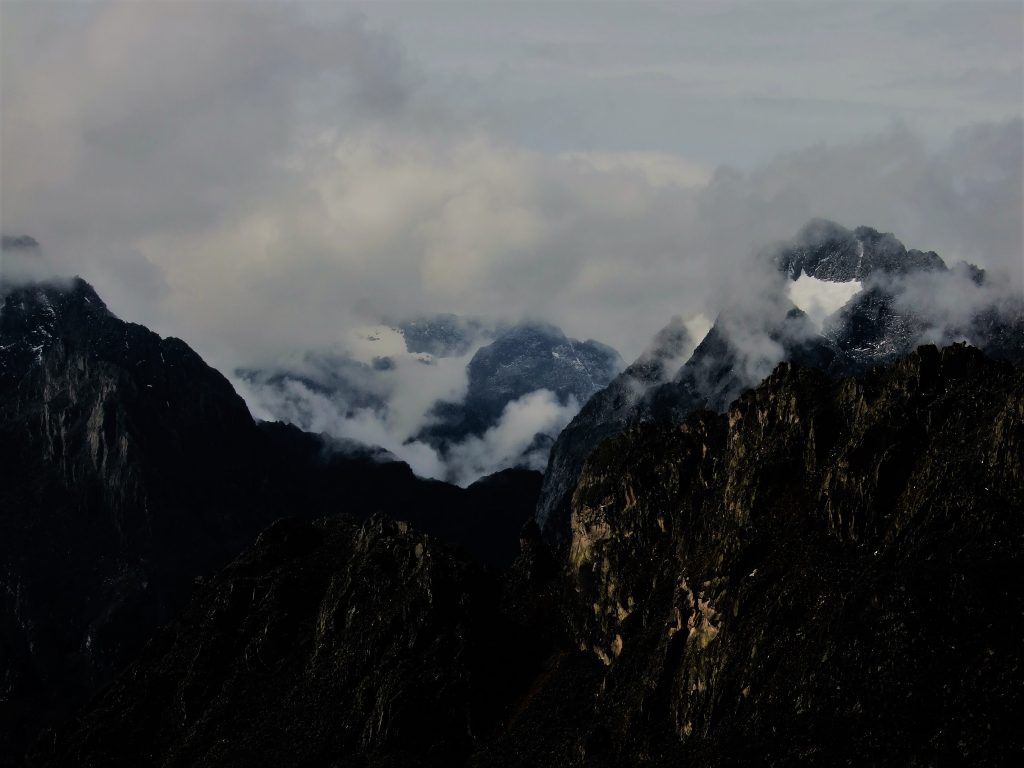 Rwenzori mountains National Park, 386 sq. meters was declared a World heritage UNESCO site in 1994 and is one of the best adventurous activities in Africa, making these mountains of the moon the best hiking and mountaineering destinations.
Rwenzori Mountains national park is located in the South Western region of Uganda, on the East side of the Western Rift Valley, lying along the Uganda's land borders with Democratic Republic of Congo (DRC) and it's Virunga National Park.
Rwenzori Mountains is the third highest mountain range is Africa after Mount Kenya and Mountain Kilimanjaro respectively, standing at 5,109 meters above sea level with 6 mountain peaks that include Mt Stanley which stands at 5,109 meters above sea level, Mt Speke at 4,890 meters above sea level, Mt Speke at 4,890m, Mt Emin at 4,715, Mt Savoia at 4,627m and last but not least Margherita peak which stands 5109 meters above sea level; Margarita is the 3rd highest mountain range in Africa. The whole mountain endowed with glaciers, snowfields, waterfalls, and lakes making it one of Africa's most beautiful mountains
Rwenzori Mountain national park is a habitat to 70 mammals that include forest elephants, forest buffalo, duikers among others and 217 bird species including 19 Albertine Rift endemics, as well as some of the world's rarest vegetation and beautiful plants that Montane forest with bamboo ( Arundinaria ) on lower slopes, heath and Afro-alpine moorland on higher slopes.
Rwenzori Mountains National Park safaris in Uganda
Rwenzori Mountains were nominated as one of the World's Best Hikes by National Geographic and every hiking adventure should not miss out an opportunity to hike through the safe mountains. All Mountain hiking safaris in the mountain are guided by experiences guides and hikers have so much support from the porters too, most of whom are local people of the Mountains.
There are different hiking options that can be organized through Gorilla Link Tours which include 3 days for the shorter foothill hike and 6-7 days for the usual mountain circuit. It normally takes about 9 days to get to the Margarita, the highest peak
Best Time to Hike Rwenzori Mountains National Park

The best time to hike Rwenzori Mountains national park is January to February and the July to August which are the driest months, although rain is possible year round.
Bird Watching in Rwenzori Mountains national park

Rwenzori Mountains is rich for bird watching and is well known for the special Albertine Rift endemics that survived ice age. It has a record of 195 bird species making it one of the best birding destinations in Uganda and Africa. These bird species include Handsome Francolin, Rwenzori Turaco, Montane (Rwenzori) Nightjar, Dwarf Honeyguide, Archer's Robin-Chat, Red-throated Alethe, Kivu Ground Thrush, Red-faced Woodland Warbler, Montane Masked and Collared Apalises, Stripe-breast Tit, Rwenzori Batis, (Grauer's Cuckoo-shrike ), Blue-headed, Regal and Purple-breasted Sunbirds, Strange Weaver, Dusky and Shelley's Crimson wings, Lammergeiger, Red-thighed Sparrow hawk, Barred Long-tailed Cuckoo, African Long-eared Owl, Western Green Tinkerbird, Olive Woodpecker, Grey-chested Illadopsis, Grey-winged Robin, Evergreen Forest and Bamboo Warblers, Lagden's Bush-Shrike, Montane Sooty Boubou, Golden-winged and Scarlet-tufted Malachite Sunbirds, White-collared Olive-back, Red-faced Crimson wing, Oriole-Finch among others
Combo safaris
A hike to the Rwenzori Mountains national park,  also known as the Mountains of the moon can be combined with Gorilla tracking and gorilla habituation safaris in Bwindi Impenetrable Forest National Park, chimpanzee tracking and chimpanzee habitation in Kibale Forest National Park, and wildlife safaris in Queen Elizabeth national park and Lake Mburo National park.
How to get Rwenzori National Park
Rwenzori Mountains National Park is easily accessible from Entebbe and Kampala and from other parts of Uganda. It can be accessible by air transport through our partners Aerolink Uganda and or by road transport using our fleet of 4 x 4 WD customized safari land cruisers and safari vans
Suggested itineraries to Rwenzori Mountains National Park
5 Days Trek to Rwenzori Mountains