Golden Monkey Tracking is one of the unique activities in Uganda which takes place only in Mgahinga Gorilla National Park. Mgahinga Gorilla National park is also home to mountain gorillas and travelers can combine both a golden monkey tracking opportunity with a gorilla tracking adventure.
Golden monkeys are highly endangered and listed on the IUCN Red list due to the destruction of their habitat. There are two golden monkey families habituated for visitors to see. For visitors who yearn for a longer period of time enjoying the golden monkey opportunity, they can go for Golden Monkey habituation which gives one a deeper insight on the lives of these endangered monkey species.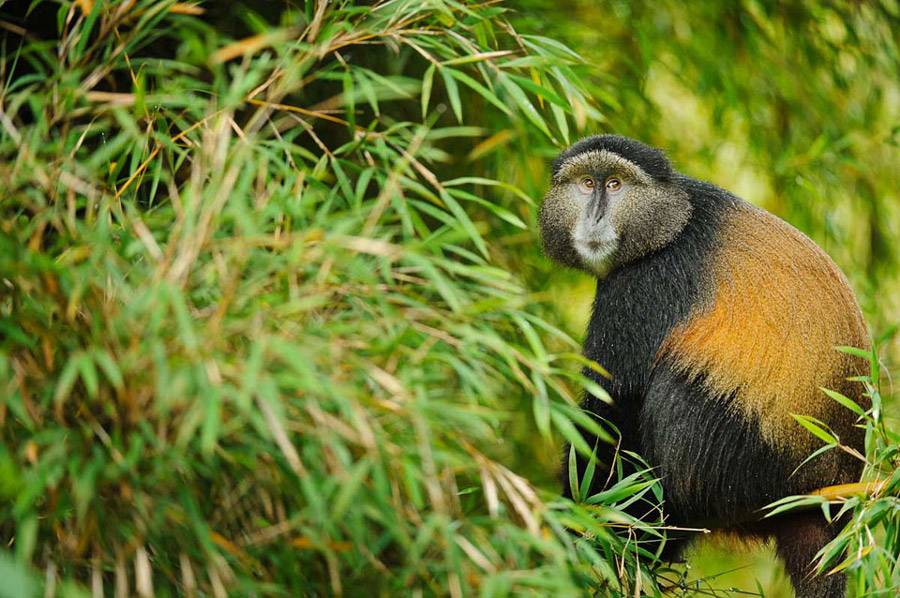 Golden monkeys can only be found in the Virunga mountain range of Uganda, Rwanda and Democratic Republic of Congo. The golden monkeys were previously thought to be a subspecies of the blue monkey, they are similar but the golden monkey has golden orange fur on the upper flanks and back. They mainly feed on bamboo, leaves, and fruits and sometimes they also eat insects.
Golden monkey tracking starts at 8 am and one needs a permit that includes the park entry fees. Gorilla Link Tours can purchase them from Uganda Wildlife Authority on behalf of the clients, we would email you a pre-departure guide of what to pack for Golden Monkey tracking which is the same for gorilla tracking.
Other activities
There are other activities that can be added on to the golden monkey tracking experience. These include Gorilla tracking and gorilla habituation that can be done in both Mgahinga Gorilla National park and Bwindi Impenetrable National park, Batwa pygmy trail experience, guided nature walks and bird watching of the unique bird species here.
Accommodations in Mgahinga Gorilla National Park for the Golden Monkey tracking
Gahinga Lodge – Luxury
Lake Chahafi Resort – Mid range
Kisoro Travellers Hotel – Budget
Suggested Golden Monkey tracking itineraries