Fishing safaris in Uganda are popular and take you to the most popular fishing destinations in Uganda. These destinations include Murchison Falls National Park where the biggest Nile Perch weighing about 180 pounds was caught and the other is Lake Victoria, which is the second biggest water body in the world and inhabitants lots of different types of fish that include Nile Perch and tilapia among others.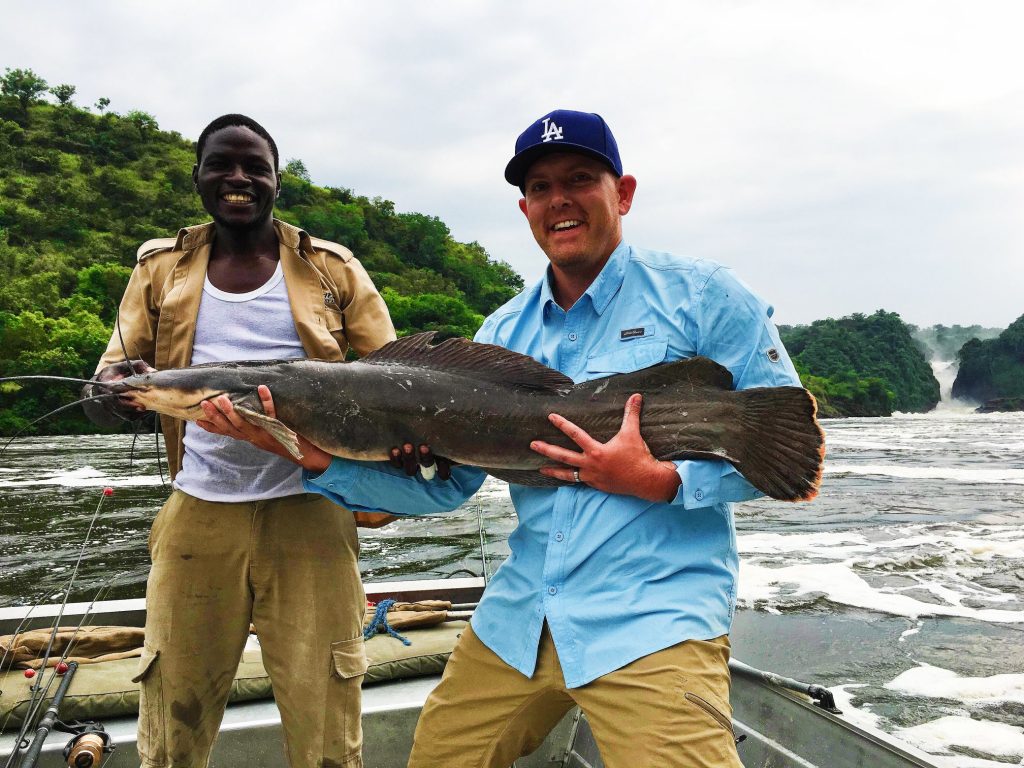 Other destinations for fishing safaris in Uganda are Ssese Islands, and Lake Mburo National park which is in South Western region of the country.
The method of fishing used during these fishing safaris is 'catch and release'
Popular fishing destinations in Uganda
Below are some of the most popular fishing destinations for travelers interested.
Fishing at Murchison Falls National Park
Fishing at Murchison Falls National park is one of the best and extremely exciting safari activities in Uganda. It is done from the Nile River bank and from the boat and one has to take great caution while fishing from the Nile River banks because of the countless Nile Crocodiles and hippos, but the fishing from the boat is very safe. The fishing safari in Murchison Falls National park can also be combined with a wildlife safari game drive.
It should be noted that it gets very hot in Murchison Falls National park and sometimes it is 40 degrees C especially at noon and all anglers are advised to have and use a very good sun screen, wide brim hats and long sleeved shirts. We also recommend that you are equipped with a good insect repellent to make un infected tsetse flies and other flies and insects away
Best Traditional fishing season in Murchison Falls national park
The best time for fishing in Murchison Falls National park keep changing from time to time, from year to year but the best time is generally during the drier season months of December to March and June to October since there is less rain. Fishing should be avoided altogether during the wet months of April and May.
Methods and Equipment used for fishing in Murchison Falls
The method of fishing used in Murchison Falls is the catch and release method
The Nile Perch is caught using fish caught on a live bait. These attract the Nile Perch to the bait and after being weighed, it is released back to the water
The other smaller fish species that include tiger fish are also used as live bait are got by spinning.
A rod between 11feet (3 meters) and 8 feet (2.4 meters) together with a fixed spool or multiplier reel. For the smaller species a 7' spinning rod with 5 kg (10 lb.) line is quiet enough.
Reels are used to catch the Nile perch and catfish. Any reel fixed spool or multiplier with 30-35 lb. line (17kg) will do. All these methods greatly depends on personal preference and skill with a multiplier. For tiger fish and smaller species any reel you can comfortably cast small spinners is suitable.
Fishing guides in Murchison Falls
Sport fishing in Murchison Falls National Park is a guided activity because it requires expert assistance to make sure that clients are safe especially if is their first fishing experience on the mighty Murchison Falls. There are many guides for experienced and knowledgeable about this activity; one guide per three anglers who will offer expert assistance.
What to you should bring for a fishing safari in Murchison Falls
Sun screen
Hats
Sunglasses
Creams. It gets quiet hot
Strops or sandals which will come in handy since you may well get wet feet especially getting on and off the boat
Insect repellent
A camera
A pair of binoculars birding.
Light clothing like T-shirts and shorts
A rain jacket
A sweater or light jacket for cooler weather and the evenings.
How to get to Murchison Falls National park.
By road:
Murchison Falls National Park is about 7 hours from Entebbe and 6 hours from Kampala excluding the thick traffic on some hours. The park can also be accessed using Kasese, Fort Portal, Hoima route. Transportation is in 4 x 4 WD vehicles which are comfortable and spacious and they have enough room for luggage and fishing equipment.
By air transport:
There are scheduled and charter domestic flights from Entebbe international airport to Pakuba airstrip in the North sector of the park or Bugungu airstrip in the Southern sector of the park for travelers who prefer not to use road transport or who have little time.
Other destinations for fishing
Lake Victoria
Ggaba fishing village
Kasenyi fishing village
Lake Albert
Suggested itineraries for Murchison Falls National Park